This article is more than 1 year old
Intel shows off tech bubbles, low-power yacht racing and... a DIRECT solar charger
Chipzilla showcase mixes ideas with reality
Pics In London this week, Intel's Innovation Future Showcase not only presented a glimpse of how the chip giant reckons we'll be interacting with the world in years to come, but, more soberly, allowed visitors to toy with some forthcoming products and current offerings.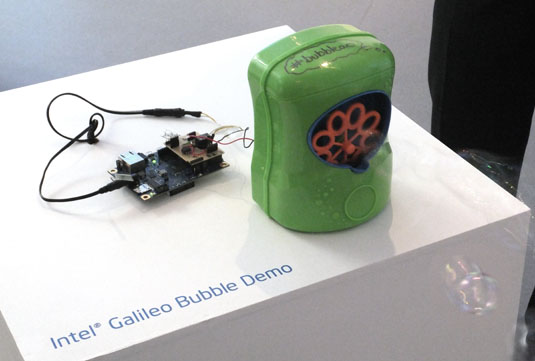 Fit to burst: Galileo Bubbleao, just add modem and Tweet
And toy with them you must. After all, where would we be without an Intel Galileo developer board complete with modem hooked up to a bubble-making machine that fires out those spheres of nothingness when it receives the Twitter hashtag: #bubbleao? (It's a Bohemian Rhapsody pun... don't make us spell it out...)
Put that hashtag in your tweet and you'll probably fire up the demo when Johnny Foreigner gets a look-in, as Intel is on the road in Europe this month.
Arguably, a visible reaction is going to be the most obvious way to demonstrate tech responding to commands. With the Internet of Things in mind, another working demo featured a Galileo board changing colours on a light strip controlled by an app on a mobile device.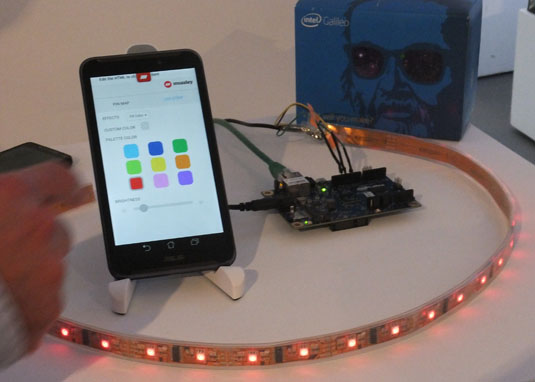 Light fantastic – remote control from mobile network
To complicate matters slightly, a tablet was hooked up to a mobile phone acting as a hotspot that that then communicated the app instructions to the Galileo board which was connected via Ethernet to a router.
Needless to say, commands for home automation from a remote location are among the possible scenarios Intel suggests for this sort of idea. No doubt Raspberry Pi owners have been there and done that with these tricks and, admittedly, some of what was on display has been seen before at CES. However, products such as the diminutive Edison system-on-a-chip – that's not much bigger than an SD card and due this summer – are getting close to release now.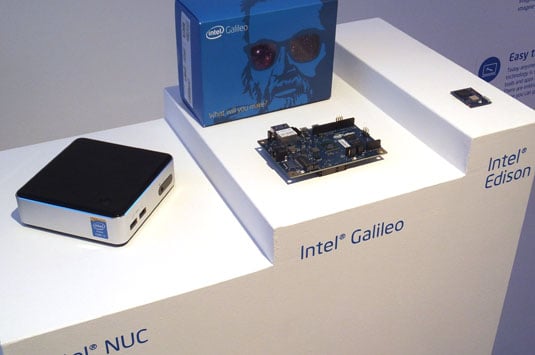 Intel's trio: NUC, Galileo and Edison