Updated, Take Two If you updated to OS X Mavericks 10.9.3 after it was released on Thursday, did your Users folder disappear from the Finder listing of the root level of your startup volume? Happened to some; didn't happen to others. Go figure.
No, it hasn't been deleted – that would certainly be a colossal cock-up on Apple's part, now, wouldn't it? It has just disappeared from the Finder listing. All your precious files are still extant – they're just a wee bit harder to get to.
Fortunately, it's easy to get it back. Here are a couple of methods – but first, a pair of screenshots to illustrate what we're talking about.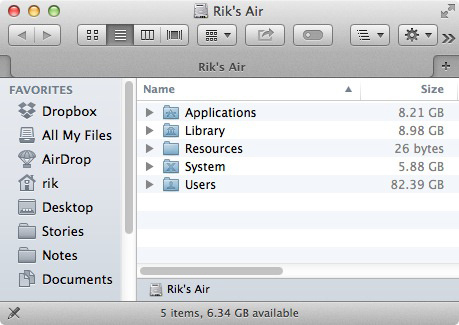 Here's the root-level Finder listing before installing OS X 10.9.3 ...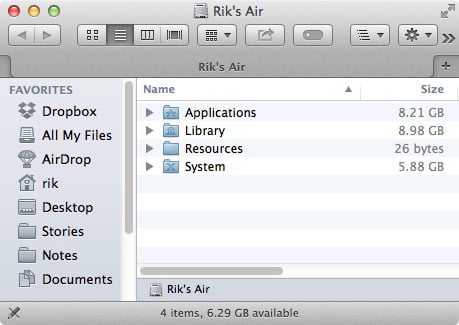 ... and here's the same Finder window after installing OS X 10.9.3 – the difference is obvious, eh?
As you'll notice, if you have your User folder – aka Home - icon in your sidebar, 10.9.3 doesn't nix it from there, so it's still easily accessible. Also, all you files are still available through Spotlight search.
But it's still a pain in the ass, and what we hope is merely a bug affecting some OS X 10.9.3 updates, and not some nefarious plot on Apple's part to invisible-ize the file system à la iOS.
But Apple wouldn't be that controlling, would they? Well, yes, possibly – but we doubt they'd be that stupid. But then again, we're starry-eyed optimists...
To get it back the easy way, just file up Terminal – in Applications/Utilities, unless you've moved it – then enter sudo chflags nohidden /Users (thanks, Chris Breen), hit Return, and enter your admin password when prompted. Hit Return again, and – voilà! – all is well.
But only until you restart, at which time you'll have to perform this Terminal dance once more. Oh, and we'd be remiss not to mention that when you've obtained root privileges by entering the sudo command, don't muck about with other stuff unless you know what you're doing, or you could cause some serious damage to your OS – but you're a Reg reader, so you already know that.
In Breen's Macworld article, he also provides a way to build a simple AppleScript that accomplishes the same task upon reboot, should you be a frequent rebooter.
There are likely other fixes, as well. In the Comment thread of Breen's article, for example, user "nweb" relates a method described in the forums of the French-language website MacBidouille that provides a permanent fix, but which involves a PRAM reset and recovery-partition boot.
Over at TUAW, TJ Luoma writes of a way to create a launchd plist file that has the advantage over Breen's method in that it doesn't require you to hard-code your admin password into the AppleScript routine – but we won't bother with any of those alternatives, seeing as how we we reboot, oh, about every month or two, so sudo chflags nohidden /Users is enough for us until Apple fixes what appears to be an obvious bug.
Your mileage, as we said above, may differ – you may have no problem with OS X 10.9.3, you may have other fixes, you may want to jump through the hoops generously provided by MacBidouille or TUAW, or you may have other problems we haven't yet heard of.
But this disappearing Users folder is merely a bug, right Mr. Cook? You're not going down the road towards a hidden filesystem, are you? ®
Update
Over at The Mac Observer, official Very Smart Mac Guy™ Dave Hamilton reports that the disappearing Users folder is not OS X 10.9.3's fault, but rather an interaction of the iTunes 11.2 update – also released on Thursday – with Apple's Find My Mac feature. He also noted that one user had tweeted that Apple had told them it was "intended behavior." To quote Alice, things are getting "Curiouser and curiouser."
Updated Update
On Saturday, Apple updated its iTunes 11.2 update with an updated iTunes 11.2.1 update, which fixed the disappearing Users folder bug. Interestingly – though unsurprisingly – no mention was made of that bug in the App Store's "improvements" listing for iTunes 11.2.1.
Similar topics