This article is more than 1 year old
WHOMP! There it is: IBM demos 154TB tape
FUJIFILM's fancy ferrite particles mean tape could beat disk in storage war
IBM and Fujifilm have demoed a 154TB LTO-size tape cartridge which could come to market in 10 years' time.
While it falls short of the Sony 185TB development, it should, with IBM's tape partnerships, see Sony exit the field.
The Sony development involved a 148Gbit/in2 tape density and its own tape design to achieve a 185TB uncompressed capacity. IBM has been working with Fujifilm to extend today's Barium Ferrite (BaFe) tape particle technology to achieve 85.9Gbit/in2.
IBM says its researchers have developed:
New enhanced write field head technology that enables the use of much finer BaFe particles
Advanced servo control technologies that achieve head positioning with nano-scale fidelity and enable a 27-fold increase in track density compared to the LTO6 format
New signal-processing algorithms that enable reliable operation with an ultra narrow 90nm wide giant magnetoresistive (GMR) reader
IBM's boffins in Zurich have been working with FUJIFILM on pushing tape density forwards since 2002. In 2012 we heard about a 125TB tape effort, with a 100Gbits/in 2 areal density. A 35TB raw capacity tape was demonstrated in 2010. Today's LTO-6 tape cartridges have a 2.5TB raw capacity.
The density developments rely on smaller magnetic particles, narrower tracks, meaning more tracks on a 1/2 inch-wide tape, and better read:write heads to follow and read/write to/from these tracks. The reader in the 154TB demo is 90nm wide.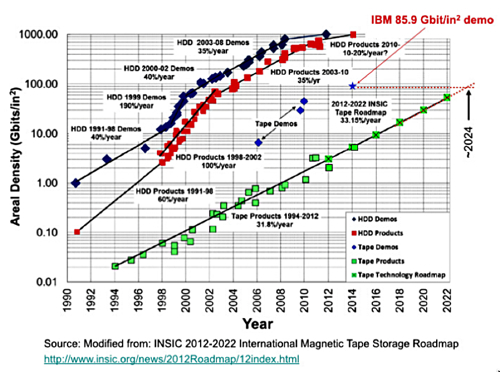 A modified version of a chart on page 51 of INSIC's 2012-2022 International Magnetic Tape Storage Roadmap
Click here and navigate to page 51 in the PDF to see the original chart.
IBM's researchers think they can possibly go beyond the 85.9Gbit/in2 areal density number using sputtered media, but they would only go this route "once the potential of low-cost particulate media has been exhausted."
The Sony 185TB tape research did use sputtered media and "a new vacuum thin-film forming system that deposits a string of uniformly orientated nanocrystals in a layer less than five micrometers thick."
Sputtering is a process where atoms from a source piece of material fly off and are deposited onto a target (substrate) material in a vacuum chamber, when the source is bombarded by high energy particles. It is a form of erosion with the freed atoms getting deposited on the first available surface.
IBM's announcement includes a graph showing that its new tape technology could come to market in 2024.
Comment
Vulture View: With its LTO connections, such an IBM technology could well banish Sony's impressive 185TB effort to the tape wilderness. Reckoning on LTO generations doubling capacity we could see a hypothetical LTO-22 pass the 154TB mark.
However, if IBM's chart with its 2024 data is right, then LTO generations – which generally arrive at 30-month intervals – are going to more than double capacity.
A follow-on thought: If tape density can more than double every 30 months then it could well outpace disk density improvements and cement its role as the archive medium. ®