Customer sues Nimbus Data for 'breach of contract' over arrays
Alleges kit 'failed to meet conditions of sale'
Updated Flash array vendor Nimbus Data is being sued by a customer for breach of contract over two Gemini arrays that the purchaser alleges failed to meet "four conditions of sale".
The customer is Maximus Inc, a publicly traded company headquartered in Reston, Virginia. It is an operator of government health and human services programmes in the United States, United Kingdom, Canada, Australia and Saudi Arabia, and has about 11,000 employees. Fiscal 2014 revenues are expected to be around $1.7bn.
The complaint was filed on 3 April, 2014 in the California Eastern District Court, Sacramento. Maximus has sought damages upwards of $463,000 plus a jury trial.
In documents filed with the court, Maximus claims that, in late June 2013, it issued purchase orders for two Gemini 5210 24TB flash arrays from Nimbus.
It also alleged that the purchase was conditional on successful validation of:
Ability to provision Fibre Channel LUNs to multiple servers
Ability to perform HALO software update and observe proper controller failover
Ability to view charts in the GUI
Support for Linux, Vmware, and Windows host connectivity
These points were included at the bottom of the quotation document it included in its complaint: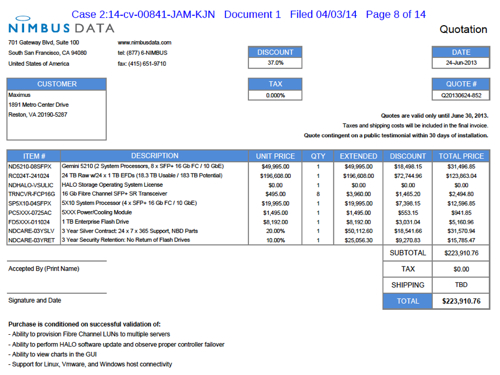 Copy of Nimbus quotation to Maximus. Click image for a larger version.
Maximus's complaint says one Gemini array was installed at its Reston HQ in Virginia and the other at a facility in Rancho Cordova, California.
Maximus claimed it paid for the systems in August, allegedly despite having found the the systems "did not meet the validation criteria", and claimed it had paid "under a good faith belief that all the conditions would actually be met in a reasonable time frame".
It alleges in its complaint that they were not, despite what it claimed were assurances from the vendor.
The complaint further alleges that six months after the purchase, Maximus had demanded its money back for the allegedly "non-compliant" Gemini arrays - and had offered to return them.
According to the filing, Nimbus allegedly refused to accede to Maximus' request and so the customer filed a suit, citing what it claimed to be material breaches of the contracts for the two systems.
An extract from the complaint, which was filed with the court on 4 April this year, alleges:
… the data system still remains out of compliance with the conditions of sale. Specifically, the requirement "Ability to perform HALO software upgrade and observe proper controller failover" was never functional.
According to the Public Access to Court Electronic Records (PACER) service, there are no published dates for any hearings as yet, but there has been a counterclaim from Nimbus Data, outlined in an update below.
Nimbus Data's director for public relations said in response to a question about the Maximus suit: "I have no comment."
Blake Travis, Maximus' Director, Public Relations & Health Marketing, added: "We cannot provide comment on this."
Maximus' lawyer, Jeremy Meier of Greenberg Traurig, LLP, said: "I have nothing to add." ®
Update
According to the Public Access to Court Electronic Records service, Nimbus Data Systems has since filed a counterclaim. It denies that the computer data storage systems at issue had failed to comply with the agreed upon conditions of sale.
It stated in its filing that the Data Systems it provided had "met all criteria Maximus outlined in the orders". It contends that its "Data Systems did not support an operating system that Maximus never specified should be supported (Solaris)". It has sought relief from the court "to confirm that it has no ongoing or future obligations to Maximus".
It has also sought relief for Maximus' alleged breach of contract, claiming Nimbus had furnished Maximus with a 37 per cent "discount in the purchase price of the Data Systems, contingent upon 'a public testimonial with in 30 days of Installation'." It alleges that "Maximus never provided a public testimonial" and seeks "the discount awarded in expectation of the testimonial" in the amount of $263,006.28.
The civil case is Maximus, Inc v Nimbus Data Systems, Inc, U.S. District Court, Eastern District Of California, No 2:14-cv-00841