Motorola Moto E: Brill budget blower with one bothersome blunder
Cheap'n'cheerful Android phone – but which one thing drove Reg man mad
Media savvy
Powering the Moto E is a Qualcomm Snapdragon 200 dual-core 1.2GHz Cortex-A7 processor, Adreno 302 GPU and 1GB of RAM. Despite being an entry-level component, the chipset gives the E a lick of speed previously unimaginable for a sub-£100 Android device. None of the games I tried on the Moto E including Dead Trigger 2 and Shadowgun (and its Deadzone multiplayer counterpart) managed to trip up or slow down.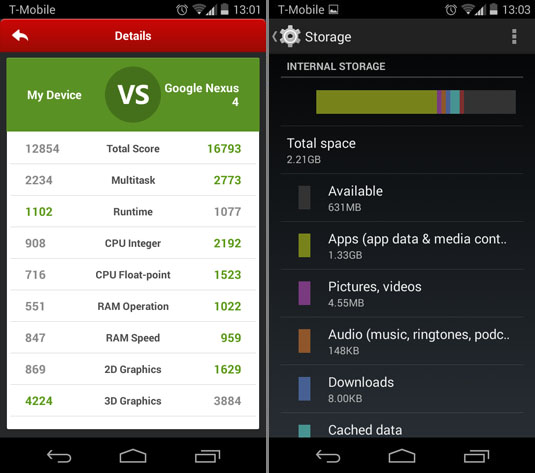 AnTuTu benchmark results and storage allocation overview
It even manages to play 1080p MP4 video files. The AnTuTu benchmark app threw up a by no means disgraceful score of 13,000 while the SunSpider browser test returned numbers around the 1850 mark. Not great, but not the end of the world either.
Underlying performance aside, the Moto E feels fast. The near-stock Android 4.4.2 UI is consistently slick and fluid. The screen flip from portrait to landscape – always a good real-world test of 'droid speed or the lack thereof – is snappy and prompt. By some margin, that all makes the Moto E the most satisfying sub-£100 smartphone I have ever used.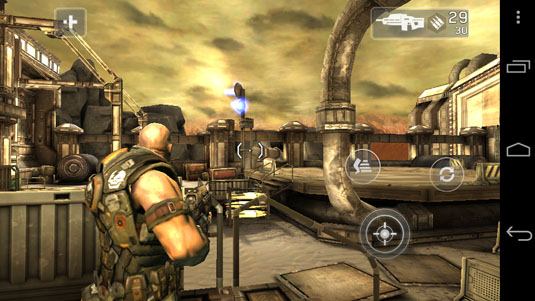 Shadowgun on an 90 quid phone – blimey
The Moto E packs a mere 4GB of internal storage, which just over 2.2GB is available for apps and files. Thankfully, you can add a microSD card of up to 32GB to increase capacity. Of course that limited internal storage does rather put the kibosh on legitimately installing big games like NOVA 3 (a 2.2GB download) but then the Moto E is hardly aimed at the hardcore mobile gamer.
Like the Moto G, the Moto E's battery – a respectably capacious 1,980mAh affair – is fixed in place. Motorola boasts the Moto E can last a whole day on a charge and I'd not argue the claim. Twenty-four hours and then some of hard use between charges was something I regularly managed. Looping a 720p MP4 video file drained the battery to the tune of 15 per cent every hour, giving a maximum run time of just over 6hrs 30mins. That's over an hour shy of the best I got from the Moto G, but still reasonable.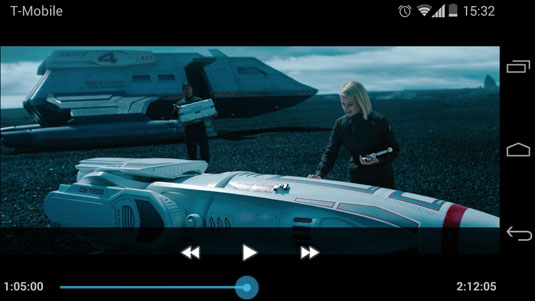 Even 1080p video plays nice
Where the Moto E falls flat on its face is when it comes to the camera. And notice I use the singular. The Moto E doesn't have a front facing webcam, an omission that rendered me slack-jawed with surprise when I first noticed it. Initially, I assumed it was an oversight on the spec sheet. Presumably, Motorola reckons budget mobile users don't take selfies or make video calls.
To continue the worrisome news from the optics front, the 5Mp main snapper does not impress. For a start it lacks autofocus and the definition and colour registration are highly questionable. Performance in low light is extremely poor with image noise going from bad to horrific. This failing is exacerbated by the absence of a flash, which, of course, means no LED light to double as a torch.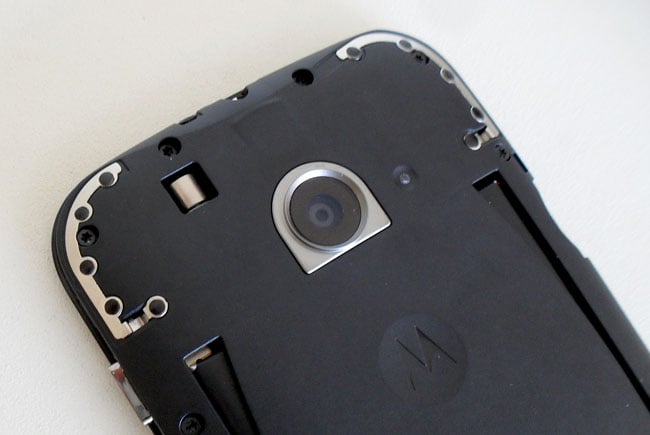 No autofocus, no flash and a fixed battery to boot
The final problem with the Moto E's photographic credentials rears its ugly head when you want to record video. The best it can do is 854 x 480 @ 30fps, which is dire for this day and age, but Motorola may argue that having a mere 4GB internal storage, low-res video will at least be a space saver.