Motorola Moto E: Brill budget blower with one bothersome blunder
Cheap'n'cheerful Android phone – but which one thing drove Reg man mad
Budget constraints
For the price, the absence of 4G/LTE connectivity is to be expected, and likewise the lack of 5GHz/802.11ac Wi-Fi, so you have to make do with 2.4GHz 802.11n. It does have Bluetooth 4.0, though, and there's a white notification LED, something often missing on cheapo Androids.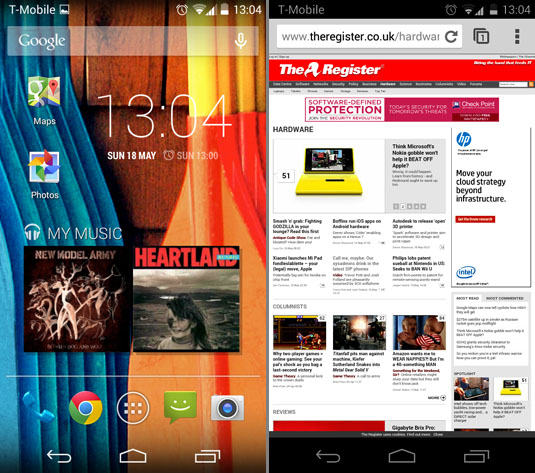 User interface is close to stock Android KitKat, and browser
Alas, the micro USB port lacks support for either MHL media streaming (like the G) or USB hosting (unlike the G). Granted, the microSD slot makes the latter a little irrelevant but it's still a feature I like to see on a smartphone.
As with the Moto G, Motorola gives you an FM radio but no earphones are supplied to make it work. I am, however, pleased to see Motorola guarantee at least one update to the operating system. So despite the cheap as chips asking price, you won't be left out in the cold when the next incarnation of Android comes into view.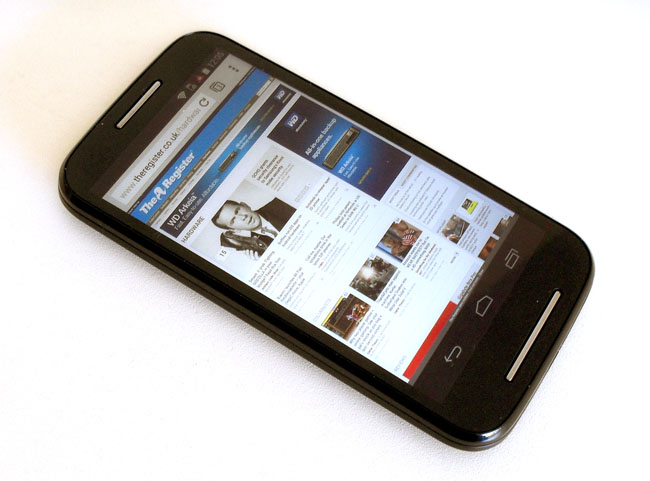 Camera shy: the budget smartphone with everything... almost
You can buy brightly coloured replacement backs for the Moto E, just as you can for its big brother but currently not the type with an attached flip cover. Like the Moto G, removing the back panel to access the SIM and memory card slots is a fingernail-breaking pain in the proverbial. To wrap on a more important note, I experienced no problems with call quality or signal reception, both of which proved well up to snuff.
The Reg Verdict
So has Motorola repeated the trick it pulled off with the Moto G? For just £90 you are getting a decent – no, make that a very decent – bit of kit, but come on guys, what's with the missing webcam? That really spoils the soup for want of a pinch of salt.
How much would it have cost to add a VGA front camera to the Moto E? £2? Less? I'm guessing that the reason for the omission is to make the Moto G seem more attractive by giving the Moto E an Achilles' heel. It's possibly a trend as the £95 Nokia Lumia 520 lacks a webcam too, but for me it's a deal breaker as I use the webcam on my Moto G regularly to video chat on Skype.
While others might not care so much about a front-facing camera, I find its absence actually annoys me and knocks some of the shine off a device that I'd otherwise be very enthusiastic about. As it stands, unless you are after a backup handset, are confident that you will never have a use for a webcam or are truly skint, I'd suggest saving up the extra £70 and buying the 4G Moto G. ®

Motorola Moto E: Brill budget blower with one bothersome blunder
Moto E budget smartphone