This article is more than 1 year old
Kaminario shovels RAM, shiny new processors onto K2's peaks
Gen 5 goes faster and adds data slimming, says firm
Kaminario has updated its K2 all-flash array with new processors, more RAM, higher capacity SSDs and data reduction technology, claiming K2 is more efficient, scalable and cost-effective than either EMC's XtremIO or Pure Storage's FA-400 all-flash arrays.
The fourth generation K2 product topped the SPC-1 random IO and SPC-2 streaming IO storage benchmarks, and the Vulture expects that the Gen 5 product will do so as well.
The fifth gen K2 has an active:active dual controller design with non-disruptive upgrades and "five-nines" of availability.
Gen 5's features include:
Scale-up and scale-out attributes, with from 7TB up to 90TB of usable capacity* in a 4U-6U K-Block rack footprint, and out to 720TB in a 26U footprint composed of 4 K-Blocks with expansion shelves,
Global inline selective deduplication across all linked K-Blocks,
Inline compression,
Thin provisioning,
K-RAID (dual parity) protecting against up to 3 drive failures per SSD shelf,
Async snapshot-base replication, and
vCenter Plug-in and full VAAI support (the previous product had partial VAAI).
A K-Block has two active:active 1U K-Node controllers (servers) interconnected with InfiniBand, and a 2U shelf holding 24 SSDs A 2U expansion shelf can hold another 24 SSDs. The latency is less than 0.35ms and the throughput is 3.2GB/sec.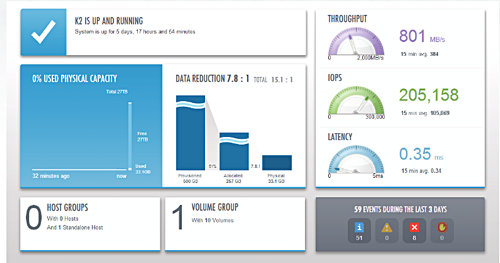 Gen 5 K2 GUI landing page
Customers would scale up within a K-Block for added capacity and scale out for adding both capacity and performance. Data and metadata are distributed across the K-Blocks and performance is said to scale linearly; with about 250,000 random read 4K block IOPS per K-Block, as K-Blocks are added, with automatic rebalancing of data and metadata across the K-Blocks to equalise the workload.
Kaminario's chief product officer, Ritu Jyoti, said in a statement: "K2 minimum net capacity is 7.4TB which is gained by 24 SSDs of 400GB (24 x 400GB of raw capacity) and we apply RAID and Over Provisioning overhead to it. This is of course net, before data reduction."
Kaminario only uses full shelves of SSDs (24 per shelf).
A fully configured K-Block with 48 x 800GB SSDs would have 38.4TB of raw capacity, which Kaminario says provides up to 90TB of usable capacity.
Jyoti said: "The typical data reduction ratio is 6:1 (dedup and compression), although we have observed higher ratios with some data sets. In VDI datasets we have observed up to 10:1, [and] in databases environments we have observed between 2:1 and 5:1. For example, K2 v5 in Intigua's data center reports a deduplication ratio of 6:1 (with linked-clones) and the compression ratio stands at 3.3:1. This brings us to a total data reduction ratio of 20:1."
There can be up to eight InfiniBand-linked K-Blocks in a single storage pool offering up to 2PB of effective capacity, 2 million IOPS and 25.6GB/sec bandwidth.
According to Jyoti Kaminario "will qualify higher configurations in the near future according to customer needs." Also; "In the future we will certify more storage shelves per K-Block."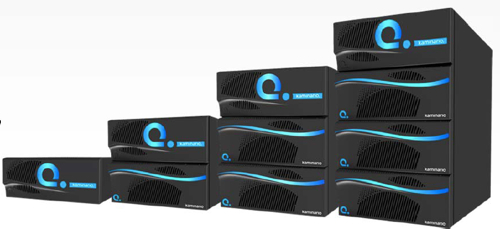 Kaminario Gen 5 K2 K-Blocks
Host servers connect across 8/16Gbit/s Fibre Channel or iSCSI 10gig Ethernet and there is an Ethernet interface for management.
Kaminario says K2 gen 5 uses a variable block size that automatically adapts to single or mixed/multi-tenant workloads.
The inline deduplication is selectable by workload; turn it off for databases for example, and is global, working across a set of K-Blocks.
One customer, Shai Toren, general manager at Intigua, claimed: "K2 v5 enables us to reduce costs to under $2 per usable GB since we're able to minimise the average amount of storage that is required for each VM... We were able to deploy over 7,000 virtual servers on a single K-Block configuration of K2 v5, with a data reduction rate of 20:1."
Controllers and SSDs can be mixed and matched and upgrades are non-disruptive. There is a guarantee that Kaminario will provide free hardware if a customer's guaranteed effective capacity needs are not met.
Kaminario claims K-RAID provides 87.5 per cent utilisation. With this, the replication and the point that the array's components are hot-swappable, Kaminario is sending out a message that its flash array is enterprise class in the data reliability stakes, a high performer, and cost-effective vs disk drive arrays, and estimated its average pricing as being about $2/GB of effective capacity.
Kaminario claims that comparatively, the K2's rival products lack compression; some of their metadata is held in RAM and is neither cached nor adaptive to the block size; they lack snapshots and replication or both; lack scale-out growth; do not have operational dedupe when workloads are high; the controllers are only active:passive; and that their cost is far north of its own.
Kaminario says its gen 5 K2 array comes with all-inclusive software pricing, and are available now, except for replication which will come in the second half of the year. Pricing starts at around $70,000. ®
* Usable capacity is calculated after deduplication and compression. Obviously it can vary with different applications and workloads.