The touchscreen Surface Pro 3, unveiled on Tuesday, is Microsoft's latest attempt to bridge the gap between laptops and tablets.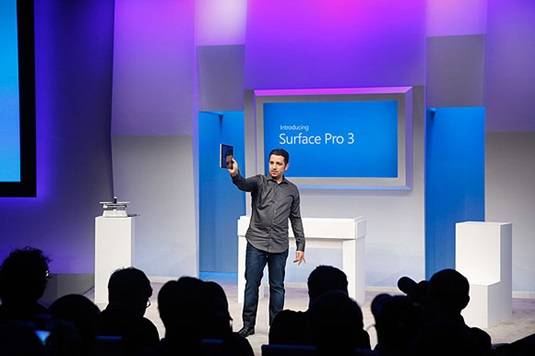 Panos Panay claims Surface Pro 3 is one device to rule them all
"It starts with dreaming the impossible," gushed Microsoft CEO Satya Nadella at the launch event in New York.
"Can we design and build a device that takes the best of the tablet and the laptop and enables any individual to be able to read and to be able to create and write, watch a movie and make a movie, enjoy art and create art? That's the device that we wanted to create, the motivation for the Surface line."
Redmond had cranked the rumor mill that it was going to churn out smaller Surface devices, but in the end it unveiled the 12-inch Surface Pro 3 running Intel's Core i3, i5, and i7 processors. At 9.1mm thick, Microsoft claims the Pro 3 is the thinnest hardware yet running Intel's Core family and that at 800 grams it's lighter than a MacBook Air, even with the detachable keyboard.
Those Core processors might pack a lot of grunt, but they also get hot enough to fry bacon, and so Microsoft's Panos Panay, VP of Microsoft Surface, claimed the company had "reinvented the fan" with custom parts to give 30 per cent more cooling power and an air vent system to keep the Pro 3 from overheating.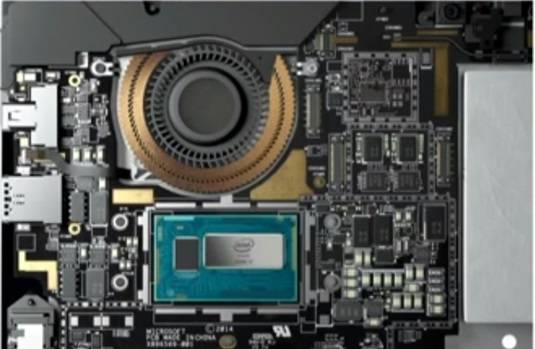 With big iron comes big cooling power
Intel's iron also takes up a lot of battery life, but Panay said that had been improved by 15 to 20 per cent over past Surface models. That should give the new model nine hours battery life from a single charge but, as ever, it depends on what you do with it.
The Pro 3 comes with 4 or 8GB of RAM to keep Windows 8.1 ticking over, a single USB 3.0 connector, microSD port, and a mini DisplayPort socket that supports 4K monitors. In the casing there are 5MP and 1080p HD front- and rear-facing cameras, front and rear microphones, and a front-facing speaker that's 45 per cent louder than the previous Pro model.
The pen that comes with the Surface has also been redesigned to work with Microsoft's OneNote memo software. Two clicks on the top of the stylus activates OneNote so that notes can be taken as and when they occur, and they are then automatically uploaded to the cloud.
Microsoft has entered into a partnership with Adobe to create a Pro 3–optimized version of Photoshop for the fondleslab. Michael Gough, VP of experience design at Adobe, raved about the new features in the Photoshop build when used with the new pen.
Similar topics