Microsoft's first phone as the formal owner of the old Nokia phones business is released today. The Lumia 630 will hit UK stores next week priced at £89, hitting the channels on 29 May.
Special deals might take it even lower.
There's a lot riding on the luridly coloured cheapie. The 630's predecessor, the 520, kept Windows Phone alive almost single-handedly in 2013, constituting some 40 per cent of Windows Phone device sales in some markets. But it had a clear run at market: legacy BlackBerry sales were collapsing and it offered a clear design and performance advantage over under-specced Android devices.
This year, Android has become more parsimonious, and with newer low-cost chips and without the dead weight of ODM bloatware and skins, can be a fine budget performer. For example, Motorola's comeback phone, the Moto G, offers a decent package at over £100 SIM-free. The new Moto E (review) has around the same £89 price as the 630 (at a RRP of £90), and offers a greater choice of apps.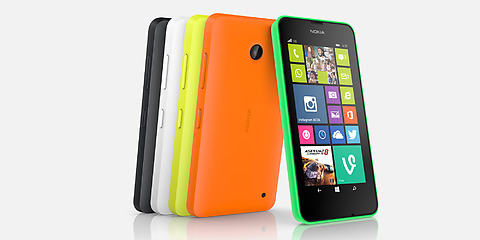 The Lumia 630 and its identical 4G sibling the Lumia 635 all feature Windows Phone 8.1 – the first models on the market to do so – a 4.5-inch touchscreen display and 512MB of RAM – which is enough for breezy performance on Windows, particularly with the quad core processor. (Android phones require more memory).
Like last year's hit the 520, and the Moto E, the 630 also dispenses with a front-facing camera. This year's model boasts Gorilla Glass and a larger battery. There'll also be a dual-SIM variant of the 630.
Windows Phone 8.1 offers far more enterprise-friendly features – VPN, encrypted email, remote device management – than its predecessors, which have been consumer-focused. However, the scene-stealing feature of the Windows Phone update, the voice assistant Cortana, won't arrive in the UK until later in the year.
We'll have a review for you shortly. ®