This article is more than 1 year old
Fanbois Apple-gasm as iPhone giant finally reveals WWDC lineup
'Life will be different as a result' says oh-so-modest gadget maker
Apple's most innovative minds seem to have been on a go-slow recently, with no properly exciting new products announced since Steve Jobs shuffled off this mortal coil.
But at least the fruity firm can be relied upon to update its software on an annual-ish basis, which generally happens at the Worldwide Developers' Conference.
Apple has now revealed the keynote timings and schedule for this year's WWDC event, which will start on June 2 in San Francisco. The conference's official app now shows this: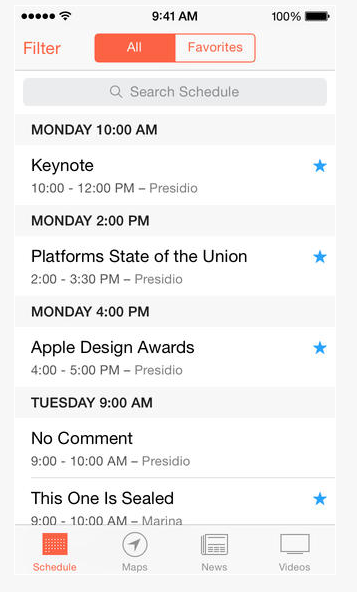 Other events will include a symposium on Women in Tech and a special "Apps For China" get-together to help developers craft software aimed at the People's Republic.
The WWDC website brandished Apple's typically flowery language:
"Over the past six years a massive cultural shift has occured. It's changed how we interact with one another. Learn new things. Entertain ourselves. Do our work. And live our daily lives. All because of developers and the apps they create.
"For five days, one thousand Apple engineers and five thousand developers will gather together. And life will be different as a result."
For those who don't know, 2008 was when the first iPhone went on sale. Before then, muggers had pretty much nothing to steal, mobile phones were used just to call people, and the word fondleslab hadn't even been dreamt up because tablets didn't exist [Copy-editors, check this – ed].
In that time, the world has changed. Will Apple bother to alter it again, or will CEO Tim Cook bore us all to death before Ragnarök comes? ®