MacBook Air 13-inch: If you squint hard enough, you'll see a lesser-spotted Apple Price Cut
Tiny speed bump, no Retina, £100 lighter
Review I suppose this is one of those glass half-empty, half-full situations. For months, the interweb was aflutter with rumours of a new MacBook Air with a high-definition Retina display to match that of the MacBook Pro.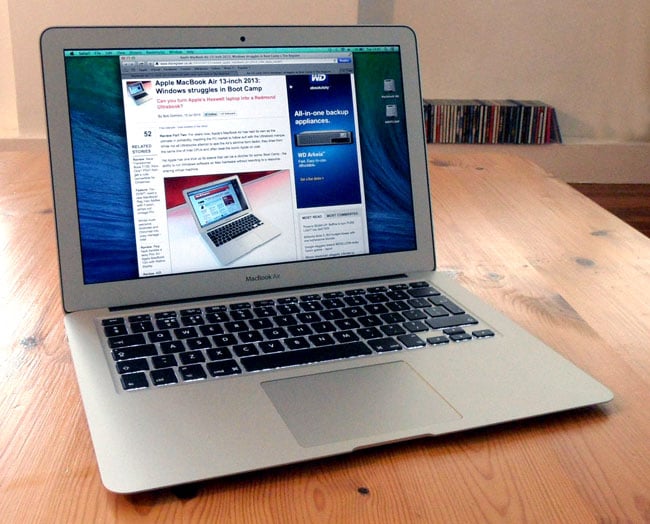 Apple's MacBook Air 2014-style: use the price cut to get more RAM
However, when the 2014 version of the MacBook Air duly arrived, the Retina display was nowhere to be seen. In fact, the only real change to the aging laptop's hardware was a minor processor speed boost – up from 1.3GHz to a breath-taking 1.4GHz.
That's the half-empty scenario. The half-full version gives us a £100 price cut that brings the 11-inch model down to £749 for the standard configuration with a 1.4GHz Intel Core i5-4350U CPU, 4GB of memory and 128GB solid-state drive. The 13-inch model reviewed here starts at £849 with the same specification, and the SSD in either model can be doubled to 256GB for another £150 – which isn't a great bargain.

No visible changes from the outside, you only notice differences within and in your wallet
As always, there are numerous build-to-order options, including an i7 processor running at 1.7GHz for an extra £130, although you'd probably want to spend any extra cash on doubling the memory to 8GB of RAM if you intend to keep it for a while. Needless to say, those prices are still relatively high compared to Windows laptops with a similar specification, but at least it's better than the price rises that we normally get with new Apple products.
The lack of a Retina Display is disappointing, though. The 13.3-inch display of the larger MacBook Air hasn't been updated for several years and remains stuck at just 1440 x 900 resolution.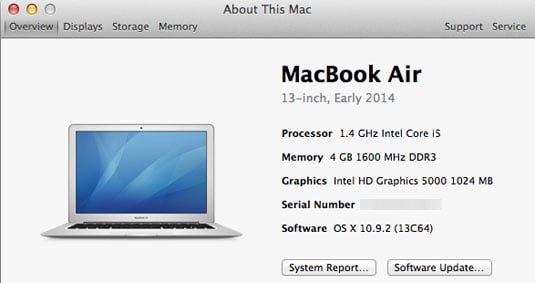 Spot the difference: up to 1.4GHz from the 1.3GHz Core i-4250U CPU in last year's model
To be fair, the image quality is still extremely good – it's bright and colourful, provides good viewing angles, and is more than adequate for most routine tasks. But 'adequate' doesn't cut it when you're paying Apple prices, and when there are Windows rivals such as Lenovo's Yoga 2 Pro boasting 3200 x 1800 resolution for less than a grand.
The processor speed bump is virtually insignificant too. After the usual fun and games attempting to use Boot Camp to install Windows 7 (see stage 8 to avoid headaches) the MacBook Air managed a PCMark 7 score of 4178 points compared to 4157 for its predecessor.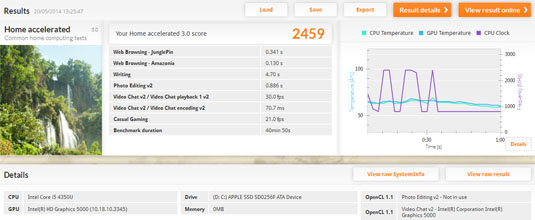 PCMark 8 details the performance when running Windows in Boot Camp – click for a larger image
The Home Computing test suite in PCMark 8 also produced a fairly modest score of 2460 points, as well as reporting a casual gaming speed of just 21fps. However, the MacBook Air fares better when running Mac-native games such as Diablo III (v2.0 – now with added end-game), and seems quite capable of some casual gaming action every now and then.
Ultimately, though, the one thing that does still make the MacBook Air stand out is its excellent battery life. The intensive battery tests in PCMark 8 ran the battery flat in 4.5 hours – a respectable result, but hardly outstanding. However, my BBC iPlayer test doubled that to nine hours of streaming video, and casual use with occasional Wi-Fi down at a local watering hole matched the 12-hour battery life of last year's model.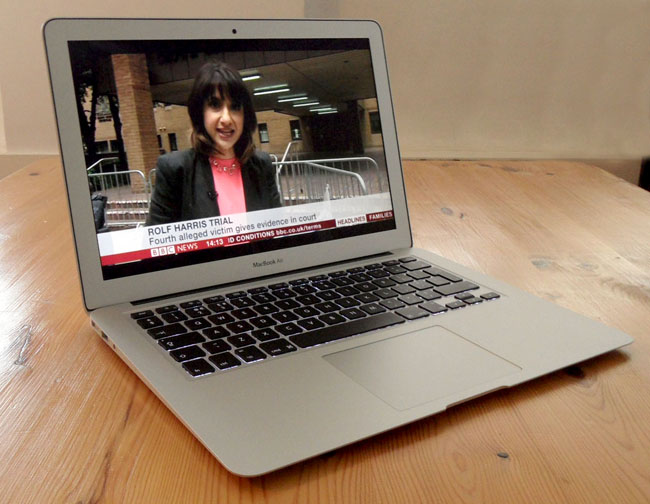 Battery life still remains a strong point with the MacBook Air – 12 hours of rolling news, anyone?
In fact, I strongly suspect that the need to maintain battery life is the reason Apple hasn't produced a more significant update to the MacBook Air. We've seen numerous Windows Ultrabooks that provide greater performance and display resolution than the MacBook Air, but few that come anywhere near its battery endurance. And, at just 1.35kg and 17mm thick, this ageing laptop can still claim to be one of the lightest and most compact ultra-portables on the market.
The Reg Verdict
Many people will harp on about the dated display, but that £100 price cut will appeal to plenty of people who just want a lightweight laptop with good battery life. That should keep sales going for a few months yet, but this old dog needs to learn a few new tricks if it wants to keep its position as leader of the pack. ®

MacBook Air 13-inch: If you squint hard enough, you'll see a lesser-spotted Apple Price Cut
Speed bumped 13in MacBook Air base model featuring a 1.4GHz Intel Core i5-4350U CPU, 4GB of RAM and a 128GB SSD.