Sonos turns up volume, slips out new Wi-Fi speaker control app
Good news ... unless you're using it on an iPad ...
Streaming Wi-Fi speaker supplier Sonos has updated its speaker app so that it looks a little nicer and does more. Screen appeal on tablets is not so good, however, and it doesn't solve an existing Playbar surround sound issue.
This software, known as the Sonos controller (v5.0), runs in iOS v6.0 or higher, as well as on Android (v2.1 and higher) smartphones and tablets. It streams music stored on the device or from internet music-streaming services like Spotify, Google Play and Shuffler.fm, to Sonos speakers in the home using the Sonos wireless network.
The new version presents album art when playing music, brings the settings option into the main menu list and provides:
Universal search across all music services
Voiceover for iOS for visually impaired users
Full music mode option for speakers used in 5.1* mode
Schedule indexing of personal music files for iTunes users
Schedule your system to play any of your music sources at a specific time, selecting specific Sonos players or rooms to set volume, duration and more
The search function lets you search for a track and find live performances, remixes and covers across all your music sources.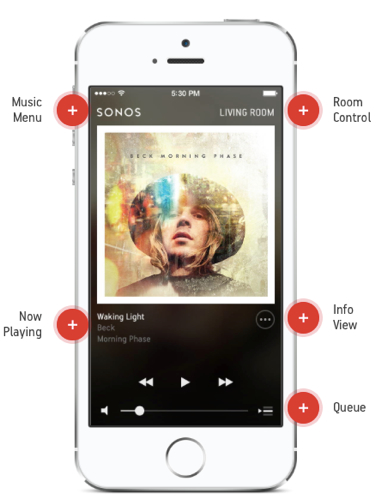 New Sonos controller app features on iPhone
Sonos says the Controller App "comes pre-loaded with TuneIn Radio to deliver over 100,000 free radio stations, shows, and podcasts from across the globe ... AM, FM and HD radio stations as well as internet radio programs."
One consequence of having a large (relatively) piece of album art on a smartphone screen is that there is little space left for anything else. That problem disappears on tablets, which have more screen real estate. However the appearance of the app on tablets is not so crisp and elegant as the smartphone app.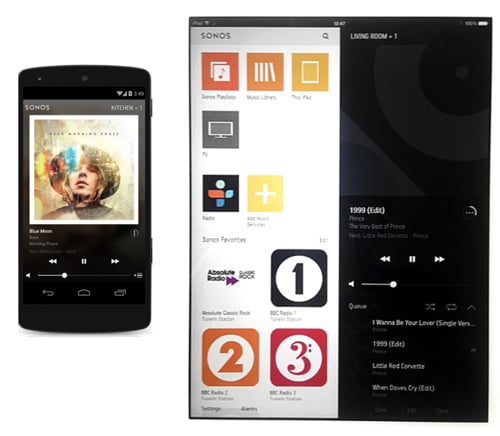 Sonos controller app on an Android mobile (left) and iPad (right). Sonos now uses flat Apple-style iconography.
The iPhone app, or at least my iPhone version, has clunky, variable-sized icons on the left half of the screen, missing album art on the right-hand side, and looks half-finished. Did the screen designer go on holiday?
There are 25 pages of comments about this in a Sonos Forum discussion on the new controller app. For example, user MIBUK said: "Really like the Update to the iPhone app, but very disappointed with the iPad version. It seems like a cost cutting exercise to basically have the same app on the iPhone on the iPad, which they have succeeded in."
Wong Jnr posted: "Phone apps on android and iOS I do like. Ipad is a total shambles."
Other posters like the search function, easier queue operations, and the prominence of Sonos Favourites; a user's selected radio/streaming music sources.
Here's Mebby, from that same forum thread: "I really do love the new iOS controller. It's wonderful on the iPad. A few nits but overall I feel like this is a big step forward."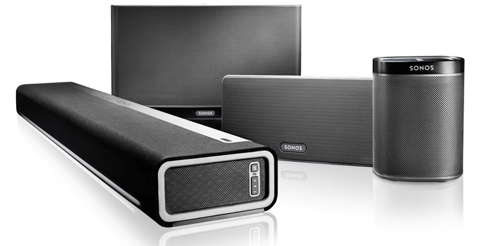 Sonos speakers: Playbar, Play:5, Play:3 and Play:1 left to right.
Surround sound issue
Sonos Play:1, 3 and 5 speakers can be paired for stereo sound and also have a Sub sub-woofer added in. The Playbar speaker set is designed for use with a TV/home cinema system and it can be paired with two Play:1, 3 or 5 speakers to provide surround sound. The speaker pair are positioned to provide left and right rear sound sources. That's great except when in the same room you just want to play music with left and right stereo sound sources.
You can now configure these left and right rear speakers to play "full" music or "ambient" (quieter) music.
There's a video of the new app in action here and a Sonos blog introducing the new software. The app is free to Sonos users. ®
* 5.1 refers to the general config for six-channel surround sound audio systems. The 5 refers to five full-bandwidth channels and the ".1" to the one low-frequency effects channel.
The v5 controller app is also compatible with Windows XP SP3 and higher, and Mac OS X 10.6 and higher.