Solid 3D printing may be all the rage these days, but the headman at one of the world's leading 3D design, engineering, and entertainment software and services companies thinks its promise has been overblown.
"Much of what's been said of the benefits of 3D printing has been way overhyped," Autodesk president and CEO Carl Bass said at the O'Reilly Solid conference in San Francisco on Thursday.
At first blush, this seems a strange statement coming from a man whose company just announced its Spark open 3D printing platform and their own Autodesk 3D Printer last week, with plans to make both available later this year.
But Bass isn't dissing all usages of 3D printing; he's merely arguing that the technology won't make its mark with home "makers" – or, for that matter, homemakers – who want to print their own gadgets, toys, and gizmos. Its true calling is instead in manufacturing and other industrial uses that have been "way underappreciated up until now," as he put it.
"I think in the long run," Bass said, "if we look, the value that will be there is in the industrial use of 3D printing. That's where it is really going to make a difference."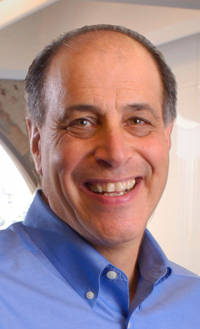 Autodesk prez and CEO Carl Bass ...
From Bass' point of view, 3D printing has advantages over traditional industrial fabrication. "The absolute coolest thing about 3D printing," he said, "is that shape complexity is free. I can design anything I want to on the computer, and with little to no skill I hit the 'Print' button, and the right thing comes out."
A 3D printer, he said, could care less whether it's asked to print a complex object or an exceedingly simple one – a cube, for example. It just prints what it's told to print.
But that cube itself is a hint as to one of the things that stand in the way of the success of 3D printing on a grand scale: its inability to scale up to printing large components.
"Making 3D prints larger grows at the third power," he said. "It's a cube function." As an example, he postulated printing a one-inch cube in one hour. A cube two inches on a side would then take eight hours, a four-inch cube would take 64 hours, and so on.
"If something takes an hour to print, and you want it four times bigger, it now takes nearly three days," he said. Not good.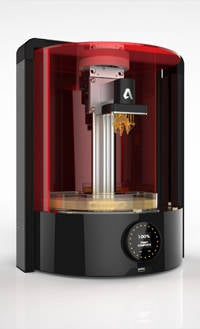 ... and his 3D printer
He also reminded his audience that although 3D printing is sure to improve in performance, they've come to expect that the so-far predictable trajectory of Moore's Law will apply to all of microprocessor-based tech.
"I think what we're going to see as 3D printing advances is a very different trajectory than the one we're used to with computers and software," Bass said. Software developers, he reminded the devs in the crowd, have had the luxury of writing software then sitting back and letting Moore's Law improve its performance. "We will not have that advantage when it comes to 3D printing," the soon-to-be 3D printer vendor said.
"We will need to experiment and explore and invent and discover and come up with new ideas," he said. 3D printing will improve, but its path of that improvement will be unpredictable.
He provided a few examples of some paths that 3D printing might take, such as the MarkForged 3D printer that uses filaments of carbon fiber impregnated in resin, a Dutch artist who has devised a printer that uses a robotic arm to print twisting metal 3D rods in free space, and an industrial device from DMG MORI that combines metal 3D printing with machine tools, thus accomplishing both additive and subtractive fabrication in the same tool.
About a video of that last example Bass said, "I'd watch that all day long. My kids have come to me over and over again and said, 'Dad, will you stop watching that CNC porn'," CNC being computer numerical control of automated machine tools.
3D printing certainly has a future, Bass said, even though its promotion has gotten a bit out of hand. "It's so hyped, even Autodesk decided to get into 3D printing."
The customer is always right, it seems. ®