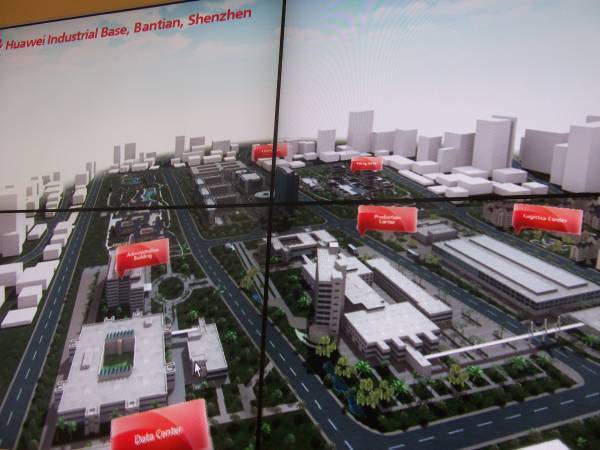 Huawei's Shenzhen base
Strategy
So Huawei asked for consulting advice from IBM and Siemens: IBM for strategy and Siemens for manufacturing, even though today Huawei has outsourced almost all of its manufacturing as it moves up the value chain. Cisco considered Huawei's routers to contain enough of its own code to merit a lawsuit, and this was settled out of court in 2003.
To fix that one, Huawei ramped up its own R&D. The company now shows off a "Patent Wall" and says that as of 31 December 2012, Huawei had filed around 50,000 patents and had been granted over 36,500 by the end of 2013. It was among the top 10 applicants at the European Patent Office last year. It holds 7,300 patents in European countries, says the EPO.
To counter the drip-feed of unproven allegations of "back doors" in its products, Huawei has opened up a centre in Banbury in the UK where it exposes its equipment (and source code) to the British intelligence at GCHQ.
(The Banbury facility, CEST, was set up before the Snowden revelations this year that the NSA had penetrated Huawei's corporate systems and lifted emails and source code – and possibly planted its own booby traps in the code). Former UK national telco BT continues to use Huawei kit.
By contrast, the US response to Huawei has been pretty shabby. Since the Congressional investigations came up empty of any evidence, there has not been any movement, despite the NSA revelations - over which China has expressed its disappointment.
Now not everything at Huawei will be plain sailing, or an assured success. Huawei has decided to enter the consumer market – to drive demand for data upstream. But this is tough one to compete in – especially if you have promised not to spend huge amounts of money marketing.
"Huawei" is quite hard for an Anglophone to pronounce. Brand building is difficult – especially on a budget. Huawei may fail by doing everything right except spending bucketloads of cash. But executives have, no doubt, watched how Haier took the world's No 1 spot in white goods without breaking the bank either. And they have seemingly infinite patience.
What can we learn from Huawei?
The really interesting thing about the business sector in China is that in the UK we have the qualities that have helped it succeed. Inventive engineers. Pragmatism. And we've got the English language and marketing skills.
But today, we really only have one world class tech company, ARM, and one white goods brand, Dyson. The rest all fell to acquisitions, with the money largely not being invested back in the UK. Why aren't we up there?
Successive prime ministers have talked about "the global race", none more so than Cameron. It has now reached comic proportions. How about the No 10 press release titled "Digital Government to secure Britain in the global race" – as if GDP growth is assured by us filling out forms faster than in a competing country.
Or the Tech City initiative, handing subsidies to upper middle class graduates to fart around for a year? Importing the worst of Silicon Valley's cut-and-run VC culture hardly helps build long-term businesses. It places greater incentives on short-termism.
Traditionally we've complained – with some justification – about the short-termism of the City. Yet Haier and Huawei show you can grow without depending on financiers. Stay private, and raise the cash from employee share allocations.
I'd suggest we start hiring Huawei executives – perhaps as consultants. Failing that, the only good news is that pot noodle sales have trebled since 2011. Global race? That should do it. ®