This article is more than 1 year old
Why are Fujitsu and Toshiba growing lettuce in semiconductor plants?
Salad days before us, say ageing chip vendors
Fujitsu's foray into growing lettuce is not meant to be a revenue stream, but rather a necessary step in convincing farmers to start utilising ICT, the tech giant's boss has told us.
Which is just as well, as the clean-room grown lettuce the IT giant unveiled last week will produce revenues of $3.8m this year, according to our back of the leaf sums. This is not even a small green salad when set against Fujitsu's full-fat revenues of $50bn odd a year. Or indeed the average cost of a clean room.
Fujitsu left industry observers slightly non-plussed last week when it revealed it had converted former semiconductor clean rooms to into intensive hydroponic lettuce farms. Visitors to the firm's customer forum in Tokyo last week expecting the usual show floor goody bags were presented instead with heads of the leafy green salad essential.
However, fellow Japanese electronics giant Toshiba swiftly followed up with the revelation that it too was converting a chip factory to growing lettuce in former clean rooms. And for good measure, it said it would also be grooming baby leaf greens, spinach and mizuna at the plant, which it will punt to supermarkets and restaurants.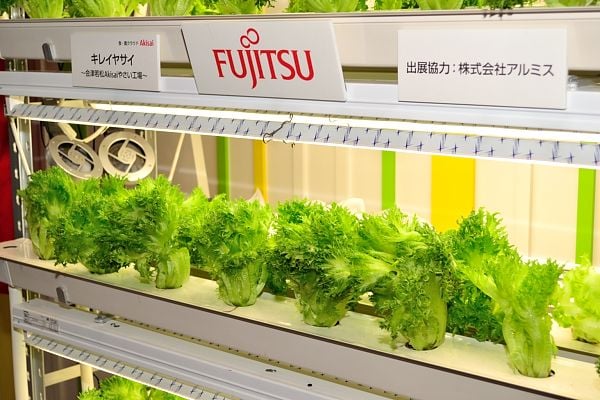 Server giant fills racks with lettuce
In both cases, by growing the leafy greens hydroponically in disused clean rooms, the techie horticulturalists claim to have minute control over what nutrients are taken up by the growing plants, while light levels and wavelengths can be set at the optimal level for plant growth. As the plants' environment is a clean room, it can be strictly controlled, meaning pollution and pests are kept at bay right through the growing and packaging process. This can mean the lettuce can be munched without needing to be washed first.
Fujitsu has chosen to make its variety very low in potassium. This makes it suitable for patients with kidney problems, who would otherwise have to avoid the salad. Toshiba, meanwhile, is targeting polyphenols and vitamin C with its herbaceous outpourings.
Fujitsu's lettuce is being supplied to hospitals and patients in Japan, at a cost of around $3 a head. This compares to around $1 for regular lettuce in the country. Fujitsu was already shipping around 3,500 head a day, a source told us, giving it a current run rate of just under $4m a year.
"Obviously we're not planning to boost our revenue stream with lettuce," Fujitsu president Masami Yamamoto told us at a round table in Tokyo last week.
Rather, said Yamamoto, there was a global food crisis, and at the same time agriculture "is still is an industry where people do work based on their knowledge and their skill sets and intuition." Which is a polite way of saying many farmers really need to drag themselves into the 21st, or even 20th century.
As well as growing its own greens, Fujitsu is developing tech for conventional farms, using sensors and cameras to optimise the use of land, allow farmers to respond quickly to climatic conditions, and tighten up the supply chain.
"We believe there is much room for innovation in the agriculture industry, so before we begin expanding these solutions we felt that we should challenge ourselves and see how ICT could be utilised within the agriculture industry and once we have justified it or proven this we can expand very quickly these solutions," he said.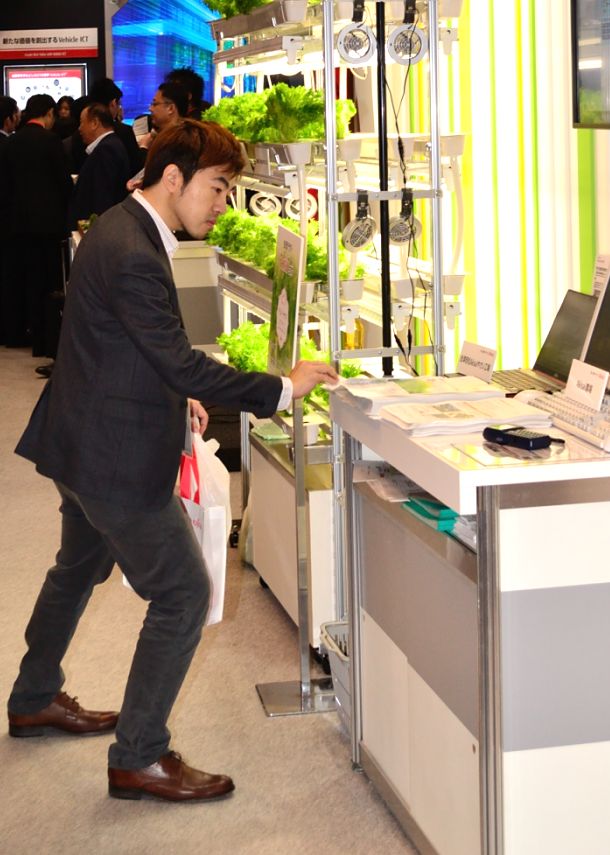 I wonder how it will taste if I press this button...
European countries are, arguably, further ahead in applying technology to farming, and Yamamoto cited the Netherlands as an example of a country which has pulled together digital technology together with other intensive farming techniques.
Fujitsu's take also integrates ICT at the producer end of the chain with the distribution, retail and cooking aspects of food production and consumption. Or, in other words, your microwave will actually talk to the frozen pizza.
Dr Martin Schulz, of the Fujitsu Research Institute in Japan, highlighted the decline of the countryside in many developed countries, and in Japan in particular. The population in the country is already around 92 per cent urban, even as the population shrinks as a whole. He argued that it made more economic sense to grow some crops intensively in town. While there would be power costs associated with the artificial light environment, cooling, etc, he argued these needed to be offset against the lowered logistics costs in having a much denser crop nearer to consumers.
As for the lettuce itself, it can reputedly last up to three weeks. We're testing that having slipped a couple of heads in our luggage. So far so good. A week after we picked up our salad greens, including four days spent nowhere near a fridge, followed by a 20-hour flight from the Far East stuffed in hand baggage, the lettuce still looks fresh and green, if slightly crumpled. We tried some in a sandwich today. It was certainly inoffensive, but we wonder if chips might have been more substantial. ®