After four quarters of profits Brocade has posted a $14m loss, due to a costly goodwill write-off as it exits a hardware business.
Revenues for the quarter were $537m, down five per cent from the prior quarter's $565m and the year-ago quarter's $539m (down one per cent).
Three months ago it made a profit of $81m; this time it earned a million less compared to the year-ago quarter but posted a $14m loss. This was due to lower spending in the ADX hardware product area.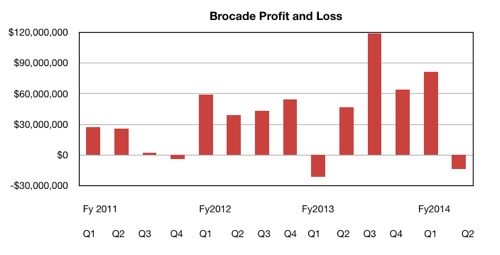 The revenue number was around $6m above Wall Street estimates, a pleasant surprise for the analysts. So was the introduction of quarterly dividend payments.
Brocade CEO Lloyd Carney said: "This was a solid quarter for Brocade in which our Storage Area Networking (SAN) revenue grew year-over-year and our refocused IP Networking business made good progress in the quarter."
"Good progress" here means lower sales year-on-year but a sequential rise.
SAN business revenue, including products and services, was $379m, up one per cent year-over-year and down eight per cent sequentially. When adjusted for the sale of the network adapter business, SAN product revenue increased by two per cent y-o-y.
IP Networking business revenue, including products and services, was $157m, down four per cent y-o-y (due to lower federal sales) and up three per cent sequentially (after Ethernet switching product sales rose).
Brocade sold off its network adapter business to QLogic earlier in the year, and QLogic exited from the Fibre Channel switching business. Brocade is focussing on data centres and doing more with software-based ADX (Application Delivery Controller) products for the layer 4-7 network area. As a result, hardware-based ADX revenues are expected to fall. Software-defined networking is coming to the fore.
CFO Dan Fairfax explained the loss: "The GAAP loss was due to an $83m non-cash goodwill impairment charge associated with the Brocade ADX product family. During Q2 14, we made a strategic shift to reduce investment in the hardware-based ADX and to increase investment in the software-based ADX products for the Layer 4-7 market. As a result of this shift, we expect hardware-based ADX and related support revenue to be negatively impacted by $20m to $40m on an annualised basis."
Brocade sees software ADX revenues growing at 30 per cent a year while the hardware ADX growth rate was around one to two per cent a year. The ADX hardware exit is logical.
Apparently this goodwill loss can be offset against tax. Without the $83m write-off, net income would have been much higher.
Fibre Channel product sales are steady, with Carney saying: "The Fibre Channel adapter market has been negatively impacted by the increase in virtualised servers while the Fibre Channel switching market will continue to grow. … Since the launch of our Gen 5 products in 2011, we have increased our market share by 4 per cent. We are on track with the Gen 6 technology and expect initial shipments in the first-half of calendar 2016."
William Blair analyst Jason Ader, who sees the Fibre Channel market as mature and shrinking over the next few years, says: "Cost-cutting actions have largely been played out with both operating margins and earnings expected to remain roughly flat in the fiscal third quarter on flat top-line growth. Ultimately, the company will need to demonstrate that it is more than a cost-cutting story and is capable of growing the top line."
Stifel Nicolaus MD Aaron Rakers, another analyst, suggests: "Brocade should benefit from EMC's anticipated high-end VMAX refresh (July?), as well as a possible midrange refresh in late-2014."
He's quite keen on Fibre Channel switching: "Brocade believes FC SAN switching, driven by storage capacity and I/O requirements, can grow in the low/mid-single digit range going forward; continuing to represent a strong cash cow business."
Brocade says its FC switching business is driven more by arrays needing FC connectivity and fabric switching than servers needing HBAs. Rakers said: "Brocade noted that it is working with nearly every Flash array vendor in the industry and more than 90 per cent of Flash arrays are connecting via FC because of better performance, lower latency, and the lossless nature that FC provides."
True that.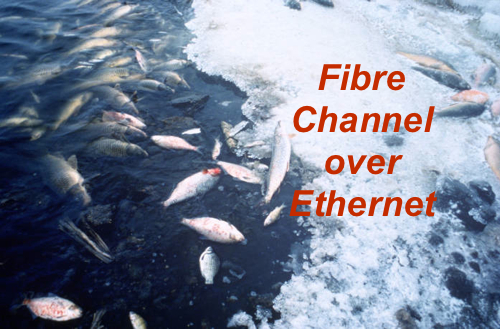 Brocade says FCoE is dead in the water
FCoE (Fibre Channel over Ethernet) is a contained and weakened threat, with Jason Nolet, VP for Data Center Switching and Routing, saying: "We've obviously been paying very close to attention to customer sentiment on FCoE and customers have pretty much universally voted to stay with Fibre Channel. And you're seeing the analyst community continuously take down their forecast for FCoE, not just on the adapter side, but on the network side as well."
Carney gave FCoE a good kicking too: "Customers who are doing that are ones that who are doing on duress or something. We have seen more customers try FCoE end-to-end and go away from it than customers who have successfully deployed it. As a matter of fact, I think I'm challenged, I'm looking at 10 years, to think of any customer who has gone FCoE end-to-end that we have seen, I mean, it just doesn't work."
Brocade's outlook, according to Rakers, is: "Revenue guidance for F3Q14 was provided at $525m-$545m, down 0.3 per cent yr/yr and -0.4 per cent sequentially at the midpoint."
Flat basically.
Ader sums the Brocade situation up: "With cost-cutting complete, we await signs of growth." Sing out if you see any green shoots. ®