Comment There is dissent in the flash array vendor ranks over Gartner gurus' magic quadrant. The all-flash array ranking quadragon has reared its head and breathed fire from its nostrils all over us puny Reg hacks.
Thanks to a tipoff, we can now update our earlier list to add another vendor:
Cisco Invicta
EMC XtremIO
HP 3PAR <——— added to list
IBM FlashSystem
Kaminario K2
Huawei (OceanStor Dorado)
Netapp EF540/550
Nimbus Gemini
Pure Storage FA-400s
Skyera
Solidfire
Violin Memory
HP's inclusion means a second mainstream array vendor (alongside NetApp) with an all-flash makeover of an existing array is in – and excluded Dell is not feeling the love from Gartner.
Dell Storage spokesman, Lon Levitan, says: "While the MQ might be eagerly anticipated, we agree that the pending list of entrants is quite suspect... Dell won't be a part of the MQ due to Gartner's inclusion criteria. Assuming the firm stays the current course, we expect the outcome to be an inaccurate representation of the actual market."
Why would it be inaccurate? Levitan says: "According to an October 2013 ITIC/Storage Strategies NOW independent survey of more than 550 global IT leaders, Dell is the top choice as the leading vendor for the organisations deploying flash/SSDs. Dell bested EMC, HP, IBM, NetApp and others by six or more percentage points."
He finishes up by saying: "Dell is out-shipping the majority of the vendors and models included in the forthcoming MQ, yet we're not represented because of the inclusion criteria."
It's appears that neither Fujitsu nor HDS, both with all-flash arrays, are in the list above, although of course no one really knows what the final list looks like until August.
Enter the dragon
Separately we've had input about our own all-flash wonder quadragon map-o-graphic, which is shown here in its original, October 2013 form: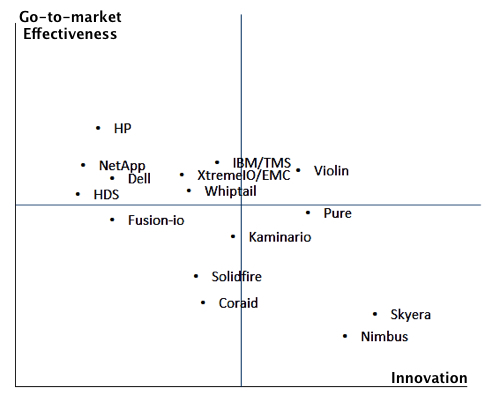 Original AFA Magic Quadragon
Bruce Hockin of ChannelFusion, an IT trade distributor, reckons that the vendor positions should change because, in his words:
"Pure - product gets better, range gets wider, end users and channel both invigorated, moves into Leader Quadrant,
Solidfire - strong story which is garnering wider appeal, less niche as they move into top end enterprise and out of xSP only proposition, still need a channel to be leader, but moves from Niche to Visionary,
Violin - still driving innovation but not really winning hearts and minds of the channel like Pure are. Troubled company, who hopefully will see an upturn. Down and right,
EMC/XtremIO - gone GA, product has a nice story but failing to see true innovation, others have better scale and performance. Being EMC however they are shifting kit, move to Leader,
IBM - have fallen back a bit. They are selling, but not hearing or seeing much innovation,
Skyera - ominously quiet since SkyEagle announcement, storage density still looks exciting, could be big in 2015,
Kaminario - adding features, performance and scale with latest releases, but they still are unable to engage wider audience. Should be better positioned than they are. Flash density still troubling. Great product however,
Cisco - not sure, hearing some great roadmap stuff and it will sell, but actual customer shouting about it are a bit thin on the ground."
Bruce says: "Everyone else stays the same. Have added Huawei (but it doesn't seem THAT interesting)." He's kindly provided an updated map-o-graphic, the Hockin Quadragon (™ registered we suppose), an AFA HQ even: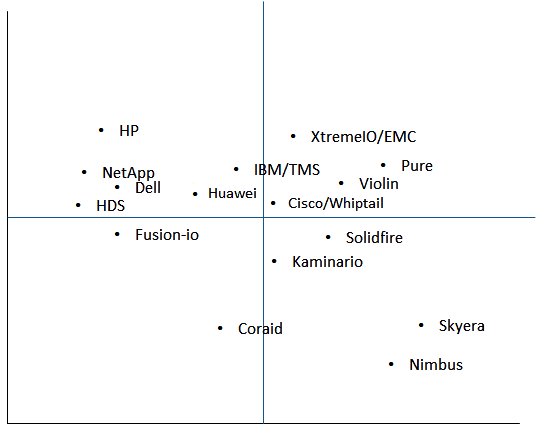 May 2014 Hockin Magic Quadragon.
If the Gartner gurus would like to use this as their MQ we're sure Bruce would be amenable, subject to payment of an outrageously large fee from which we would take a cut - Bruce, are you listening? - and have a bracing beer-age session at a local tavern. ®
Similar topics