Hello Moto... It's the Nokia Lumia 630
El Reg cops a feel of boxy 520 follow-up. But like the Moto E, it also has a flaw
'Smoked' by, um, committee
The biggest difference between the 520 and 630 is in the software: it's the first phone to be released that runs Windows Phone 8.1, a huge overhaul to the platform. This loses a lot of Windows Phone's charm, but makes it more acceptable to a mass market.
Microsoft can no longer run the "Smoked By Windows Phone" challenge of just two years ago, which challenged users to perform every day consumer tasks quicker than the competition. The Live Tiles have been deprecated and the Hubs de-hubbed. Instead, there's an Android or iOS-style pull-down notifications panel.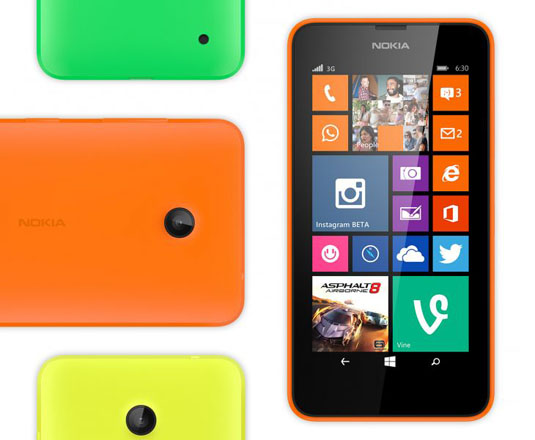 Don't worry, you can get it in black and white
It's a first-generation notifications pull-down, though: while convenient and useful, you can't reply or delete an email from within it; an extra manual action is required to do that. The much vaunted "glance-ability" we heard about at Windows Phone 7's launch has also been forgotten.
And the striking typography has also been toned down. Microsoft has separated out the media volume and call volume controls by popular demand, but switching the phone to silent mode is far more cumbersome than on rival phones. Toggling silent mode isn't an option from the power button (as it used to be with Nokia handsets) or one of the new short cut options.

No dedicated camera button and some regular tasks remain cumbersome on WinPho 8.1
Design by committee? Depends on the committee. This one seems a bit hesitant, and dare I say it, not really a fan of Windows Phone.
This platform release doesn't feel quite finished. The impressive (but niche) voice assistant Cortana won't arrive in the UK until the end of the year. The Music app is still a work in progress... and it's hard to believe that the Spotlight-style on-device search was released in this state.
For instance, suppose you want to look up a contact, or a keyword in an email, or a song from the main Bing navigation button. The phone performs an internet search and only then, when that's complete, allows you to perform the on-device search. It can take between 20 and 30 seconds to do the on-device search. Few will bother.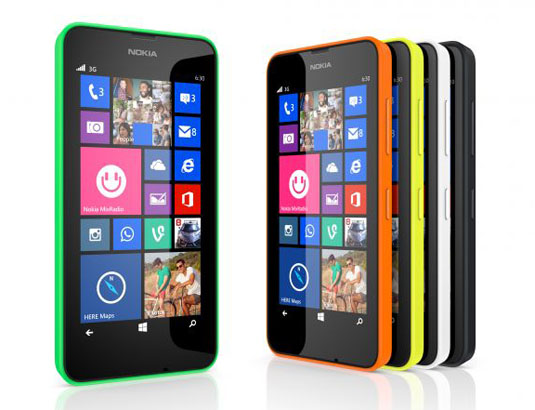 No Cortana voice control for UK users until late this year
On the plus side, dozens of overdue features have been incorporated or improved, such as better backups, a Swype-style keyboard (you don't have to activate this – just start smearing your thumb around), a better calendar and a kind of "auto remember" for Wi-Fi hotspots. You can now run apps from the memory card, a Class 10 microHD or faster is recommended, if you want to do this. And cards up to 128GB are supported.
And the Lumia includes excellent offline Maps – although you have to download the country maps yourself, which negates the "out of the box" advantage, but then again, a Lumia fully loaded with offline maps would need more than the 8GB of internal storage provided.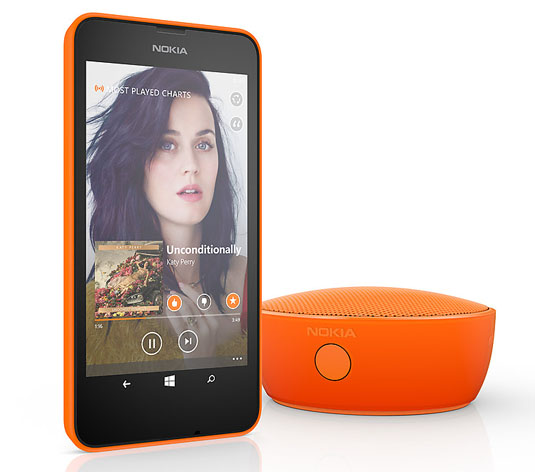 Need a boost for Nokia Music? There's always the colour-matching Nokia MD-12 Bluetooth speaker
This Lumia does the fundamentals really well. Performance from the quad-core 1.2GHz Snapdragon S400 processor was not surprisingly, excellent even with just 512MB of RAM at its disposal. Calls boomed out on both earpiece and speakerphone. It was a battery life champ, lasting well into a second day on a decent charge, from modest use.