NOT APPY: Black cab drivers enraged by Hailo as taxi tech wars rage on
Stick yer dog up yer Aristotle, chum. We only talk to the hand
The London-based taxi app Hailo, which formerly worked only with black licensed cabs, has found itself at the eye of the storm after black cabbies launched a series of attacks against its vehicles and premises following its move to work with private hire minicabs.
Hailo's vehicle office in Bermondsey was at the centre of an emotional protest earlier this week. Cabs emblazoned with the Hailo logo have also been targeted by cabbies angry over the move to extend its services to private hires, the "sworn enemy" of Hackney-cab drivers.
Hailo operates a premises in Bermondsey, as well as a central office in Somerset House. On Tuesday, The Reg understands that a group of black taxi drivers went to "have a word" with the owners of Hailo in the Bermondsey office, which is located front of a large taxi depot.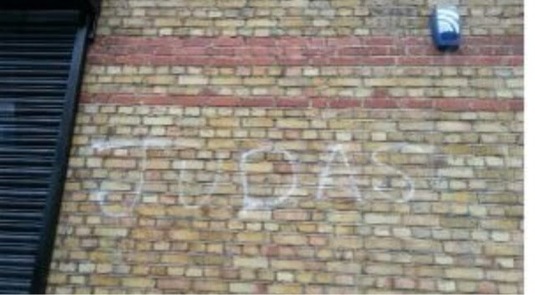 Nah, don't know what that means. What's it rhyme with?
After a tense standoff, the police were called and the crowd dispersed without incident.
Later on that evening, the word "scab" was scrawled in red letters, as well as the insult "Judas". These have since been scrubbed off, but the shutters are still firmly drawn to prevent further incidents.
We spent the morning chatting with taxi drivers in Bermondsey, who were "disgusted" at Hailo's decision to extend its services to private hire taxis.
"They started with the promise of bringing more work to the trade, but now they've gone and signed up our sworn enemies, the private hires," a driver told us.
"We thought Hailo was going to help us take on private hire firms like Addison Lee, but they've just gone over to the other side. It's shameful."
"We're seeing black taxi drivers having a go at other people in the same industry," another said. "It's sad."
Hailo was started by three taxi drivers in a bid to take on private hire firms. Black cab drivers in London have to pass a stringent test on the street layout of the city, known as "the knowledge" and generally requiring several years' training to pass, which private hire ("minicab") drivers don't. The black cab drivers guard their privileges of metered journeys and being allowed to pick up impromptu fares on the street jealously, and it's generally thought that they make a lot more money than minicab drivers normally do.
Cabbies told us that black hackney drivers which signed up to sponsorship deals to have their vehicles coated in the Hailo livery are now clamouring to have it removed. One Hailo taxi was pelted with eggs and drivers now fear for their safety if they visibly associate themselves with Hailo.