HP: You know what's hot right now? Cloud* storage
Facebook's onto something... Right?
---
Updated Cloud storage is hot, according to Meg Whitman, HP's CEO, who spoke of her "excitement" in the Q2 results earnings call.
Whitman said:
I'm very excited about some of the innovations that we'll be rolling out in the second half of the year from our server, [cloud]* storage, technology services and converged systems team. We're doubling down on innovation in EG (Enterprise Group), because we believe that it's how we're going to differentiate in this market.
HP has just launched Helion, its public and hybrid cloud offering and it has a four storage components: archival, backup, collaboration and disaster recovery. Each one of this is based on HP's Cloud Object Storage, which is based on Open Stack Swift technology.
HP sells its StoreAll 8800 Ibrix-based object storage system. This natively supports OpenStack Swift. IT could be the hardware system underpinning the Helion storage services.
For archive HP is partnering with Panzura and Riverbed. The company says "HP Cloud Object Storage provides the ease of use, cost savings, accessibility, and security that enterprises require to efficiently manage data archives and stay compliant."
It adds in TwinStrata to these two for the Backup service, and works with Panzura for Collaboration, and Maginatics and Cloudian for disaster recovery.
This HP implementation of archival storage can be contrasted with that of Facebook and its cold storage archival idea; the storage of old data that can't be thrown away and needs to be instantly accessed when needed, ideally faster than tape – the archetypal use case is that of Facebook's user photos.
Facebook's Open Compute Project, an initiative to have bare bones compute, storage and networking gear built to its specs, has an Open Vault specification. We wrote about it here and you can get a spec here (PDF).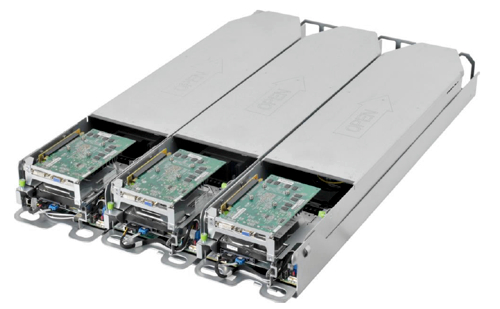 OCP Winterfell server
In the spec, a cold storage rack would have two Winterfell X86 server nodes and 16 Open Vault (code-named Knox) 2U x 30-drive enclosures using a cold storage product to be built by Foxconn. HP is partnering with Foxconn to build OCP-class servers for hyperscalers. Perhaps it may, at some time, build OCP-compliant cold storage in the same way.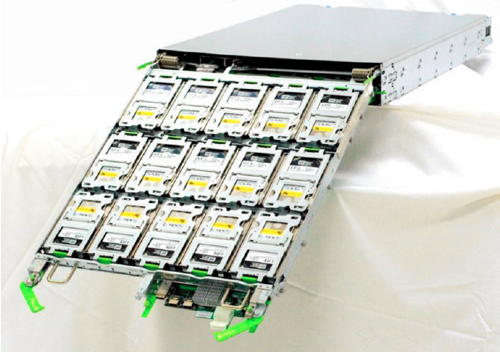 OCP Knox Open Vault.
From what the CEO said that doesn't seem to be on HP's archival storage radar. Who knows what might happen in a year or two though. ®
* The original article referred to cold storage in the headline due to a typo in a transcript. This has been amended.