Samsung WRISTPHONE – for those who wanna whisper to strap-ons
'Tizen-powered mobe coming in June or July'
---
Samsung is about to give the world a smartphone-on-a-wrist, according to The Wall Street Journal.
Murdoch's money magazine reports that the as-yet-un-named device will run the Tizen operating system, include a camera, Bluetooth, GPS, heart rate monitor and even an email client. Unlike Samsung's current wearables, it won't need a companion smartmobe for wide area connectivity
Just how one will enter text, or hold the device, isn't explained.
One intriguing item in the Journal's reports suggests the device will come with a SIM, a hint that it will be tied to carriers.
Online tat bazaar Alibaba is already replete with wristphones, such as the XLW SM-588 depicted below.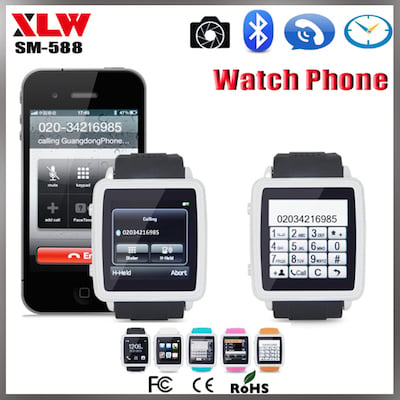 The XLW SM-588 wristphone
One imagines Samsung's efforts will be rather more polished than the XLW SM-588. Yet any such device faces many obvious challenges. Tizen apps are scarce, any wrist-mounted device's screen size almost certainly making for a compromised user experience, unknown contortions are required to use the device effectively and existing battery technology will surely be challenged by a device performing the power-hungry task of making phone calls.
Maybe that $US75 XLW-SM-588 isn't looking so bad after all. ®