This article is more than 1 year old
Chuh. Heavy, dude: HP ZBook 17 mobile workstation
Welcome to your portable paving slab
Review I don't know which is going to kick in first: pins and needles or deep vein thrombosis. One thing I do know is that having a mobile workstation on your lap makes its presence felt in no time at all.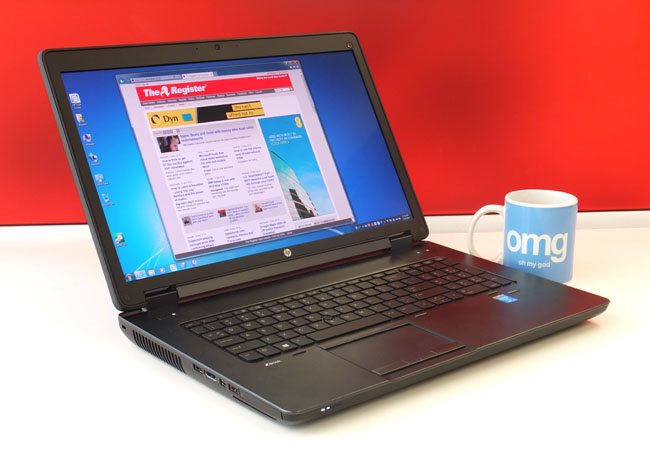 Making a big impression: HP's ZBook 17 mobile workstation
As I sit here typing on HP's ZBook 17, I'm reminded of the Zenith ZWL-183-93 DOS laptop my brother gave me that hailed from the late-1980s. With its 20MB hard drive and pinky-blue LCD screen, it was no mobile workstation. In fact it didn't feel that mobile at all really – at 7.3kg with the weighty NiCad five-hour battery installed. I dubbed it my portable paving slab.
Admittedly, the HP ZBook 17 isn't in the same league regarding weight – it's a mere 3.48kg (cough). However, its proportions are reminiscent of earlier times. For a start, 17-inch displays on laptops appear to be a dying breed in favour of smaller, higher res Retina-style panels, but they can complicate matters.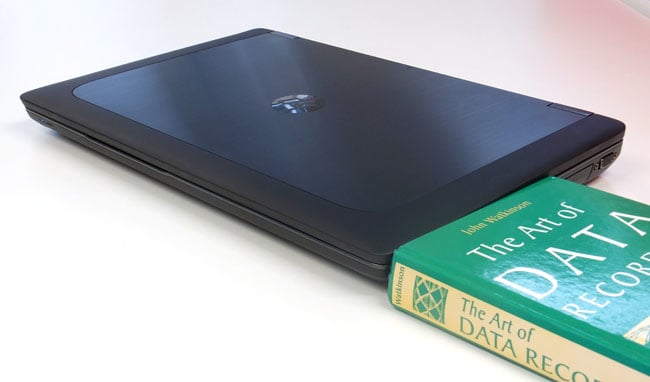 The thick of it
As HP's flagship mobile workstation, the ZBook 17 sticks with tradition and relies on a 17.3-inch 1920 x 1080 resolution matte display. It can be configured with a Dreamcolor full-HD IPS panel, that's 10-bit colour capable to deliver a professional level of accuracy without the need to rely on regular calibration routines. There are 15-inch and 14-inch versions too, the former available with a 3200 x 1800-pixel option and latter weighing less than half that of the 17-inch model.
What really makes the ZBook 17 stand out as a blast from the past is that when closed, it's 34mm thick, which is kinda rare when you also get the real estate a 17-inch panel affords to spread out components. Yet at 416 x 272 x 34mm and weighing as much as a sack of spuds, you begin to wonder whether the words "mobile" and "workstation" truly belong in the same phrase.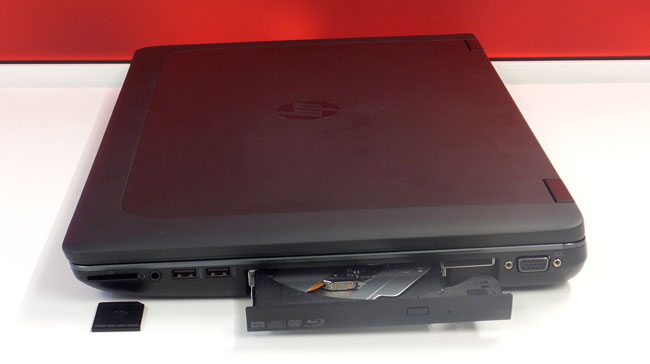 Blu-ray ROM drive but no software for movie playback
OK, so physically, we have bit of a beast here and what's inside has a fair amount of grunt too. The review model arrived equipped with a quad-core 2.4GHz Intel Core i7-4700MQ CPU, 16GB of DDR3L 1600MHz SDRAM and a 256GB Micron SSD plus a 32GB mSATA cache card. It also contains an Nvidia Quadro K4100M GPU with 4GB of RAM.
Contributing to its thickness is the inclusion of numerous interfacing options, a spare 2.5-inch drive bay and a Blu-ray ROM drive, but as I soon discovered, there was no software on-board to view any movies - thoughI did install Cyberlink PowerDVD later to give it a try.
One of the reasons I'm still rather attached to my own 17-inch MacBook Pro from 2009 is that it has a PC ExpressCard/34 slot. Before Thunderbolt came along, shoving in an eSATA card was the fastest way to shift data around on a laptop. HP includes the bigger ExpressCard/54 slot on the ZBook 17 and what's more it does have Thunderbolt too. The latter has proved very useful to give a PC perspective when testing Thunderbolt hard drives and other peripherals but more on that later.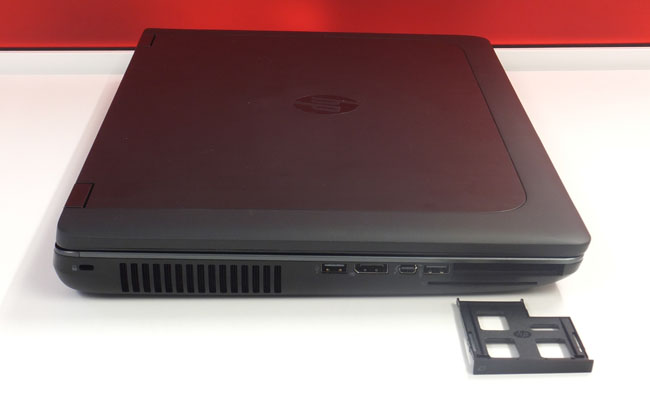 PC ExpressCard/54 slot enables further expansion
Underneath the ExpressCard slot is another for SmartCard use and this left side also features a USB 3.0 charge port, Thunderbolt, a full-size DisplayPort and a USB 2.0 port nearest the vents. On the right you get an SD Card slot, a mic/headphone combo jack socket, two more USB 3.0 ports, VGA and the Blu-ray drive. Ethernet is skulking round the back with the chunky power socket and a docking connector is in the base.