Picture perfect?
The Dreamcolor screen itself certainly has a je ne sais quoi about it. 10-bit colour might not sound like much, but it's 10-bit per channel RGB, so it's 30-bit in total, so we're into beeellions of colours here – or 1,073,741,824 colour variations to be precise.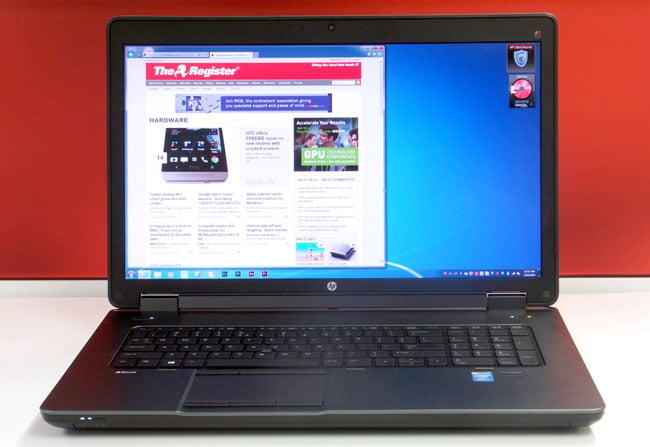 30-bit colour accuracy if you need it – alas not exactly obvious from this 24-bit image
HP has recently released revamped standalone Dreamcolor monitors, but if you're on the move, and using an ZBook 17 equipped with one, then you'll be looking at something rather special. It's not just the colour vibrancy and depth, you also get exceptionally good viewing angles. This is probably just as well because you can open the ZBook up so that the screen lies completely horizontal, just like in the old days, and the anti-glare display also does an excellent job of minimising reflections.
In general, Windows 7 boot times are not as impressive as Windows 8, but you'll still get to the login screen in under 15 seconds. Beyond that, Adobe Premiere Pro CC took 7 seconds to load and Photoshop CC a fraction over five seconds, which should satisfy most eager creatives. The Crucial SSD takes the credit for most of the niftiness here, delivering 427MB/s read and 207MB/s write speeds in CrystalDiskMark.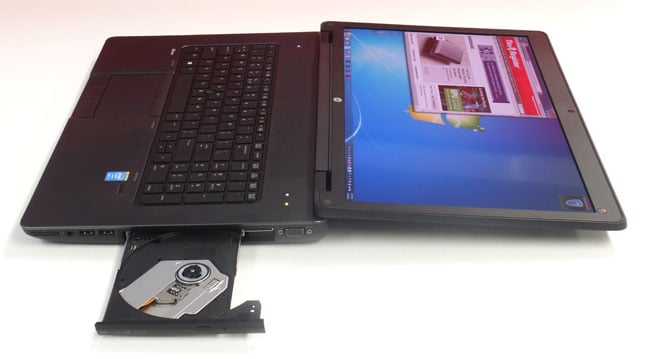 Flatten image – HP style
The PCMark 8 scores were difficult to judge as the dodgy ZBook couldn't run the Home settings test (it kept crashing) but could manage the Work test and gave a score of 5054. By contrast, the replacement ZBook could run all the tests, but the Work score was a mere 4021, producing a best Home score of 3880. It did make me wonder whether HP had done some performance tweaking in the replacement model to get the best out of the graphics card, as this notched up an impressive casual gaming figure of 97.73fps at full HD.
When put to task, the fans would chip in a bit, sounding fairly industrial from the side venting at times. Oh and if you're wondering about the battery life, the PCMark 8 benchmark clocked up 1hr 57mins, from the 8-cell 83Whr removable battery, so you can probably double that with frugal usage.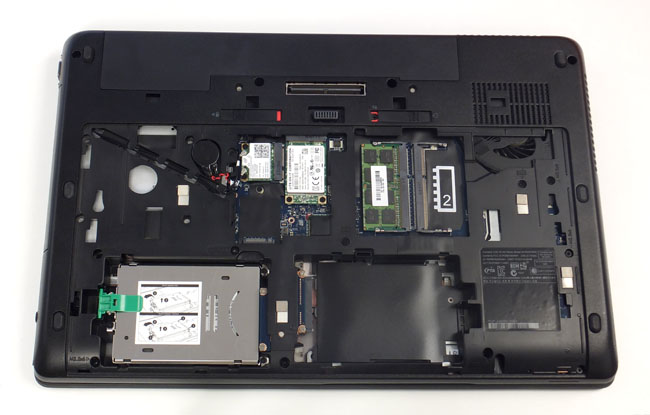 Space for an additional drive if you need to top up the SSD – click for a larger image
HP Mobile Workstations come with all the usual security baggage that you'll not find on the consumer models, such as HP Client Security (which never failed to nag me to configure it with every reboot). Rather than go over that again here, if you're interested take a look at our HP Elitebook review for more.
HP's Connection Manager was another regular pop-up every time a drive of any description was attached, enabling control over what storage could be accessed. It would appear when attaching Thunderbolt devices and yet often the devices themselves wouldn't mount. As mentioned in several of my Thunderbolt storage reviews, the issue goes away when an AS Media driver is installed, enabling PCs to play nice with this abundant controller chip.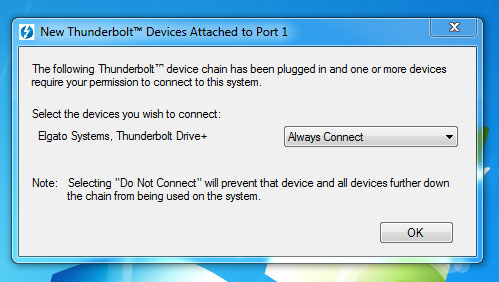 Gatekeeping on Thunderbolt peripherals
Needless to say, Thunderbolt performance was plenty fast, limited only by the media and arrays being used. Moreover, using an Elgato Thunderbolt dock, additional interfacing could be accessed, but not before additional drivers were installed to get the Ethernet and USB side of this accessory working – more of an Elgato issue than HP's.
For audio playback, the HP ZBook 17 is nothing special really, despite having plenty of space in front of the screen to place some half-decent speakers. Whatever manufacturers might think, having some sonic boosting software doesn't make adequate compensations for small drivers and poor enclosures. So while the inclusion of DTS Studio Sound HD does help bolster film soundtracks, just don't expect to experience any bass.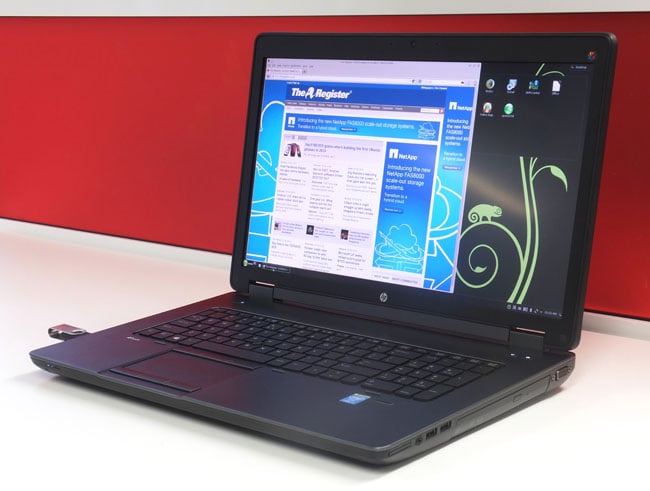 After specifying the full HD spec, openSuSe Linux was up and running
In case you're curious, yes, the ZBook did run from a Linux boot drive, with openSuSE 13.1 looking good only after choosing the start up option that enables graphics resolution to be specified.
The Reg Verdict
HP isn't the only company to bandy around the "mobile workstation" moniker; Dell has offerings under this banner too. However, the ZBook 17 really weighs in – in every sense of the phrase – as a serious hulk of hardware with supporting accessories to maximise its versatility.
Needless to say, it costs a lot of money and how much you value portability combined with visual purity and an abundance of interfacing, will be the ultimate decider on whether you'll be lugging a ZBook 17 around for years to come. ®

Chuh. Heavy, dude: HP ZBook 17 mobile workstation
Mobile workstation with a weighty spec including quad-core Intel Core i7-4700MQ CPU, Nvidia Quadro K4100M GPU, optional 10-bit colour display and 802.11ac (2x2) Wi-Fi and Bluetooth 4.0.
Price:
£2370 (base model with HDD), £3324 (reviewed) RRP