This article is more than 1 year old
LG G3 fights off screen-res war rival Samsung with quad-HD cutie: In pictures
Dumb is the new clever ... or something like that
Hands on In London on Tuesday, LG took the wraps off its new G3 Android smartphone. Just like waiting for buses, LG put all its bullet points in threes, kicking off with the display, camera and design as a trio of core features.

James Marshall, Head of Product Marketing LG Europe highlights that size matters on a 5.5-inch display
Certainly the handset's 5.5-inch display packs it in. Rather than choosing a bigger screen, LG's panel-making expertise comes into play, utilising a reduction in pixel size to deliver a 2560 x 1440 resolution and a pixel density of 538ppi. Too much for a smartie? Wait until you see it.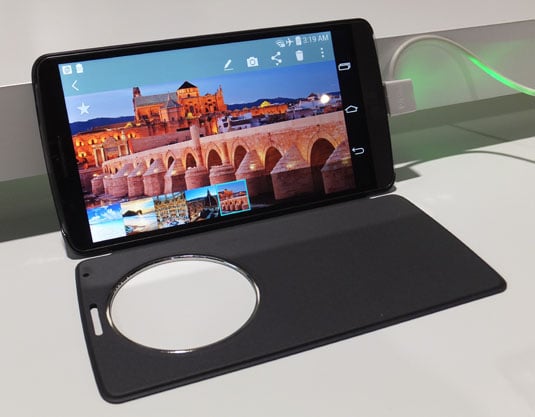 Picture perfect? The camera resolution wars are over, bring on the display pixel density battles. And check out the "Quick Circle" see-through porthole in the case – more on that later
While some may argue the eye can't detect this level of detail, LG begs to differ, and gave high-resolution printing in coffee-table books as an example of demand for eye-popping images.
So, if you've got a quad high-def screen (that's four times the resolution of base HD) then you'll need a camera to match, surely? LG's been busy here too as the camera can capture video in ultra-HD (3840 x 2160 pixels) and 13Mp stills, although the handsets on show defaulted to 1080p video and 10Mp widescreen photos.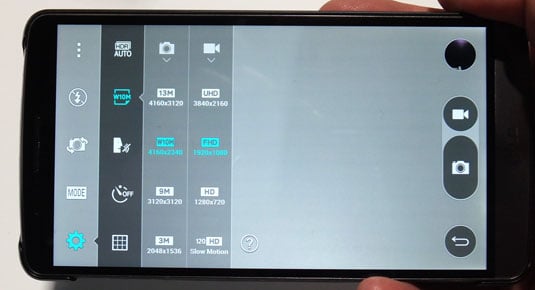 Camera resolution options – click for a larger image
This is probably just as well as the internal storage of 16GB or 32GB will be quickly consumed if you've got an ultra-high def (UHD) video habit. Thankfully, microSD cards of up to 128GB are supported.
LG isn't making too much of a fuss about the camera resolutions, though, as it wants to wow you with the laser autofocus on the G3. The tech here is apparently the same as used on speed cameras, and is designed to deliver more accurate subject tracking and a faster response when snapping; LG claims a quarter of a second delay.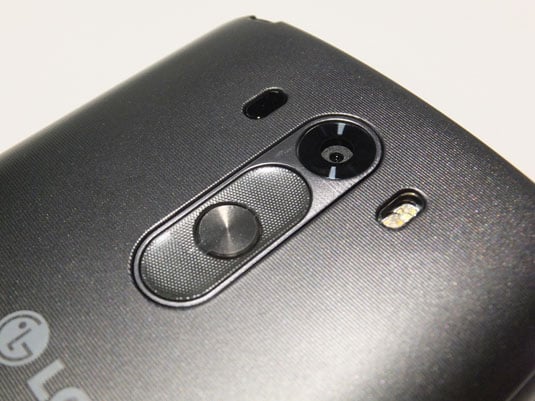 Laser guided camera and the rear key controller
While testing out the camera on the stand, what impressed your humble hack most was the ability to have a decent quality image when using the pinch-to-zoom function. However, when zooming in and trying to pinpoint a person in the distance, the focus did appear to have a job on its hands, and was easily distracted by peripheral movements.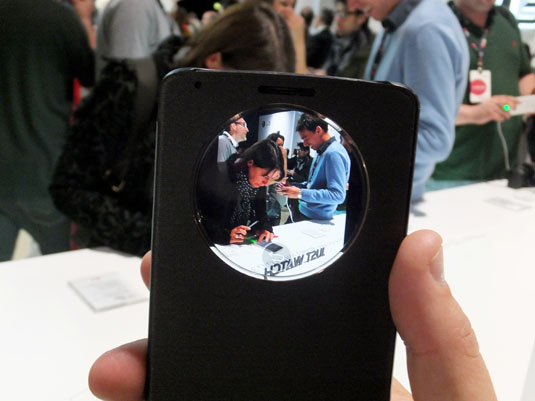 Cover photo?
However, even at high magnification, LG's optical image stabilisation (OIS+) tech made viewing a smooth experience. Playback of the UHD video wasn't quite so smooth for panning shots, though, and made me wonder what sort of frame rate this hi-res capture reverts to – 15fps perhaps?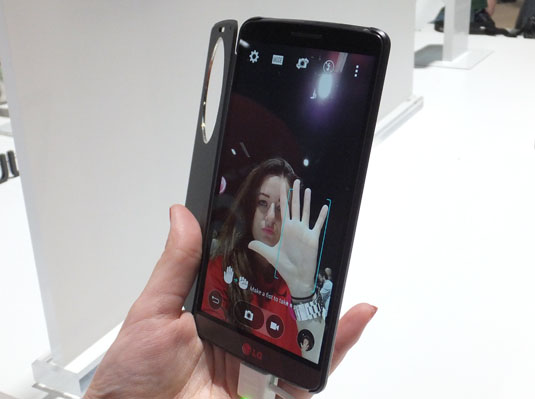 Selfie mode: hold your hand out flat, clench a fist and then brace yourself
For less extreme tasks, the camera performed well; you can even use it with the cover closed, thanks to a porthole in the case. More on this concept in a moment – we're not done with the camera yet as the LG G3 has a selfie mode. The 2.1Mp front-facing camera detects gestures: hold your hand out flat, then clench a fist and the countdown begins. Three, two, one... snap. Easy, huh?