Hands on The botObjects ProDesk3D isn't the world's first full-colour 3D printer – but at £3,299, it's substantially the cheapest. As a fused deposition modelling printer, it uses six cartridges to output a full spectrum of colours.
The development of 3D printers today is akin to the heady days of microcomputers in the early 1980s, with big companies like 3D Systems and Stratasys playing the roles of DEC and IBM – and small innovative startups like Formlabs and Makerbot playing Apple and Exidy.
You can now add London-based botObjects to the cast. And just like the infamous "28 days for delivery" promises of computer gear in the Eighties, the ProDesk3D printer has not had an easy birth: it was unveiled in April last year, and took on pre-orders around that time, but only now has it started shipping.
The machine looks more like a higher-end Formlabs printer than the vast majority of 3D-outputting devices. It is fully enclosed in tinted glass and aluminium; if you told a person in the 1960s to imagine something from the year 2000, this printer would be pretty close.
It has a raised, evenly heated platform – a 4mm layer of glass on a 4mm base of aluminium – on which models are gradually built. BotObjects boss Mike Duma told your humble hack that the startup worked very hard to find the right kind of glass: the model must adhere to the surface and yet must be possible to remove.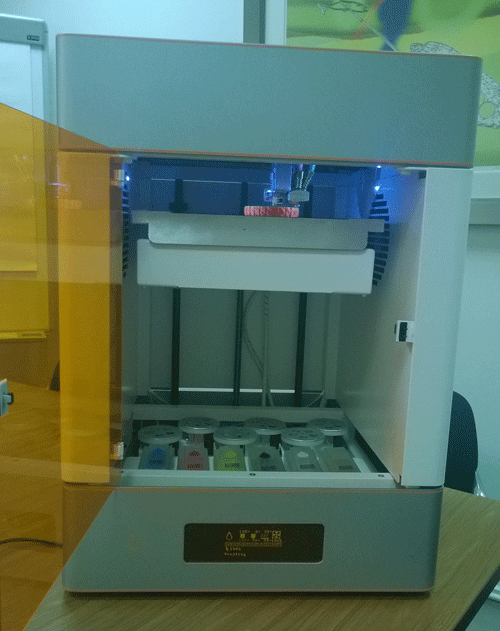 Behold, the guts of the ProDesk3D ... The build platform is raised, with the colour filaments below
It doesn't need any Kapton tape to fix up things: models stick well to the ProDesk3D's build platform, and the 3D-printed gumble is easy to take off when the glass surface cools.
The heat is managed by fans which, much like a desktop PC cooler, suck air through the machine. Maintaining an even temperature is important as models can crack and come unstuck with drafts, as I found out with my own 3D printing experiments. The three fans should help the device maintain an even temperature.
Underneath the build platform is a protective plate, and below that the six spools for the filament held in cartridges. These are in the three traditional colours of yellow, magenta and cyan, plus black and white. The black is more a mid-grey as the addition of the other colours makes it black. The sixth cartridge is for support material. This is water soluble and provides a material to build on for shapes where there is an overhang. The cartridges were prototyped using a 3D printer.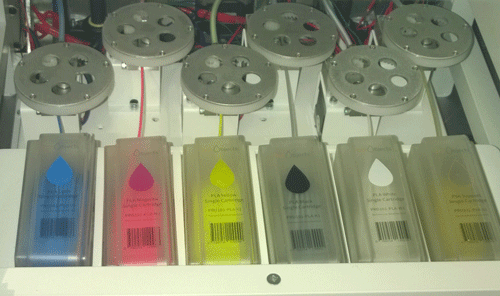 Colour me pink, no, turquoise, argh ... the cartridges of filament