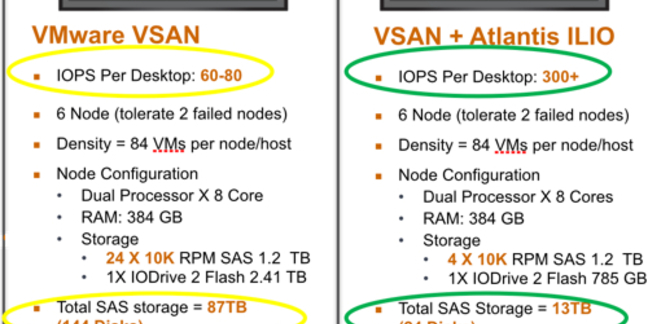 VDI startup Atlantis has moved on and now reckons its ILIO USX product plus VSAN can take on EMC's all-singing, all-dancing software-defined ViPR storage abstraction layer.
A slide from an Atlantis presentation deck (see below) shows the ILIO USX product providing a software abstraction layer with separate control and data planes for storage functions.
The control plane provides data services like deduplication and thin provisioning. The data plane provides access to virtualised storage resources through a DAS, block, file or coming object layer to the actual resources: DAS, SAN, NAS or, in the future, cloud storage
It's all pretty ViPR-like. As for VSAN, VMware's implementation of the Server SAN idea, Atlantis says: "Bring it on." The thing is, literally, just another storage resource, and one lacking deduplication, compression and other data services in the USX portfolio.
USX accelerates virtual machines and provides its data services through an in-memory architecture, thus obviating disk access and any other off-RAM data accesses, and so speeding up the VM execution. What Atlantis says is that it can improve the performance and storage efficiency of apps in VMs using VSAN just as it can speed them if they used shared network storage, meaning SAN or NAS, or directly attached storage, be it flash or disk.
Here's a Atlantis-provided VDI example: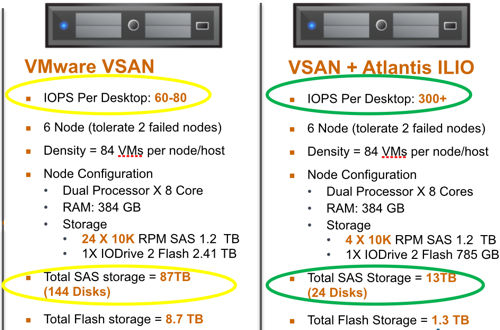 Persistent VDI example with VSAN and VSAN + USX
What's this telling us? It's a six-node set-up and VSAN + the ILIO software increases the per-desktop IOPS count from 60-80 up to past 300. It also reduces the number of disks needed from 144 to 24 and cuts the flash from 8.7TB to 1.3TB. Well this is VDI, so other virtual machine types may differ, but you get the drift.
Atlantis Computing timeline
Founded 2006 by Chetan Venkatesh. HQ in Mountain View, CA
A-round and B-round funding of $5m between 2006 and 2010
C-round funding of $10m in August 2010
D-round of $20m in May 2013
That's a total of $35m. The company now claims it has:
Over 500 installations
In excess of 600,000 VM licences sold
200-plus VARs, distributors and integrators world-wide
More than 100 per cent quarter-on-quarter revenue growth
A head count of 200, up from 40 eighteen months ago
Recent activity
The company has stepped up its marketing to raise its profile and announce broadened functionality. It has joined the Dell Technology Partner programme, certifying ILIO Persistent VDI and ILIO Diskless VDI on Dell Wyse Datacenter for XenDesktop. The Atlantis VDI software also works with VMware, of course, and Microsoft.
The Dell partnership joins similar ventures with Cisco (strategic investor in Atlantis), HP and IBM, with an IBM System X server partnership hopefully surviving the transition of that server business to Lenovo.
The company also has a cloud storage gateway function on its way to enable USX to work with Amazon.
Atlantis has free ILIO Diskless VDI and ILIO for XenApp versions of its products for validation and test, with the ability to provision up to 10 virtual desktops or up to 25 XenApp sessions.
It also announced its support for VMware Horizon 6 and Virtual SAN (VSAN), claiming: "Atlantis ILIO with VMware Horizon 6 and Virtual SAN can deliver better desktop performance than a MacBook Air [and] reduce the cost per virtual desktop to less than a PC."
There is a Teleport function to provide storage VMotion between data centres that can be separated by inter-continental distances. This only sends changed blocks of data rather than full files and it provides a disaster recovery facility. Teleport supports VMware today and will be extended to support Hyper-V and other hypervisors, possibly KVM.
A stated direction is to move VMs between different hypervisors.
Comparatively speaking, Atlantis has ratcheted up its presence and capabilities quite dramatically this year. If customers view it as providing a ViPR-like or equivalent über-storage controller in a hypervisor host server and doing so without threatening the strategic interests of Dell, HP, IBM/Lenovo and NetApp, such that these suppliers support Atlantis selling efforts, then it should do well and become more prominent. Bite on that, EMC. ®
Sponsored: How to simplify data protection on Amazon Web Services