This article is more than 1 year old
Intel unveils kit to speed evolution of digital driving
Auto autonomy is inevitable, and Chipzilla wants to help hasten its arrival
Intel has announced a new "application-ready platform" that it says will help automakers get customized in-vehicle systems up and running more quickly and efficiently.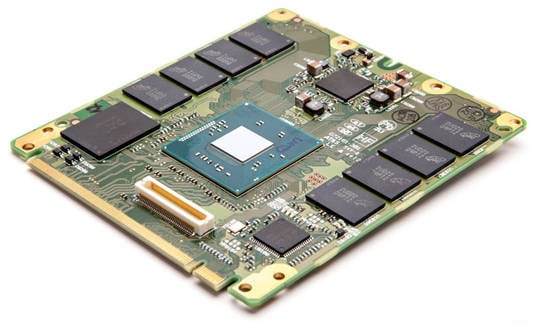 Want to fill your car with digital delights? This board can help (click to enlarge)
"We see the real value here is that hardware, board-support package, OS, basic building blocks, speeds time-to-market," VP and GM of Intel's Internet of Things group Doug Davis said during a web presser on Thursday.
By providing automakers with a complete, ready-to-be-customized module – dubbed the Intel In-Vehicle Solutions [PDF] package – Davis says that designers can cut up to 12 months off their time-to-market while reducing development costs by as much as 50 per cent, numbers that Intel says it obtained by talking with "industry experts and customers."
The package – hardware, software, middleware – isn't merely for in-vehicle infotainment (IVI), Davis said, but neither is it a Googly autonomous-car enabler. Rather, it's a bridge between the two, a platform upon which automakers can build not only entertainment, navigation, and the like, but also create driver-aware applications, auto system–monitoring and –reporting, vehicle-to-vehicle (V2V) and vehicle-to-infrastructure (V2I) capabilities, and to provide a baseline for a fully autonomous future. [Which some say remains "unbelievably unrealistic."—Ed.]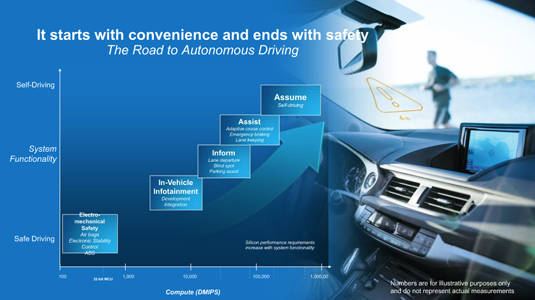 We're now driving down the road to autonomous cars, says Intel (click to enlarge)
"Our goal is to fuel the evolution from convenience features available in the car today to enhanced safety features of tomorrow and eventually self-driving capabilities," said Davis in a canned statement.
Automakers can choose among five different "fanless, automotive-grade, production-ready" Compute Modules of the In-Vehicle Solutions package, powered by four varieties of processors from Intel's Atom E3800 family. They'll support up to 4GB of low-voltage DDR3L memory, up to 32GB of NAND flash memory on an embedded multimedia card (eMMC), and will boot the Tizen IVI operating system in a two-second "fast boot" mode.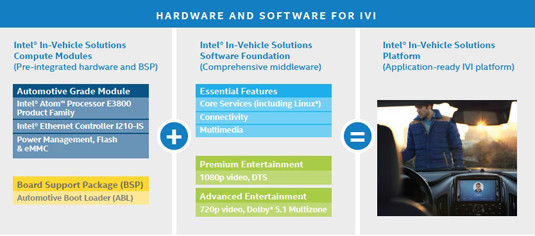 Do you want your entertainment to be 'Premium' or merely 'Advanced'? (click to enlarge)
As Davis outlined in his presentation, the package will support a wealth of in-vehicle capabilities, including but not limited to (take a deep breath) multi-zone audio and video, multimedia, DVD playback, IEEE 802.1Qav Ethernet audio/video bridging (AVB), speech and gesture recognition, text-to-speech, touch-screen displays, GPS, internet and cloud connectivity, accident avoidance using cameras, and advanced driver assistance systems (ADAS).
An "Advanced Entertainment Option" adds 720p video and Dolby 5.1 multizone audio, and a step up to the "Premium Entertainment Option" ups that to 1080p and DTS audio.
A hardware/software/middleware development kit [PDF] is available from Intel, based on what Chipzilla dubs its High-Performance Compute Module "complete with chassis and development tools to quickly get applications running," Intel says.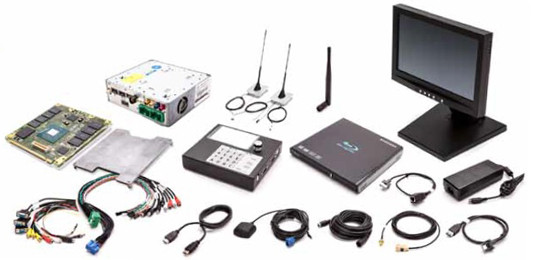 A gaggle of geeky goodies comprises the Intel In-Vehicle Solutions Development Kit
The kit includes an 11.6-inch HD capacitive-touch display; all the audio and video in-and-out ports you might imagine, including four microphone and six speaker ports; six antennas – FM1/AM/DAB, FM2, GPS, phone, Wi-Fi, and Bluetooth – plus Ethernet and USB, cables up the wazoo, and a full complement of software-development tools.
With all these ins and outs and connectivity capabilities, the question of security is of course a prominent one. Davis said that the system's secure boot feature insures that it starts up in a "high integrity fashion," launching security software before anything else.
"It's also important to be able to bring subsystems together," said Davis, "and to allow them to operate independent from other important important functions that are happening in the car. So technologies like hypervisor technology [are used] that allow these subsystems to operate, but without allowing one to interfere with the other."
Regarding a different type of security, DRM features include high-bandwidth digital content protection (HDCP), which prevents slurping a signal on its way from storage to display.
Although the Intel In-Vehicle Solutions system is intended to be but a step on the way to autonomous cars, Davis sees driverless vehicles evolving over the next "six to eight to ten years."
And when they appear, he has little fear of autonomous and non-autonomous cars sharing the road. "As the ones who are still driving those cars that we're controlling," he said, "we'll begin to recognize the models that we know are autonomous and be able to understand what they do and what they don't do, and we'll all adapt accordingly."
One optimistic fellow, that Mr. Davis. ®