Microsoft, Salesforce thump table in cloud tie-up talks – report
'Evil empire' changes its CEO, gets friendlier, it seems
---
Salesforce is in talks over a cloud tie-up with Microsoft, a company its chief once branded the "evil empire".
The two enterprise staples are reportedly in the closing stages of talks about a deal that would let users of the Windows Azure cloud use Salesforce's apps: Bloomberg reports Salesforce's CRM-as-a-service will be made available on Azure.
The newswire continued to say discussions are underway to integrate data held in Salesforce with applications in Microsoft Office.
There were no more technical details, and both companies have declined to comment.
A deal marks a warming in relationships between the two tech beasts, which have locked horns over the years.
In 2005 Microsoft ran a "Don't Get Forced" ad campaign against Salesforce. Five years later, it sued Salesforce for alleged patent infringement while unleashing a $200-per-head rebate campaign for Salesforce customers who defected to Microsoft's Dynamics.
Salesforce's soundbite friendly CEO Marc Benioff shot back at the time, branding Microsoft the "evil empire" during his company's annual conference.
That was all during the time of Microsoft chief executive Steve Ballmer; today, Redmond has a new CEO with a background in making third-party apps work better on Microsoft's platform technologies, rather than lose platform customers for good. In the old days, the platform was Windows and the technologies were open-source programs; today the platform is Windows Azure.
A deal would provide beneficial to Microsoft and Salesforce, while also posing challenges for the former. An agreement would prove a potentially substantial fillip to update Windows Azure given the continued growth in Salesforce's services.
It's not clear whether an agreement would see instances of the Salesforces platform hosted in Microsoft's Azure data centres, or if there will be a bridge between Windows Azure and the data centres run by Salesforce itself.
It would, however, present a sales and marketing challenge for Microsoft Dynamics – a business suite sold against the likes of Salesforce.
Microsoft, like other on-premises rivals, has tried to counter Salesforce by launching its own hosted versions of its software – Dynamics CRM. Latterly, Microsoft has been trying to pitch Dynamics CRM as something available via Office 365. Microsoft Dynamics team is still pitching itself against Salesforce, as you can see below.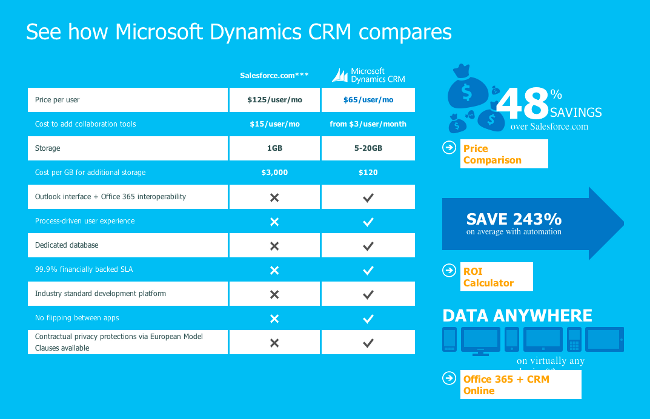 An agreement on Microsoft Office, meanwhile, is entirely within the realm of possibility: integration with SAP's business software and Office lets users view and manipulate date held in SAP systems using Microsoft's suite as a dashboard.
For Salesforce, an agreement with Microsoft would mean access to a fresh pool of customers – Microsoft shops – and therefore a new growth stream.
While growth hasn't been a problem for Salesforce, a looming problem for the company is the ability to continue attracting really big customer deals.
The biz has been targeting enterprises under president and vice chairman Keith Block, former North America sales executive vice president for Oracle. Block was with Oracle for 26 years and ran 11,000 staff, achieving "record growth and margin expansion over the span of 10 years" according to Salesforce.
Just a handful of IT companies own the enterprise like Microsoft.
Salesforce is clearly looking for growth outside its core Salesforce constituency: it announced a strategic partnership with Hewlett-Packard in November last year to give customers the option of dedicated instances of its cloud running on HP servers inside its data centers. HP is busy installing OpenStack on all its servers. ®
Bootnote
Salesforce has succeeded in renaming the building that houses its London, UK, offices as Salesforce Tower London. The building, located in the capital's financial district, was known as Heron Tower.
Salesforce is the building's largest single tenant, occupying 50,000 square feet across six floors, and is Salesforce's single largest operation outside the US. A row, though, is reported to have broken out with the 46-storey building's other tenants, who are reportedly unhappy at the name change. A spokesperson for the building's owners, Heron International, would not comment on the reported dispute.