Still watching DVDs? You're a planet-killing carbon hog!
Streaming is green, say boffins
Here's one idea to get the world moving on carbon abatement: close the remaining DVD video industry and get everybody onto streaming.
Of course, in countries like Australia, where rights-holders routinely hold back streaming availability in favour of TV broadcasters, where BitTorrent will get you Game of Thrones sooner than Foxtel, and where Netflix is only available via anonymiser services, such an idea might be contentious, but it's interesting nonetheless.
The research was carried out by Arman Shehabi of the Lawrence Berkeley National Laboratory, along with Ben Walker and Eric Masane of Northwestern University.
Published assessment of the two video deliver models finds that if America made the switch, it would save energy equivalent to "nearly 200 000 US households each year."
That's in spite of the vast power hogs that are the world's data centres, which the researchers say in the context of the DVD rental life cycle account for less than one per cent of the "total video streaming energy use".
The researchers based their estimates of Internet streaming on the LBNL's Cloud Energy and Emission Research model, and included various ways of getting content on DVDs – from a bricks-and-mortar DVD store, renting through the mail, or buying either from a store or from an outlet like Amazon.
While an hour of video streaming needs 7.9 megajoules of energy and emits 0.4 kg of CO2, the researchers calculate, traditional viewing – once you count in driving to the store or the delivery van – consumes 12 MJ and emits 0.71 kg of CO2.
At an aggregate level, their calculations lead to the outcomes shown in the graph below.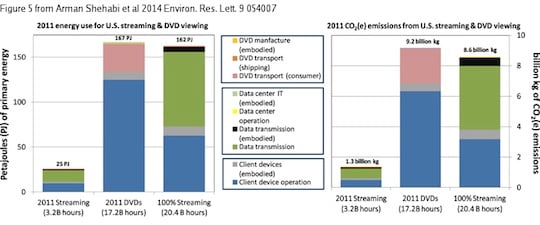 That is, if the whole of the US had switched to streaming rather than DVD purchases, 0.6 billion kg in carbon emissions would have been avoided.
The research notes, however, that if streaming is accompanied by network upgrades to support higher speeds, the picture could change. That's because higher download speeds spell higher energy consumption in the network. Hence, "improvements in network energy efficiency must accompany any future increases in data transfer rates for streaming video to remain a lower energy and CO2 alternative to DVD viewing."
The researchers also state that their model doesn't take into account quality differences between watching from a DVD (20 Mbps equivalent data transfer for a BluRay) and watching streamed content (6 Mbps for the top rate Netflix HD service). ®