Entering the Dragon: A little data from Big China
Our man plunges into the eye of China's economic typhoon
---
Photo Special Huawei - perhaps the name best known to Reg readers from the Chinese industrial explosion which has transformed the global economy - is one of the most unusual and interesting companies on the planet, growing from 3,000 employees at the start of the millennium to 150,000 today.
So when the Asian colossus invited The Reg to its global analyst conference for the first time, we were there: this was a chance to have a look at a company typically described as "mysterious", and to journey into the amazing Guangdong development area, where we found Huawei HQ in the city of Shenzhen.
So here are our impressions of the visit – a photo gallery from our trip into the cauldron of China's technology-led growth story. We even had time to literally pop over the road to Foxconn.
Let's jump in the SUV (because there are no other cars here), and head up G94 into the dense sprawl of China's Pearl River Delta.
The road to Guangdong
The delta, with Canton (today's Guangzhou) at its apex, has been China's trading face to the world for 500 years, although the surrounding region remained pretty rural and undeveloped.
The British were granted a trading concession and a territorial base on Hong Kong Island on the east side of the delta in 1841. This was extended to include a slice of mainland China in 1860, and a little more in 1898 – but not, after negotiations, the village of Shenzhen about ten miles inland. Twenty years ago, Hong Kong residents could negotiate a "death bus" ride up the unlit road to Dongguan and Guangzhou. It's a bit different now.
The clumps of tower blocks in Hong Kong's mainland New Territories pause to give way only briefly to a grubby and non-descript border zone – and then it's the more numerous, rather newer tower blocks and skyscrapers of modern Shenzhen. A building twenty years old is vintage here; Shenzhen's population has grown rapidly, from 1m in the late 1980s to 11m today. Again, that only tells part of the story.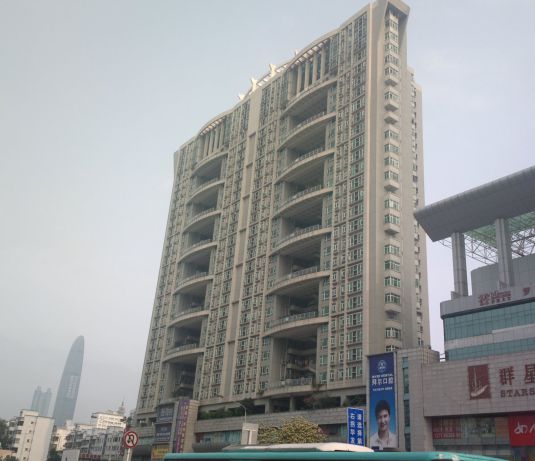 [click to enlarge]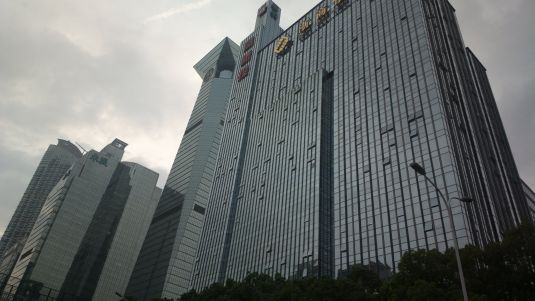 Downtown Shenzhen today
The region has seen similar growth, so the road that starts in Hong Kong through Shenzhen to Dongguan and the old Canton (now Guangzhou) is a continuous "ribbon city" for no less than 70 miles as the crow flies. There's no open country that entire distance; it's all heavily built up. That means giving population estimates of each bit is a bit meaningless - particularly since they're growing so fast, and the last census was four years ago. Guangzhou is reckoned to be around 14m, and Dongguan 8m.