Hybrid array high-flier Nimble Storage has upped its revenues by 110 per cent annually - but deepened its losses by 109 per cent, as it eschews profits for growth.
In its first fiscal 2015 quarter revenues were $46.5 million compared to $41.7 million in the previous quarter and $22.1 million a year ago. The net loss was $19.6 million, a good deal deeper than the prior quarter's $13.2 million loss and the year-ago quarter's $9.8 million in red ink.
The chart shows a nice regular picture of revenues and losses.
Cheerleader Nimble CEO Suresh Vasudevan was pleased, claiming the numbers validated Nimble's idea that it was building "the leading next generation flash storage platform."
There are now 3,097 customers, 450 of them added in the quarter. There were 1,372 customers at the same time a year ago, and 402 a year before that.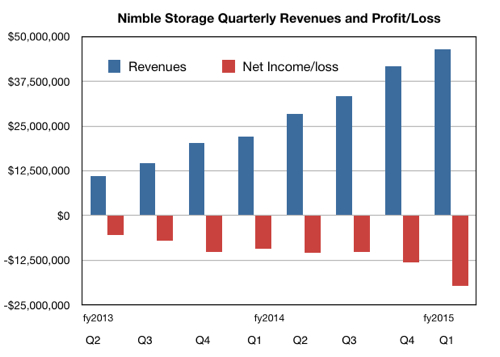 In a shareholder letter Nimble says its key product initiatives are:
General availability of our scale-out software,
Roll-out of a new high-end platform during Q2FY15,
Release of our Fibre Channel capability by the end of FY15.
About the new high-end product, expected on June 11 by Stifel MD Aaron Rakers, the letter says:
We are also very excited about a new high-end platform that went into beta at the end of Q1 and is due to be launched and become generally available during Q2. This platform will offer the performance of flash-only arrays, while improving $/performance and retaining our leadership on $/GB
Some twenty customers are beta testing the high-end box which is aimed at large enterprises, cloud service providers, and "demanding applications within mid-sized enterprises". The firm reckons it has 285 cloud service provider customers right now.
The letter says consulting engineering firm HF Lenz replaced an IBM XIV system with a Nimble SmartStack (Cisco + Nimble converged infrastructure reference architecture) system for SQL, SharePoint, Exchange, Forefront Security and CAD/CAM services.
The outlook for next quarter is for revenues between $49 million and $51 million - and another loss. Profits may not come until fiscal 2017.
The claim that Nimble makes about having the leading flash storage platform means it sees itself competing with all-flash arrays (AFAs) as well as other hybrid flash/disk arrays. If it really can offer all-flash array performance with a big slug of disk capacity then that would cause problems for the AFA camp.
Rakers reckons Nimble is still a minnow, saying: "Relative to incumbent midrange / modular storage offerings (e.g., EMC VNX, NetApp FAS-series, HP EVA / 3PAR, Dell Compellent + EqualLogic), we estimate Nimble's relative revenue shares now stands at only 1.7 per cent."
Chris Says
Another year and Nimble could be a half billion dollars/year revenue company. How long before the majors really do sit up and take notice? Nimble is intent on killing them and, so far, has not put a foot wrong. ®