US citizens want stricter CO2 regulations by two to one – Yale poll
EPA to propose new emissions rules on Monday, industry v. government battle now raging
Next Monday, the US Environmental Protection Agency (EPA) is set to propose limits on CO2 emissions from existing power plants, regulations that have caused the US utilities industry to see red even before they've seen the proposed rules.
Although the EPA has its enemies, it also has its supporters, says a new poll conducted by the Yale Project on Climate Change Communication – namely, the American citizenry.
According to the Yale group, their "national opinion survey," conducted during April of this year, revealed that nearly twice as many of the respondents polled – 64 per cent to 35 per cent – agreed that "strict carbon dioxide emissions limits" should be put in place to lower emissions of existing coal-fired power plants, even if doing so would cause the cost of electricity to "likely increase."
Unsurprisingly, given the partisan divide among Americans when it comes to the causes of global warming, climate change, or whatever your favorite term might be, the Yale pollsters found that the support for stricter CO2 emissions varied greatly over party lines: Democrats supported stricter regs by four to one, but Republicans opposed them 56 per cent to 43 per cent.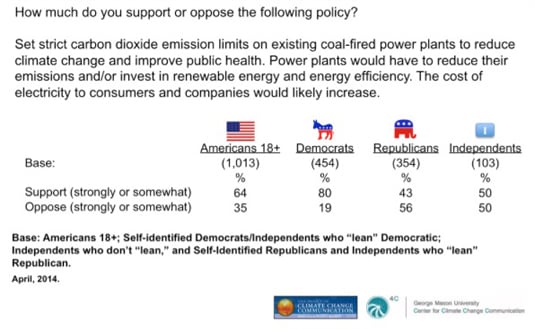 That Republican opposition, however, didn't extend to whether or not CO2 should be regulated by the EPA as a pollutant. In 2007, the US Supreme Court decided in Massachusetts v. EPA in a 5-to-4 ruling that the EPA should act to curb CO2 emissions, in a rebuke to the then–George W. Bush administration's EPA and its pro-industry reading of the 1970 Clean Air Act and its revisions in 1977 and 1990.
"The Clean Air Act's sweeping definition of 'air pollutant' includes 'any air pollution agent or combination of such agents, including any physical, chemical ... substance or matter which is emitted into or otherwise enters the ambient air'," then-Justice John Paul Stevens wrote in his majority opinion (emphasis in the original).
"Carbon dioxide, methane, nitrous oxide, and hydrofluorocarbons are without a doubt 'physical [and] chemical ... substance[s] which [are] emitted into ... the ambient air'," he added. "The statute is unambiguous."
According to the Yale pollsters' results, the American public – even Republicans – agree.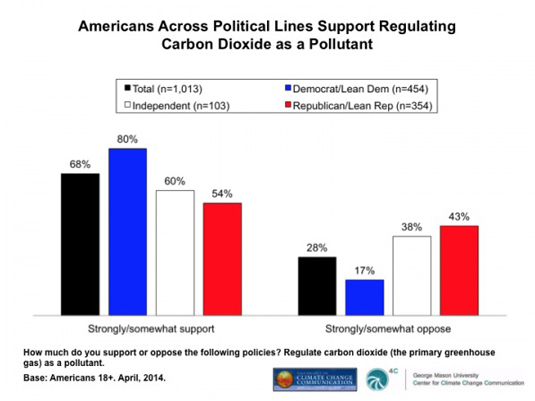 But despite the two-to-one support for stricter CO2 regulations for existing power plants among the respondents to Yale's "national opinion survey," The Hill reports that 45 US senators – including 15 Democrats – are calling for a delay in the EPA's yet-to-be-proposed rules, asking to double the standard 60-day public comment period to 120 days.
Such a delay would allow more time for industry groups such as the US Chamber of Commerce to lobby for weaker regulations. Just this Wednesday, for example, the Chamber released a study that concluded that stiffer CO2 regulations would mean "that Americans will pay significantly more for electricity, see slower economic growth and fewer jobs, and have less disposable income."
The EPA, as one might imagine, disagreed. The head of the agency's Office of External Affairs and Environmental Education (OEAEE), Tom Reynolds, wrote in a blog post that "the Chamber is using the same tired play from the same special interest playbook that is engineered to continue polluting and stall progress."
The Chamber, also as one might imagine, shot back, reiterating their concerns over costs, and saying, "We want the American people to have a thorough and clear understanding of the costs and choices that will need to be made."
If the Yale poll is accurate, the Chamber has its work cut out for it. But then again, the Chamber doesn't need to convince the American people – just a sufficient number of their elected representatives.
And we all know how that game is played. ®