Be there pirates?
The western pricing on the DVDs reminded me of the prominent "NO PIRACY" sign I saw at Taipei Shongsan Airport, placed above a bin I imagine was placed there to give incoming passengers one last chance to ditch ill-gotten contraband. When I saw the bin I imagined Taiwan might not offer the same opportunities for cut-price (and very, very naughty) content acquisition afforded by other Asian nations. My guess was right: box sets of recent shows cost about $US25, on par with online prices back home.
Level six is largely given over to professional services outfits, including the data recovery service pictured below that has even recreated its labs, complete with mannequins doing the work.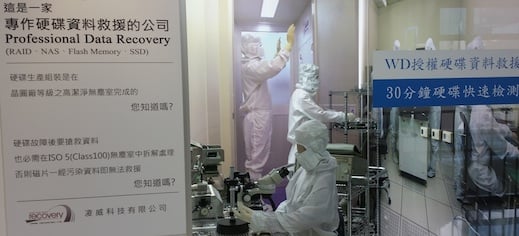 Data recovery for and/or by dummies
Truth be known, there's not much in Guang Ha you won't find anywhere else in the world. I saw nothing running Linux and no dodgy knockoffs. Generic kit like USB battery packs for mobile phones bore odd brands, but there was nothing that leaped out as a "buy this here, you won't get it anywhere else" kind of item.
Other than the item below, that I bought at the street market on my way out after deducing the ingredients by reading the banner at the bottom of the frame.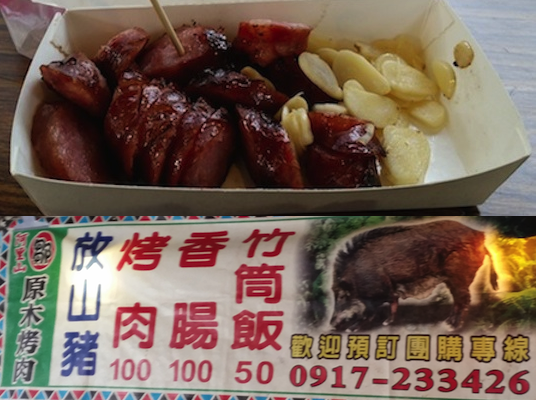 Boar sausage, but far from boring, served on a Taipei street
You're looking at a boar sausage with garlic slices. The sausage cost $NT100 – a bit under $US4 – and was grilled on colossal open kettle barbecue. It was about 30cm long before being hacked to pieces and was one of the sweetest, juiciest things your correspondent has ever consumed. One was gorgeous, two would be gluttony. Okay, maybe three would be gluttony.
Similar topics