Nova mall
The Nova mall I visited is in the heart of town, opposite colossal transport hub Taipei Central Station.
Nova has a few other branches but locals told me this one was special. I'm not sure why they said so: like Guang Ha it is a fine place to buy a laptop. But there's only one or two components-and-cases shops trying to do business. Everything else is packaged and familiar, other than the endless variety of cute accessories.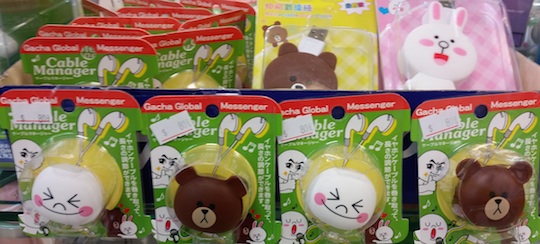 So cute! And just $US2.80!
Yes, the shops are rather smaller, more crowded and more chaotic than shops in many other parts of the world. They're also not much different from stalls I've seen in Singapore, Cambodia and Bangkok.
In all those places you'll also see the global ads for new technology products and Taipei is no exception: in another part of town I beheld a colossal Samsung Galaxy S5 ad featuring the same blonde-haired, very western-looking, female model you'll see anywhere else in the world.
In Taiwan this feels simultaneously ordinary and odd. Ordinary because big brands often use the same creative the world over. Odd because Taiwan's contribution to the technology world makes it possible for kit like the S5 to be created, yet there's no obvious celebration of the fact.
My Mandarin is non-existent, so maybe I'm missing the "designed in Taiwan" stickers that give local buyers a reason to wave the flag when they open their wallets. Or maybe it's not necessary: so much kit is designed or made in Taiwan that the locals don't need a reminder.
Either way, walking the streets of Taipei doesn't give one the impression you're visiting a technology superpower. A city letting its hair down ahead of a big public holiday, yes.
But not a city about to set global agendas with a trade show.
So bring on Computex so we can see what Taiwan has in store for the world this year. And let's hope the caterers have laid in some boar sausage. ®
Similar topics