ASUS launches 5-in-1 Android Windows Phone laptop tablet (breathe)
Kung Fu master and ASUS Daddy Jonney Shih exercises his Chi
Computex ASUS has launched something entirely new – and odd – at Computex.
The Transformer Book V is a Windows laptop that, should you choose to detach the keyboard, becomes a Windows tablet.
There's something odd at the back of the tablet: a broad groove that houses a five inch Android phone. When the phone is in the slot the tablet borrows the phone's brain to become and Android tablet. And if you click the screen back into the keyboard while the phone is docked, it becomes an Android laptop.
Switching between operating systems is said to require a single tap on the screen.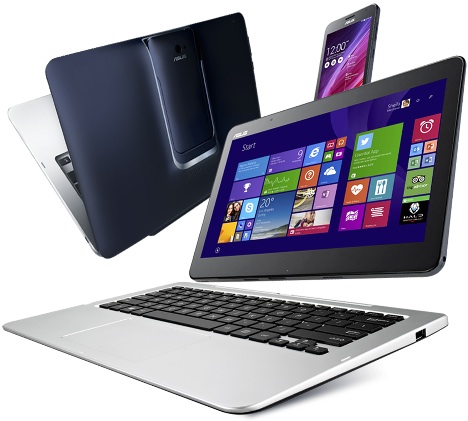 ASUS' five in one Transformer Book, in its many guises
ASUS chair Jonney Shih claimed the phone is the first five-incher to boast a 64-bit Atom.
Shih was bullish on Intel's mobile spawn throughout, claiming it outperforms Apple's A7 chippery when one uses real work benchmarks. "Landslide victory" was his preferred turn of phrase to describe just how fast ASUS' new kit is compared to its fruity rivals.
And there's plenty of new kit.
The new ASUS Zenbook NX500 comes with a Core i7, 4K screen and 4 PCIe slots with an SSD apiece, plus a promise it will "glorify your distinguished professionalism and taste."
He laid it on thick throughout his 40 minute presentation, offering this introduction to a new laptop/tablet:
"In ancient Chinese culture, 'Chi' is the highest form of an invisible energy that can only be exercised by the greatest Kung Fu masters. It can cut through anything without touching it."
The new device is the Transformer Book T300 Chi, a 12.5 inch 2-in-1 lappie that Shih said is the world's thinnest such device with a 12 inch screen and also the world's thinnest tablet, as its thickest point of 7.3mm tapers to 3mm. The whole package is just 14.3mm thick. Hence the "Chi" reference, as Shih said Chi can also manifest in the wake of sword strokes made by master martial artists.
There's also a 2560x1440 WQHD display and 4G built in, for those who would rather dwell on earthly energies.
Shih also announced a range of new phablets, or Padfones as ASUS likes to call them. Prices and availability will be revealed by ASUS on a nation-by-nation basis. ®