Google Glass? Feh. Behold Dyson's 2001 pocket 'puter techno specs with own 'Siri'
Shaggy was topping the charts at the time
Pics Blighty's best-known modern inventor James Dyson is famous for his vacuum cleaners, fans and hand-dryers, but apparently he could have branched out into smartglasses and fuel cells years ago.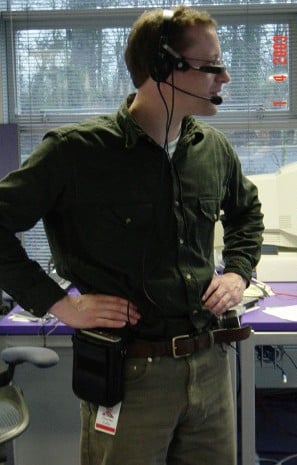 HOW FREAKIN' COOL AM I?
Over 10 years ago, the Brit's eponymous firm started working on an augmented reality headset codenamed N066, which could have become a Google-Glass-alike product called the Dyson Halo.
Instead of being an all-in-one piece of tech like Google Glass, Dyson was planning a headset that could be worn like glasses but was plugged into a little computer the wearer would have had to stick in their pocket. Two tiny monitors would be mounted onto the temples and used to help reflect the illusion of a projected, translucent, 10-inch display around a metre to the front of the wearer.
Much like smartphones today, the portable computer system would have been a communications device that incorporated a variety of apps. It was also planned to include a virtual personal assistant similar to Siri that could have read out emails and taken basic voice commands.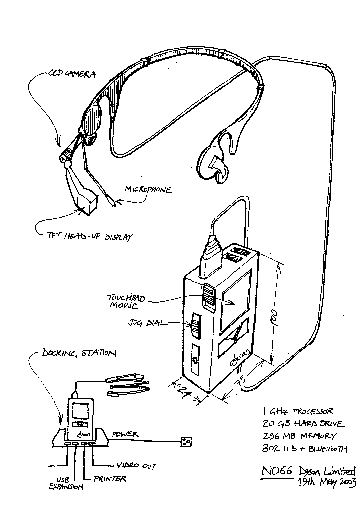 Is it a Walkman? Is it Google Glass? You decide!
The user could also have used a nifty little feature that should allow virtual objects to be pinned to reality when they moved their head. This could enable them to project a keyboard to type and write emails on any surface.
The pocket-sized PC part of the tech could have been detached and then docked with a monitor and the whole thing also came with a smartwatch-style wrist controller that acted like a mouse.
Sadly, the awesome early noughties vision was shelved after three years of R&D so that Dyson engineers could concentrate on expanding into the US.
Much earlier, back in 1997, Dyson wondered whether its vacuum cleaner cyclones, which can filter particles down to 0.5 microns, could be used in diesel engines to help reduce air pollution.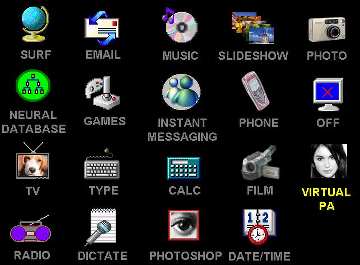 Who doesn't want a headset with a NEURAL DATABASE app?
The firm found that the required energy to run the cyclones was too high, so it turned to using electrical discharge to ionise and collect particles. But there were no plans for the company to build its own car and the auto industry started using ceramic filters, so the project was abandoned.
One idea that may yet yield a product was a Dyson digital motor that could sit inside a fuel cell in order to increase performance while reducing the size. The company said that its results showed a 20 per cent increase in power density and improved efficiency and made startup time three times faster. Engineers are still looking into the possibilities. ®