Get used to Mint 17, the latest release of this popular Linux distro. All versions of Mint until 2016 will use exactly the same base as this version, released on Saturday, 31 May.
"The [Mint] development team won't start working on a new base and will be fully focused on this one," according to the Mint page here.
The reason Mint 18, 19 and 20 won't alter much? Mint 17 uses the Ubuntu 14.04 Long Term Support (LTS) as its base – Mint is based on Canonical's distro.
The decision to stick on 14.04 and Mint 17 is good news because it means easier upgrades.
Part of the reason for the move to stick with 14.04 is that there are some major changes coming in Ubuntu (from which Mint is derived) that will likely mean some bumpy transitions are coming for downstream projects.
The decision to stick with 14.04 will also allow Mint, in the words of Mint lead Clem Lefebvre, "to push innovation on Cinnamon, be more active in the development of MATE, better support Mint tools and engage in projects we've postponed for years... and to have our hands freed to do exciting stuff."
The good news is that Mint 17 isn't just another update to an increasingly popular Linux distro - some would claim the most popular distro.
The really good news is that Mint 17 is a great release on which Mint can build a solid base. Of course it remains to be seen whether Mint can get the software updates and backports that users might want and need while remaining with the LTS base. In the mean time though, Mint 17 is off to a great start.
You'll get Mint 17 in two different flavours, both of which feature the project's homegrown desktop environments - MATE and Cinnamon.
The biggest change in this release for fans of the Cinnamon desktop is the arrival of Cinnamon 2.2, which brings with it a more tightly integrated settings panel, improved hot corners and support for Hi-DPI screens.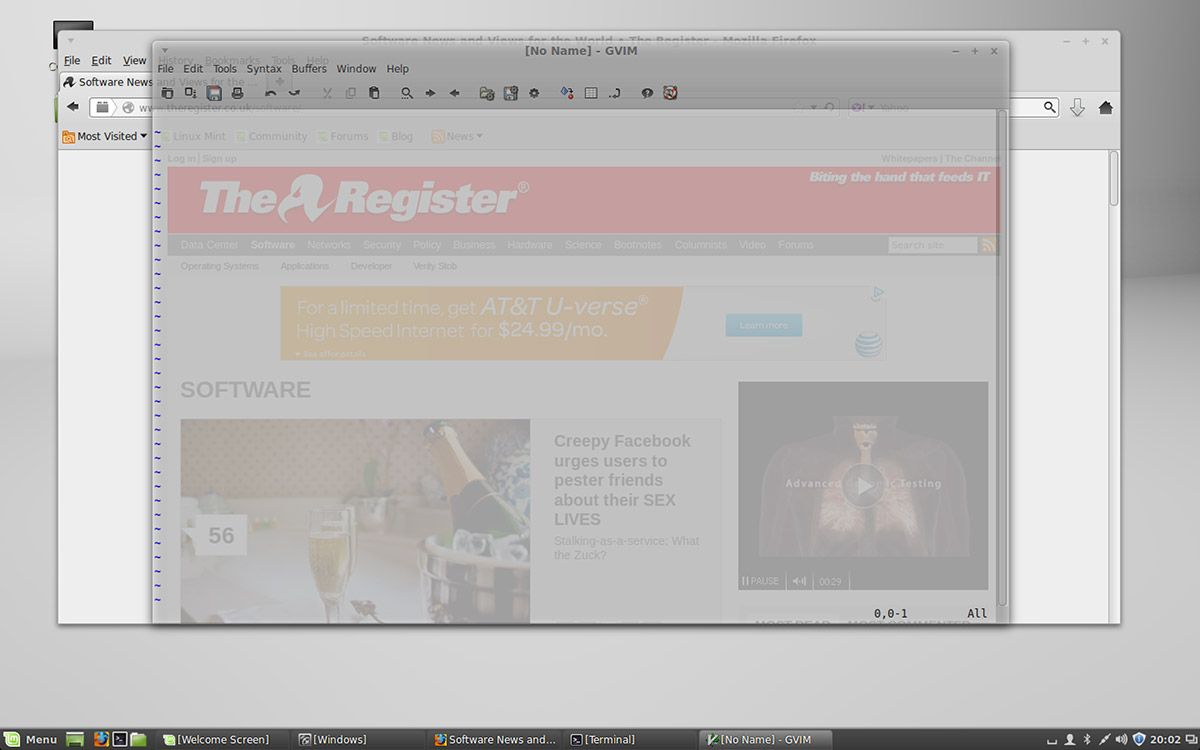 Mint 17 comes with optional shades of opacity (click to enlarge)
Cinnamon 2.2 in Mint 17 is a top-tier desktop every bit as stable and reliable as anything from the older KDE, GNOME and Unity camps. This is a remarkable achievement considering just a couple of years ago Mint was nothing more than a Shell Extension for GNOME. Even after that, for many of the early Mint releases I always made sure I had a Bash shortcut to restart Cinnamon because it crashed so often.
Thankfully that's no longer the case. Cinnamon 2.2 was rock solid in my tests, without a single crash. This release makes a great alternative desktop for those who prefer a more traditional workspace with familiar elements like a task bar and start menu.
In this release the Mint team has cleaned up some of the loose ends around the transition away from GNOME, like the revamped settings panel. Now that all the GNOME settings are long gone, the Mint team has turned its attention to its own settings panel, which looks much cleaner and is better organised in this release. Some elements within the panel have been rearranged as well so that, for instance, it's easier to figure out what the various options for power management do.
There have also been some changes to Cinnamon's hot corners and window snapping features. The HUD overlays that let you know a window is about to snap is less intrusive by default. You now have to get much closer to the edge before it shows up. The top left hot corner has been disabled by default in this release because, according the developers, it was often triggered by accident by people who weren't familiar with it.