Pic NASA's forthcoming flight of the Low Density Supersonic Decelerator (LDSD) – a flying saucer-esque test platform for technologies intended to one day safely deposit larger payloads on the surface of Mars – will be lifted by a helium-filled balloon so large you could "fit a professional football stadium inside it".
This agreeable description of the mighty orb comes from a NASA update on the LDSD, due to launch tomorrow, conditions permitting. The balloon's made up of a "thin envelope of polyethylene that is similar thickness to that of sandwich wrap". When "fully deployed", it's a tremendous 963,000 cubic metres, which, let's face it, is an awful lot of Bulgarian airbags.
In fact, according to our handy Reg online standards converter, we're looking at 1,671,991,110.5 Bulgarian airbags, or on a more manageable scale, 384.76 Olympic-sized swimming pools. Accordingly, we now know how many swimming pools there are to an official NASA professional football stadium, which is handy fact to have to hand during lulls in dinner party conversation.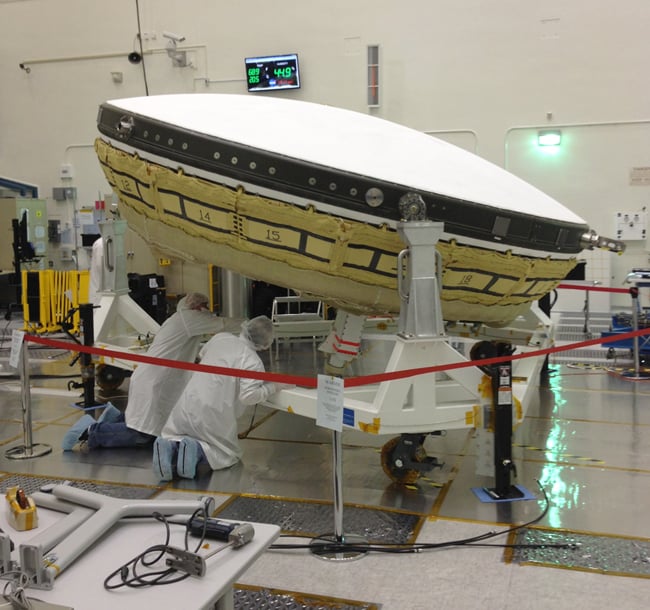 The LDSD flying saucer being prepped at NASA's Jet Propulsion Laboratory. Pic: NASA/JPL
Once the professional football stadium sized balloon has lifted the LDSD to 36,500m, a rocket motor will blast the vehicle to 55,000m and Mach 4. If all goes to plan, a "balloon-like" pressure vessel – dubbed the "Supersonic Inflatable Aerodynamic Decelerator (SIAD) – will then inflate around the LDSD, "to slow the test article to a speed where it becomes safe to deploy a supersonic parachute".
The high-altitude nature of the test is intended to simulate conditions in Mars's thinner atmosphere, where the scientists one day hope to increase payload delivery "from our current capability of 1.5 metric tons to 2 to 3 metric tons".
The LDSD will lift off tomorrow from the US Navy's Pacific Missile Range Facility (PMRF) on Kauai, Hawaii, eventually coming down for an ocean recovery. NASA TV will be streaming the mission live from a tad before 1800 GMT.
If the launch is a no-go, there are further windows on 5, 7, 9, 11, and 14 June. ®
Similar topics