This article is more than 1 year old
Toshiba's CB30-102 13.3in Chromebook – imagine a tablet with a keyboard
Adjusting to life with Chrome's disease
Review The typical low price of a Chromebook suggests you'll not be buying into a quality product with pleasing design aesthetics. Yet it seems that the brains behind Toshiba's latest Chromebook weren't going to be swayed by such presumptions.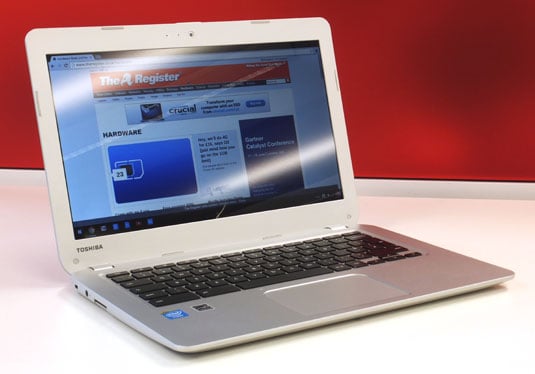 Toshiba's CB3-102 Chromebook: hands up who likes shiny screens?
If it weren't for the dimpled finish on the shiny metal-effect casing, from the corner of your eye you might mistake it for some Apple fare. Open it up and the layout of this 13.3in Google-powered laptop looks distinctly like a MacBook Pro with the black chiclet keys on the silver finish casing.
Regarding the laptop's construction, Toshiba simply says it's got a "brushed shiny silver finish", but looking closely I'm inclined to go with plastic all round, especially as the dimpled feet in the base have worn off the paint. Yet it's hard to tell without closer inspection and I guess that's no bad thing, because even if it is cheaply constructed, it does a good job of hiding it.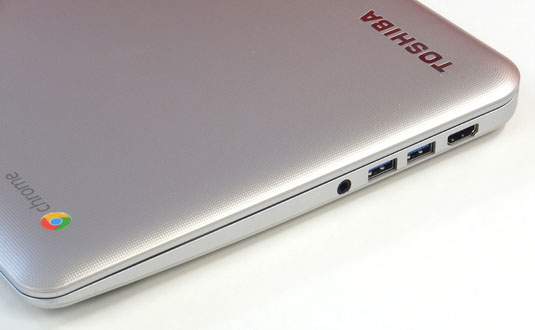 Toshiba's "brushed shiny silver finish" is plastic without being overly plasticky
Comparisons with an Apple MacBook Air would be wildly misguided, but just for the record let's do it anyway. After all, you do get a lengthy battery life from both and … well that's where the comparisons end, really: the Tosh book has a 1366 x 768-pixel display after all, not like the MacBook Air's 1440 x 900. Our recent MacBook Air speed bump review dealt with the details of Apple's perennial crowd pleaser; on a Chromebook, you're always going to have to think small in terms of specs, certainly at this end of the price range.
The Toshiba CB30-102 measures up at 329 x 227 x 20mm and weighs a mere 1.5kg. Inside is a dual-core 1.4GHz Intel Celeron 2955U processor which benefits from Haswell performance enhancements, so you end up with a perfectly useable and responsive machine, rather than something that grudgingly grinds its way through what it's tasked to do. Indeed, Google's Chrome seems happy enough – given it has only 2GB of DDR3 1600MHz RAM to play with – and it's not so buggy these days, too. Lest we forget, that 2GB of RAM is also shared with an integrated Intel HD Graphics GPU.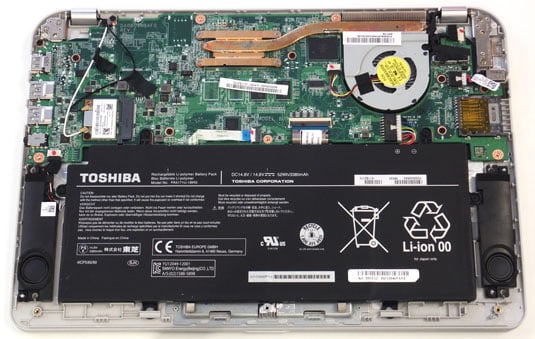 Speakers in the front corners and RAM soldered onboard with two sockets to spare – click for a larger image
Some Chromebooks have double that RAM figure, which seems a much more sound prospect, and when I cracked this one open, I could see space for more memory to be soldered on the board. In the UK, at least, the CB30 is stuck on 2GB. When it comes to storage, most these days offer a 16GB SSD as a minimum, as does the CB30. Google doesn't think you'll need any more than this because, of course, you'll be storing everything in the Google Cloud … and then paying for the privilege as the freebie 100GB quota inevitably expires a couple of years down the line.
I've likened this Chromebook storage tie-in as being much like getting a cheap printer, only to find you spend a fortune on ink over time. Still, you can use external storage devices as there are two USB 3.0 ports and an SD card slot. The latter doesn't spur any photo-editing apps into life when a camera SD card is inserted, instead you have to navigate through the various folders to find your snaps. A basic viewer offers red-eye removal, cropping, brightness and contrast and orientation controls – you get more on a phonecam these days.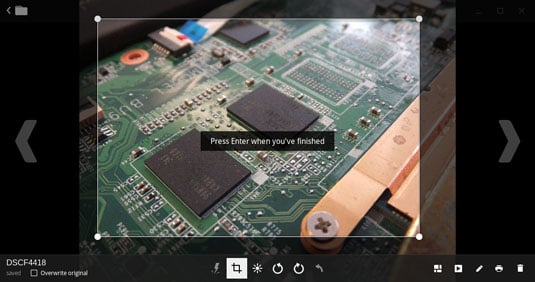 Offline image editing is extremely basic – the pic shows the two RAM chips and space for more
Talking of which, using USB to connect an iPhone to transfer pics is a waste of time (unless you want to charge it), as you can't access the pics folder, although on Android phones, the device storage should mount. Apps such as Autodesk's Pixlr Editor exist to enhance photos, but you're encouraged to upload your photos (and consume some storage) and use the revamped Google+ photo editor instead. The choice is yours.