This article is more than 1 year old
Samsung in a TIZZY: OH PLEASE make apps for our Tizen Z mobe
2.3GHz quad-core mobe to tempt coders away from iOS, Android
Samsung has unveiled the Samsung Z, a quad-core Tizen OS smartphone that's fuelled the rumour mill for months.
The mobe is powered by an operating system championed by the Linux Foundation. It will appeal to network operators that want to tout apps, and object to Google and Apple taking revenue from software sold through Google Play and iTunes.
The Samsung Z has a 4.8" 1280 x 720-pixel Super AMOLED touchscreen and a 2.3GHz quad-core processor running Tizen OS 2.2.1. The chipset is unnamed, but is rumoured to be a Qualcomm Snapdragon part.
There is an 8Mp rear and 2.1 Mp front-facing camera, heart-rate and fingerprint sensors, 2GB of RAM, 16GB of internal storage, a slot for microSDs of up to 64GB, Bluetooth Smart, and a 2,600mAh battery. It does 4G/LTE, and measures 138.2 x 69.8 x 8.5mm (5.44 x 2.75 x 0.33in), and weighs 136g (4.80oz). Like the Galaxy S5 and HTC One (M8) there is an extreme battery saving mode.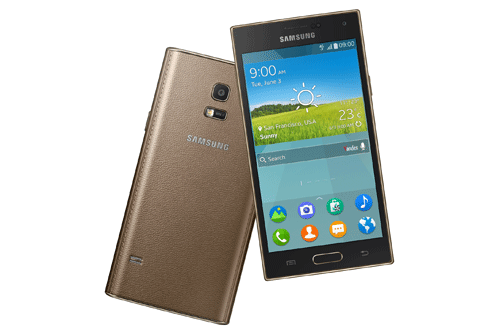 Samsung Z ... A 'leather' back for the black or gold phone
Samsung says the new phone will come in black and gold colours.
"The Samsung Z integrates the power and adaptability of the Tizen platform, enabling users to browse the web faster and utilize applications more effectively," claimed DJ Lee, an exec veep at Samsung Electronics.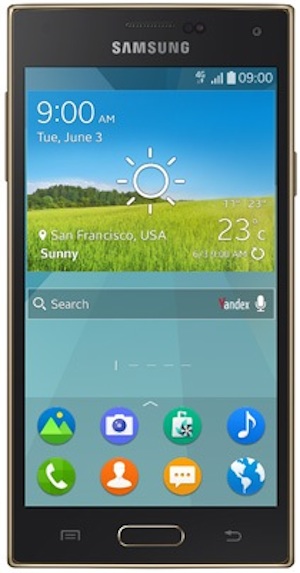 Close up ... the Tizen OS screen
By which he means it's optimised for HTML5 websites and apps written in the language. This, of course, puts it up against the Mozilla Firefox phones, which similarly look to move users from native code to HTML5 software.
Samsung has previously launched smart watches, smart tellies and car dashboard systems that use Tizen. The South Koreans, along with Intel, are keen to drum up more software for the Linux OS at the Tizen Developers Conference, which opens today in San Francisco. The new smartphone will be demonstrated to programmers at the event. There will be special deals on apps for consumers and promotions for developers to help kickstart the Tizen ecosystem.
The Samsung Z will go on sale in Russia in the next few months and Samsung is in negotiations with operators to launch it in other parts of the world.
One cannot however read too much into the Samsung launch: it's certainly not a statement of intent to abandon Google's Android (or Microsoft's Windows Phone). Samsung has a long history of experimenting with products, though it is unusual to see Sammy dabbling so outside of South Korea. ®