WWDC Mac owners will soon be getting an update for OS X that will bring a new interface and further integration with iOS devices.
Apple SVP for software engineering Craig Federighi said at the company's annual World Wide Developers Conference (WWDC) in San Francisco on Monday that the new release, dubbed OS X Yosemite, would be out as a public beta this summer and a general release this Fall.
Among the features touted by Federighi was Continuity, a syncing and integration tool for iOS devices. The company said that the tool will allow users to sync messages and browser windows between their Macs and their iOS devices, as well as screen and place voice calls from their Macs.
"At Apple we think you should be able to use the right device for the moment," Federighi said. "When you are working on your Mac, your devices around you in proximity are aware of each other and aware what you are up to."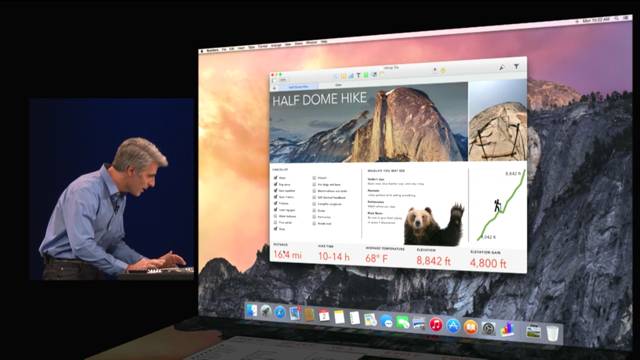 Craig Federighi unveils OS X Yosemite
Cosmetically, the new OS X will sport a retooled interface that utilizes larger transparent sections in Finder windows. The transparency, combined with improved typefaces and a revamped tool bar, will give users an interface that Apple hopes will be cleaner, with more of an emphasis on desktop backgrounds. An optional "dark mode" will dim menus and alerts.
The update will also include a new version of Safari with a streamlined interface and new Spotlight search options for both local and web searching. Mail, meanwhile, will sport improved iCloud integration that will allow users to send file attachments as links to iCloud, rather than embedding them in messages.
Expect further updates and analysis throughout the day as Apple continues to court developers and update its software platforms at WWDC. ®