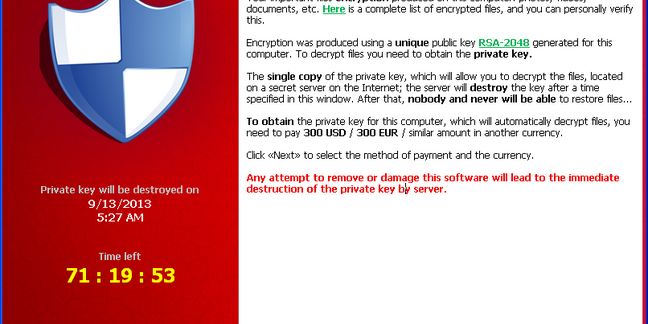 The FBI has released a wanted notice for 30-year-old Russian national Evgeniy Mikhailovich Bogachev, whom they allege to be the mastermind behind both the Gameover ZeuS and the even more infamous CryptoLocker ransomware.
A US indictment has been unsealed against the suspect following an FBI-led takedown operation that disrupted the internet infrastructure upon which the Gameover ZeuS botnet and the CryptoLocker ransomware had been running.
Bogachev, 30, of Anapa, Russian Federation, was charged with conspiracy, computer hacking, wire fraud, bank fraud and money laundering in connection with his alleged role as an administrator of the Gameover ZeuS botnet. Bogachev is further charged with conspiracy to commit bank fraud related to his alleged involvement in a cybercrime scam involving Jabber ZeuS, a prior variant of ZeuS malware.
A separate US civil suit alleges Bogachev leads a tightly knit gang of cyber criminals based in Russia and Ukraine behind both the Gameover ZeuS and the even more infamous CryptoLocker ransomware.
Gameover ZeuS is a common distribution mechanism for CryptoLocker, which is also spread using infected email attachments that pose as a voicemail or shipping confirmation. A DoJ statement on the case alleged Bogachev is using the online nicknames "Slavik" and "Pollingsoon", among others, to rule the criminal network.
The FBI, Europol and UK's National Crime Agency coordinated an attack to dismantle the infrastructure of the GameOver ZeuS botnet as part of Operation Tovar. The Feds said they'd identified and seized "servers acting as command and control hubs for the Cryptolocker malware".
Technical assistance in running the operation was provided by a variety of tech firms including Dell SecureWorks, CrowdStrike, Microsoft, F-Secure, Level 3 Communications, McAfee, Symantec, Trend Micro and others.
GameOver ZeuS, which is estimated to have infected 500,000 worldwide. is designed to steal financial and personal information from compromised PCs.
CryptoLocker locks victims out of their machines and encrypts their files before demanding a ransom, payable in BitCoins. An estimated 234,000 machines worldwide have been infected by CryptoLocker. Simply dismantling a zombie's control infrastructure is only part of the job because infected PCs still need to be disinfected.
Two weeks to protect yourselves... yes, especially you, XP users at the back
The UK's National Crime Agency (NCA) warned Brits that they had "two weeks" to protect their computers following the disruption of CryptoLocker and the Gameover ZeuS botnet.
Past experience suggests that cybercrooks often successfully rebuild zombie networks. However, we can't really be sure if and when this would happen so the two-week deadline seems a bit arbitrary and even perhaps counterproductive.
The UK's ‪Get Safe Online site became difficult to reach on Tuesday morning in the aftermath of the NCA's cleanup advice, which pointed towards ‬getsafeonline.org/nca as the prime resource for information on cleaning up infected machines. "Please bear with us, we're working as hard as possible to restore our normal service providing free, expert online safety & security advice," GetSafeOnline said on Monday night in an update to its official Twitter profile.
Access remained patchy hours later on Tuesday midday, at the time of writing. Whether or not all this is due to the weight of extra (unplanned for) demand or something more nefarious isn't immediately clear.
Victims of Gameover ZeuS may alternatively use a micro-website created by DHS's Computer Emergency Readiness Team (US-CERT) for help in removing the malware. ®
Sponsored: Ransomware has gone nuclear