US bloke raises $250k to build robo-masturbation device
'Outpouring of support' for Autoblow 2
---
NSFW The inventor of a "powerfully realistic electronic male pleasure machine" has hailed the "outpouring of support" for his robo-orifice after raising a whopping $250k down at Indiegogo.
With the backing of over 2,000 chaps, Brian Sloan has shot past his original $45,000 goal and is now poised to deliver worldwide relief via the Autoblow 2.
In a press release distributed by the appropriately-monikered "Brian S. Gross", which hit our inbox this morning in a plain brown envelope, Sloan described himself as "really humbled" by the ranks of desperate wankers who've queued up to administer a money shot.
He said: "Our whole team is super happy to know that soon, tens of thousands of men will having more realistic masturbatory experiences."
To deliver hitherto unimagined levels of orgasmic delight, the Autoblow 2 offers mains operation, three sleeve sizes, a "relatively hands-free" experience, and an industrial-strength motor "rated to last over 500 hours, or about 1500 solo experiences".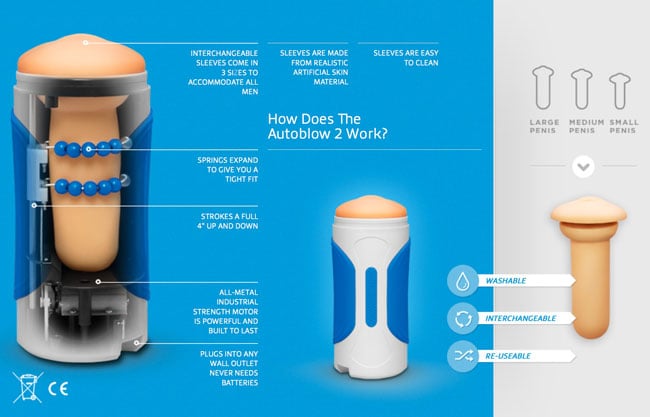 The Autoblow 2: Coming soon over a penis near you
There are still a few days left to run on the fundraising campaign, and for $2,999, you too can attend the forthcoming "official Autoblow 2 commercial shoot – featuring adult stars in both NSFW and SFW promo footage".
Speaking of NSFW, Sloan had a bit of a run-in with Indiegogo over his original promo vid. He explained: "Indiegogo asked us to remove certain parts from our pitch video found offensive by some users. I deeply apologize to those who were offended by the sight of artificial human penises." ®