This article is more than 1 year old
My my, Intel, that's one speedy NVMe flash card you have there
Did I say one? I meant three of the critters
Intel has produced three blazing fast PCIe flash cards using NVMe – and that should upset the PCIe flash applecart nicely.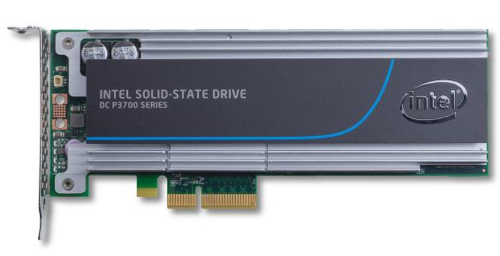 Intel DC P3700
NVMe is a standard way of accessing non-volatile memory, meaning host operating systems need only have a single standard driver instead of specific drivers for each supported PCIe flash card. SATA Express is an implementation of NVMe.
There are three products in the Intel NVMe familiy; DC P3700, P3600 and P3500. Capacities range up to 2TB and random read IOPS up to 460,000. A table provides the basic speeds and feeds:

Intel DC P3n00 PCIe NVMe flash speeds and feeds
The three SSDs use a PCIe 3.0 x4 (4GB/sec) interface with NVMe and are built using Intel 20nm MLC flash. They are operated through an Intel controller with 18 channels and come with a 5-year limited warranty. The endurance numbers are:
DC P3700 to 36.5 PB written, 10 drive writes per day (DWPD)
DC P3600 to 10.95 PB written, 3 DWPD
DC P3500 to 1 PB written, 0.3 DWPD
All in all, the speeds and feeds are nicely graduated.
How do they compare to other PCIe flash cards, meaning Fusion-io, Micron, Samsung, Seagate/Avago/LSI and Toshiba?
Samsung (XS17150) and Mikey Micron (P520 PCIe) both have NVMe products in the works; we wrote about them in July last year when an HGST one was spotted in compatibility testing.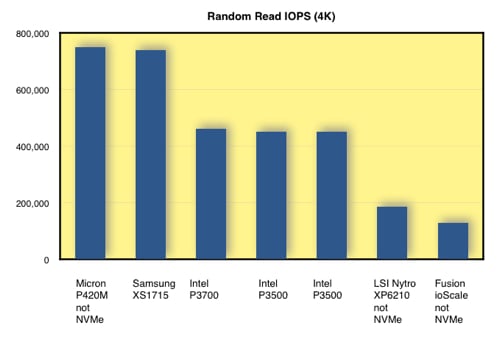 NVMe performance chart (Random Read IOPS only)
The chart is not clear cut. We chose Random Read IOPS but there are only two manufacturers with NVMe cards out in the real world, Intel and Sammy. So we've added in Micron, LSI and Fusion-io PCIe flash cards to provide a kind of limited comparison. All the cards went up to at least 1.4TB.
The Micron P420M card is the fastest at 750,000 IOPS, with Sammy's XS1715 close behind at 740,000. Then come the three Intel NVMe products, followed by the LSI (going to be Seagate) XP6210 and Fusion-io's ioScale, both looking outclassed. It is not necessary to have NVMe to get a fast read response off a flash card; Micron's P420M shows that.
With Micron bringing out, we understand, a P520M NVMe flash card, we might expect that to go beyond the upper limits of the P420M's performance envelope.
We expect Seagate/LSI and Fusion, and all PCIe flash card manufacturers, to move to NVMe in time.
There is a review of these new DC P3n00 NVMe flash cards on the AnandTech website.
The price (MSRP) for a 400GB P3700 is $1,207, $783 for a 400GB P3600 and $599 for a 400GB P3500. ®