Pics NASA has clarified the exact size of the mighty helium balloon that will later today lift its Low Density Supersonic Decelerator (LDSD) over the Pacific Ocean.
As we reported yesterday, the agency vaguely described the whopping 963,000 cubic metre orb as so big you could "fit a professional football stadium inside it".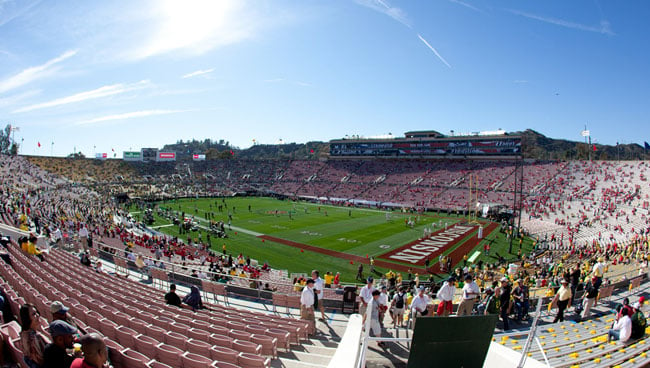 The Pasadena Rose Bowl: Just enough room for a mighty orb. Pic: Photo Works / Shutterstock.com
That appears to have been a slight exaggeration. Mark Adler, LDSD head honcho at NASA's Jet Propulsion Laboratory, explained in a mission update that when fully inflated, the globe "would fit snugly into Pasadena's Rose Bowl".
So now we know, which is a great relief for those of us who've been fretting over just what was the size of the professional football stadium in question.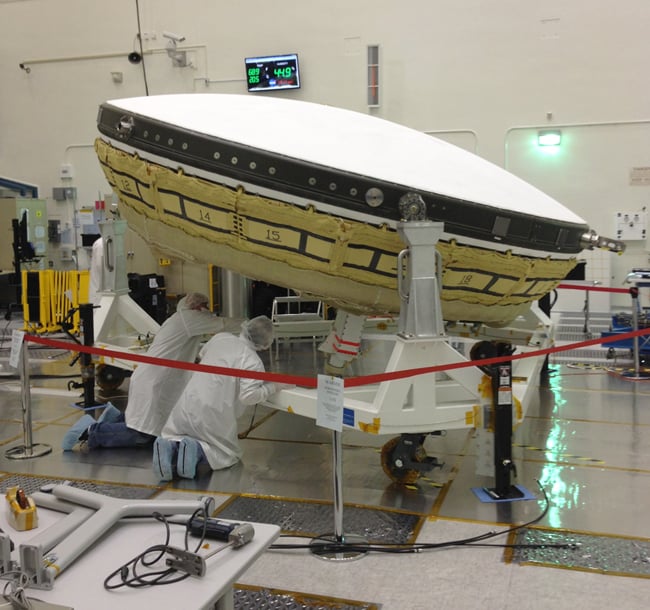 The LDSD flying saucer at NASA's Jet Propulsion Laboratory. Pic: NASA/JPL
The LDSD is a flying saucer designed to test inflatable deceleration airbags (the "Supersonic Inflatable Aerodynamic Decelerator", or SIAD) and supersonic parachutes, which may one day safely deliver payloads to the surface of Mars.
The floating Pasadena Rose Bowl will lift the vehicle to 36,500m, at which point "four small rocket motors will fire to spin up and gyroscopically stabilize the saucer". NASA continues: "A half second later, a Star 48B long-nozzle, solid-fueled rocket engine will kick in ... sending the test vehicle to the edge of the stratosphere."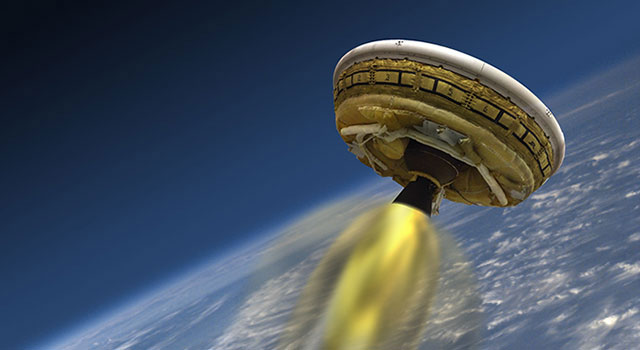 After the LDSD tops out at 55,000m and Mach 4, the SIAD deploys to slow the saucer to Mach 2.5, "where the parachute, the largest supersonic parachute ever flown, first hits the supersonic flow".
All being well, the LDSD will lift off later today from the US Navy's Pacific Missile Range Facility (PMRF) on Kauai, splashing down for an ocean recovery. NASA TV promises coverage from about 1800 GMT.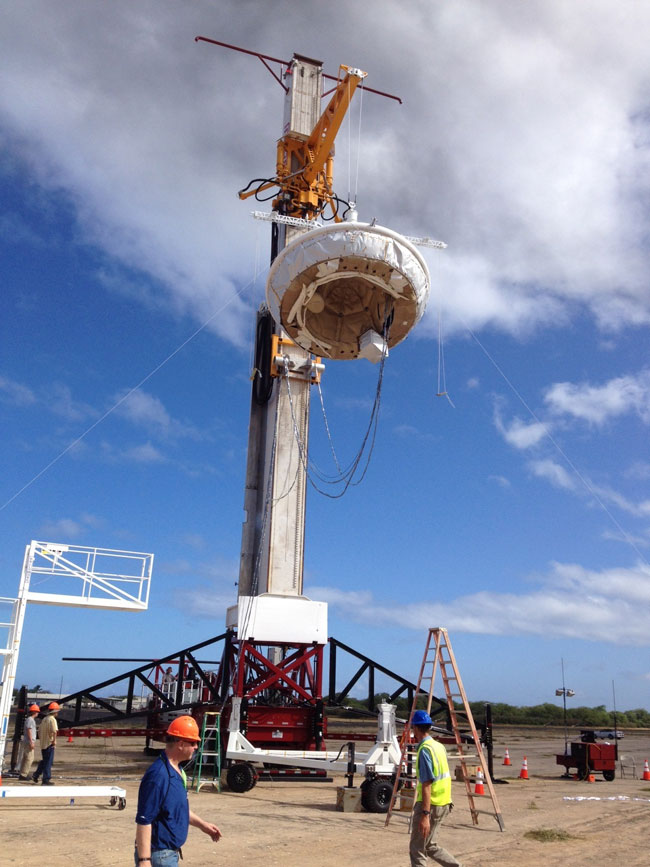 NASA hoists its flying saucer in preparation for launch
We at El Reg's Special Projects Bureau will being tuning in to follow the action, having a special interest in ballocket tomfoolery. We note that the ATK Star 48B motor packs 2,010kg of TP-H-3340 propellant (including igniter) into a titanium case.
TP-H-3340 comprises 71 per cent ammonium perchlorate, 18 per cent aluminium and 11 per cent hydroxyl-terminated polybutadiene (HTPB).
According to the manufacturer's blurb (page 103 of this PDF), the long-nozzle variant of the Star 48B was first used back in June 1985 to launch Mexico's MORELOS-A satellite from space shuttle Discovery during mission STS-51G. ®
Similar topics