Revealed: GCHQ's beyond top secret Middle Eastern internet spy base
Snowden leaks that UK.gov suppressed
Sending anything via a cable that lands in Britain? Or a country where the current ruler was put in by the SAS, maybe?
The majority of large cables come ashore in Cornwall, and have been connected directly to Bude. These include major connections such as FLAG (Fibre optic Link Around the Globe), two of whose cables have been intercepted. Because the FLAG interceptions had to be kept secret from the cables' owners, one report states, the tapping connections were installed in an undisclosed UK location and "backhauled" to Bude, in the technical language of the communications industry.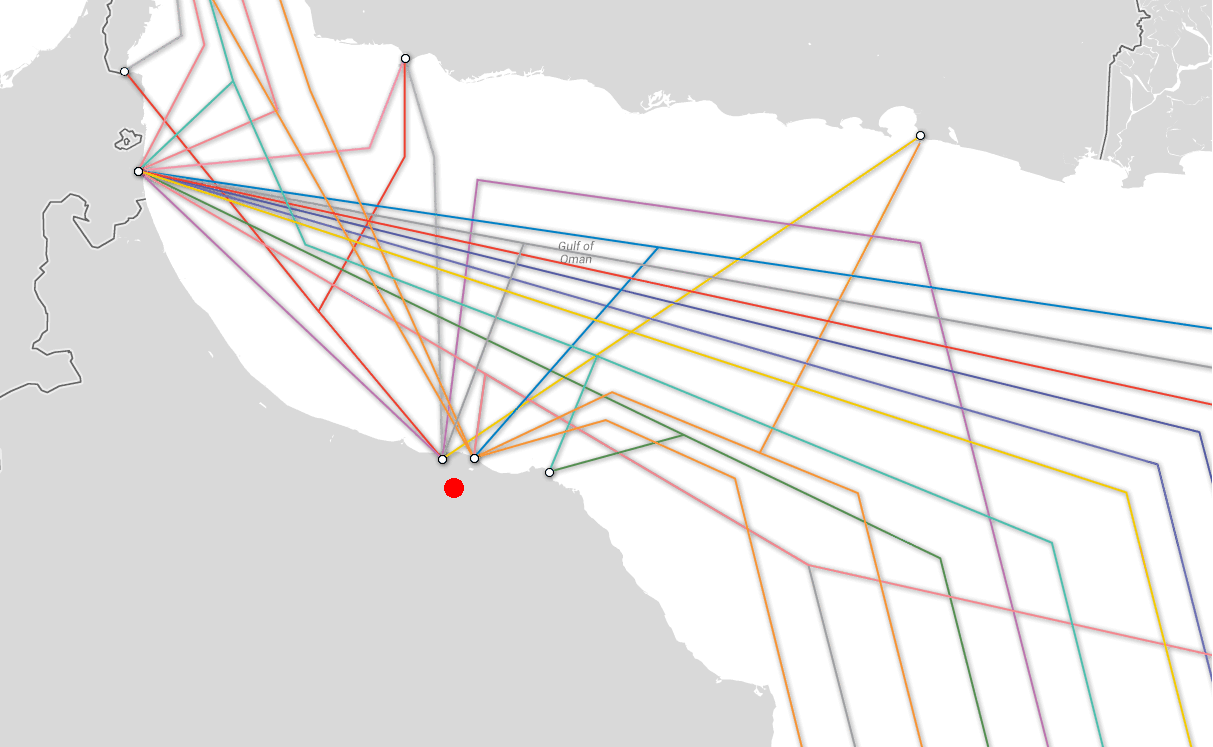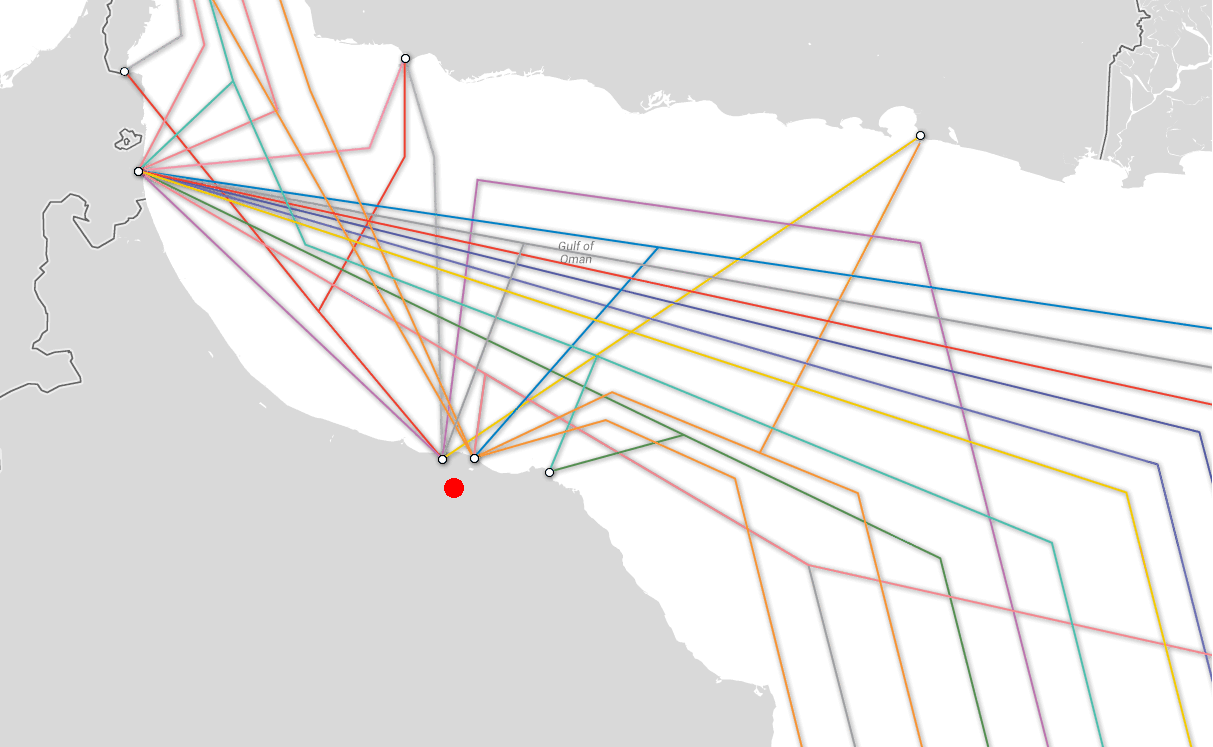 Northern Oman - a good place to be if you find the cables into the Gulf interesting (click to enlarge)
Although GCHQ interception of overseas communications can be authorised by a general "external" tapping warrant, the wording of the law does not permit storage of every communication for examination, as GCHQ wished to do. In 2009, the spooks persuaded then Foreign Secretary David Miliband to sign a new warrant legalising what they wished to do. The terms of such warrants have never been published.
The special "external" warrants, issued under the Regulation of Investigatory Powers Act (RIPA), authorise the interception of all communications on specified international links. Miliband's first 2009 warrant for TEMPORA authorised GCHQ to collect information about the "political intentions of foreign powers", terrorism, proliferation, mercenaries and private military companies, and serious financial fraud.
Certificates attached to external interception warrants are re-issued every six months, and can be changed by ministers at will. GCHQ officials are then free to target anyone who is overseas or communicating from overseas without further checks or controls, if they think they fall within the terms of a current certificate.
The secret overseas internet monitoring centre, codenamed CIRCUIT, is at Seeb in the state of Oman. It is the latest of a series of secret collaborations with the autocratic Middle Eastern state, which has been ruled for 44 years by Sultan Qaboos bin Said, installed as head of state in a British-led and SAS-supported coup against his father. The Seeb centre was originally built in collaboration with the Omani government to monitor civil communications satellites orbiting above the Middle East. It has six large satellite dishes, forming part of the well-known and long running "ECHELON" intercept system run by the "Five Eyes" English-speaking (US/UK/Australia/Canada/New Zealand) intelligence agencies.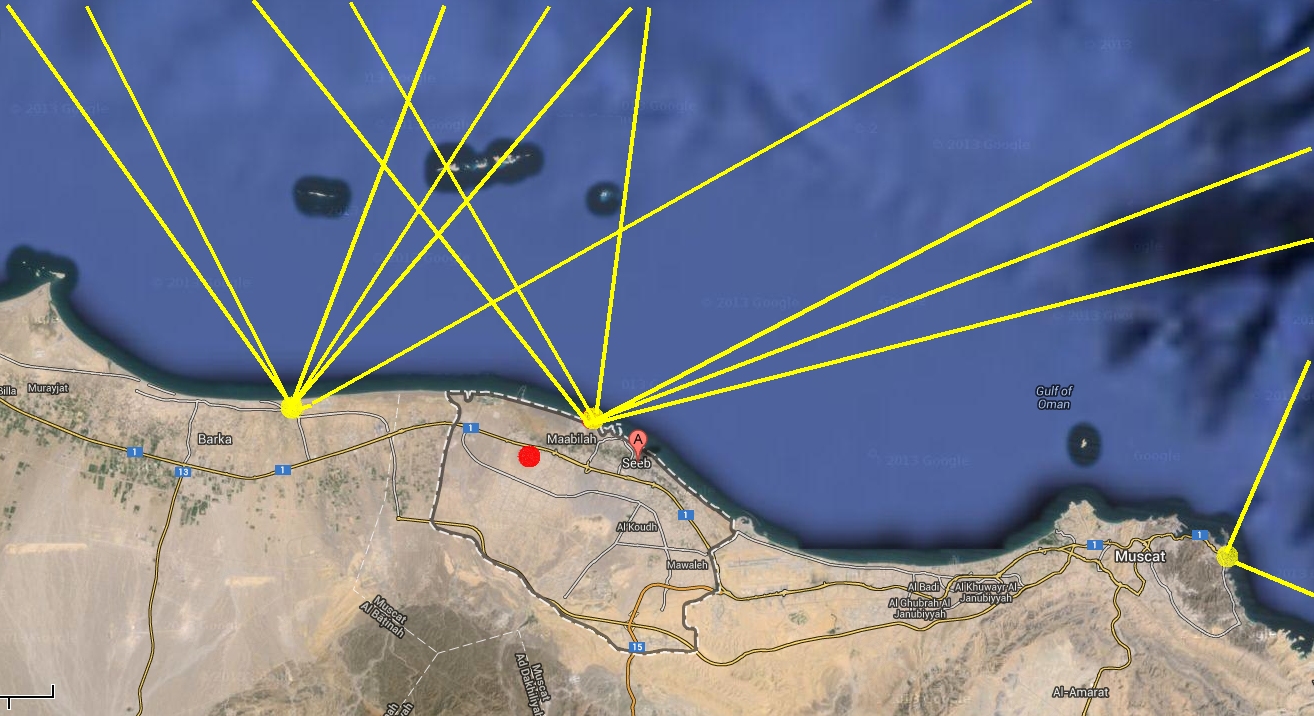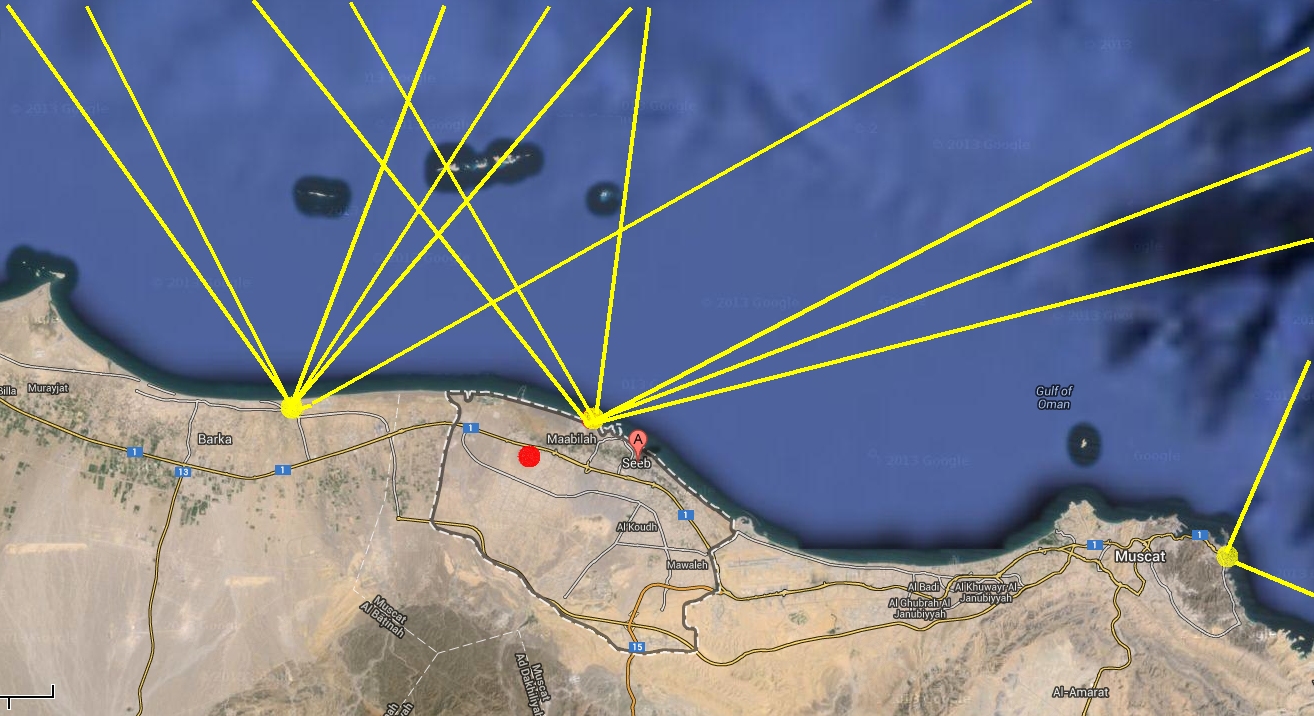 Seeb - handily located (click to enlarge)
When GCHQ obtained government approval in 2009 to go ahead with its "Mastering the Internet" project, the Seeb base became the first of its global network of Internet tapping locations. Another centre, OPC-2, has been planned, according to documents leaked by Snowden.
The CIRCUIT installation at Seeb is regarded as particularly valuable by the British and Americans because it has direct access to nine submarine cables passing through the Gulf and entering the Red Sea. All of the messages and data passed back and forth on the cables is copied into giant computer storage "buffers", and then sifted for data of special interest.
Information about Project TEMPORA and the Seeb facility was contained in 58,000 GCHQ documents which Snowden downloaded during 2012. Many of them came from an internal Wikipedia style information site called GC-Wiki. GCHQ feared the political consequences of revelations about its spying partners other than the United States and English speaking nations, according to knowledgeable sources.
Although information about the monitoring station at Seeb in its older ECHELON role has been available on the public Internet for several years, Cabinet Secretary Sir Jeremy Heywood was determined to prevent its new importance and cost becoming known.
It was this which lay behind the British government's successful-until-today efforts to silence the Guardian and the rest of the media on the ultra-classified, beyond Top Secret specifics of Project TEMPORA - the places and names behind the codewords CIRCUIT, TIMPANI, CLARINET, REMEDY and GERONTIC. ®