This article is more than 1 year old
Plugging the gaps in today's Macs: Elgato Thunderbolt Dock
Port authority for the MacBook masses
Review I remember the days when Elgato was busy knocking out clever telly and video capture gadgets for Macs and PCs. It still does, and for fondleslabs, mobiles and game consoles too, but in the last couple of years the company has obviously caught some kind of Thunderbolt bug.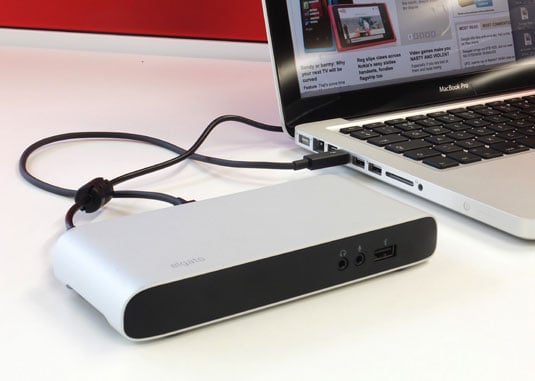 Making all the right connections: Elgato's Thunderbolt Dock
First it was robust portable storage in the form of a host-powered, Thunderbolt 120GB SSD followed up with more capacious Plus versions featuring SATA 3 support. Now the company has its own Thunderbolt Dock and unlike its portable storage, it's very keenly priced up against alternatives such as the Belkin Express Dock and Matrox DS1. It's also a good deal smaller at 178 x 80 x 25mm.
The dock itself acts as a breakout box enabling lesser equipped Macs and PCs to take advantage of a variety of ports on offer. Elgato, just like all the other dock makers, presumably has MacBook owners in mind, especially Air users and those with recent Pro models that lack Ethernet.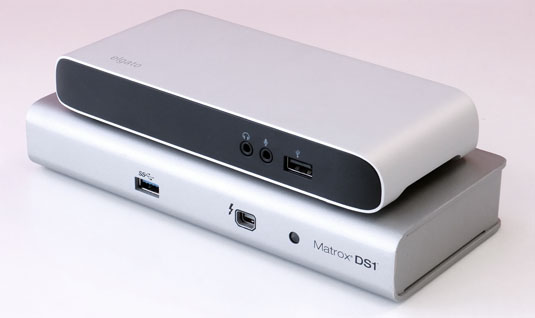 Compact credentials: Elgato's Thunderbolt Dock measures up against a Matrox DS1
There's more to it than just a Gigabit Ethernet though, as you get three USB 3.0 ports, separate audio in and out, HDMI and two Thunderbolt ports. With the latter, you obviously need one to connect to your host device, but the other can be used to daisy chain to other Thunderbolt devices or hooked up to a DisplayPort monitor.
During tests I discovered that you could use HDMI or Thunderbolt interfacing (as a DisplayPort output), to run an additional monitor but not both together to run two external displays. Elgato quotes a maximum resolution of 2560 x 1600-pixels with HDMI 1.4 and HDCP support.

One USB 3.0 port at the front along with the separate audio in and out jack sockets – click for a larger image
Needless to say, this dock isn't host-powered but relies on a 12V, 5A PSU. It's not too surprising that all these docks need a considerable amount of current to function effectively. After all, there's the USB 3.0 interfacing to feed and that additional Thunderbolt port, all of which can power peripheral devices.
Plumbing into a MacBook Pro, all the interfacing was enabled from the off, so it was just a matter of running a few tests. On the spare Thunderbolt port I hooked up a Startech dual-drive enclosure equipped with two Intel 730 SSDs and daisy-chained it to a Western Digital My Passport Pro portable Thunderbolt hard disk drive.

Ports aplenty: USB 3.0 x2, Thunderbolt x2, HDMI, Ethernet and power – click for a larger image
I also had a Kingston DataTraveler USB 3.0 flash drive handy to copy data to Intel SSD 2. Intel SSD 1 copied to the Mac's own drive, a Kingston HyperX SSD. The latter SSD was also copying to the WD My Passport Pro.