So how fast is this puppy?
So how many FLOPS do all these compute cores – CPUs and GPUs working together – add up to? In his role as marketeer, Lansing was understandably effusive. "The total amount of compute FLOPS is unprecedented," he said. "With the mobile variants, with the clock speeds we're running, we're over 800 gigaflops ... which is pretty impressive in a mobile chip running in a thin and light notebook."
Lansing was quoting performance of the top-of-the-line FX-7500 – which tops out at 818 GFLOPS, if you want to be exact – but AMD announced nine members of the mobile Kaveri family on Wednesday, three in a standard voltage group with a 35-watt TDP, three in an "ultra-low voltage" group at 19 watts, and a third group of three in a business-focused Pro series – more on that series in a moment.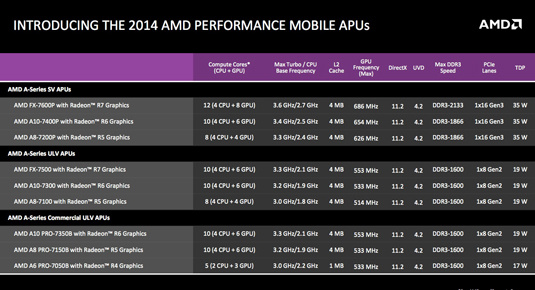 As you'll read in a bit, 'TDP is probably the worst way to describe anything anymore' (click to enlarge)
Lansing also rolled out slides that compared a few of these new parts with allegedly comparable Intel offerings: an AMD FX-7500 with four CPU and six GPU cores versus an Intel "Haswell" Core i7-4500U, an AMD A10-7300 with four CPU and six GPU cores versus a Haswell Core i5-4200U; and an AMD A8-7100 with four CPU and four GPU cores versus a Haswell Core i3-4010U. Each of the Intel parts had two compute cores running a total of four threads, along with Intel HD Graphics 4400.
Lansing's competitive analysis was based three performance benchmarks: PCMark measuring system performance, 3DMark measuring graphics, and Basemark CL measuring compute. The Reg would like to emphasize that the results are numbers provided by AMD, and not our own testing – but according to the benchmark results Lansing provided, the AMD parts acquitted themselves quite well: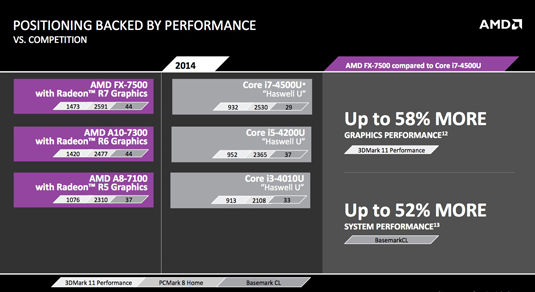 As might have been guessed, AMD easily outshines Intel in graphics performance (click to enlarge)
But these weren't the only performance numbers that Lansing provided. As we mentioned above, with the launch of the new mobile Kaveri line, AMD is also inaugurating a new AMD Pro A-Series, which he said is part of the company's goal of "reinvigorating our approach to commercial."
According to Lansing, the Pro Series will have a "better commitment to longevity," which he said is "really important to our business users – that we commit to them, that we'll continue to manufacture this product for them for a longer-duration life cycle."
The Pro Series will also provide a steady-as-she-goes bit of changelessness important to enterprise users. "We give you a software stack, an image," he said. "We'll commit to you that we'll maintain stability there, so you don't have to go and do driver and BIOS updates that in an IT environment is very much frowned upon."
The reason that AMD is inaugurating a Pro line, Lansing said, echoed much of what Macri had said about graphics becoming more important, and he believes that the increase of visualization in business plays into AMD's strengths.
"If you look at business usage 10 years ago, it was extremely 2D," he said, referring to spreadsheets, word processing, and data-driven types of work. Nowadays, however, graphics and multimedia-based workloads have come front and center in the enterprise, he argued, citing not only 3D data analysis and rendering, but also videoconferencing.
"So as workloads migrate from the old 2D world to the new 3D world," Lansing said, "what we can do with graphics and compute resonates much more with our business partners."
AMD's commitment to longevity and stability, along with "the new 3D world" – and also, most likely, AMD's history of lower prices than it main rival – apparently means something to HP, which announced on Wednesday that it is using Pro A-Series chips in its Elite business PCs, including the EliteBook 725, 745, and 755 G2 notebooks, EliteOne all-in-one, and EliteDesk desktop.
AMD is offering three APUs in its Pro A-Series line: the Pro A10-7350B and Pro A8-7150B, both with four CPU and six GPU cores, and the Pro A6-7050B, with two CPU and three GPU cores. Here's how they stack up, according to Lansing, against the same Intel parts in his previous comparison: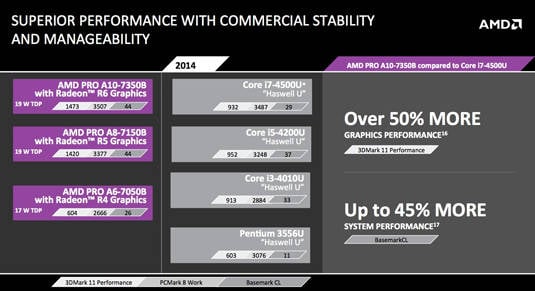 AMD's Lansing: the Pro line offers increased 'performance, longevity, and stability' (click to enlarge)
Oh, and he also threw in a two-core, two-thread Haswell Pentium 3556U, presumably just for shits 'n' giggles.