Computex The show floor at Computex bears a zillion gadgets all trying to catch your eye, but one that really stands out by offering a new way to sit down is the computer case/desk from Taiwan's Lian Li.
The desk itself is unremarkable: it has four legs and a glass top. The desk's drawer is where things get interesting, because it offers all the mounts you'd expect to find in a PC case, such as eight disk drive slots, space for motherboards and USB slots. Pulling the drawer in and out is possible while the PC is running.
Cunning conduits pipe monitor cables up to a stand mounted on the desk's surface. Again, someone's thought this out properly as opening the drawer doesn't tug at the monitor or disrupt the operations of the USB ports on the drawer's front.
We said "motherboards" deliberately two paragraphs up, because one model of the desk has space for two, one Mini-ITX and one E-ATX. Smaller models fit just one motherboard, while a coffee-table-sized version delivers a vintage sit-down games cabinet experience as it is expected you'll face a monitor upwards.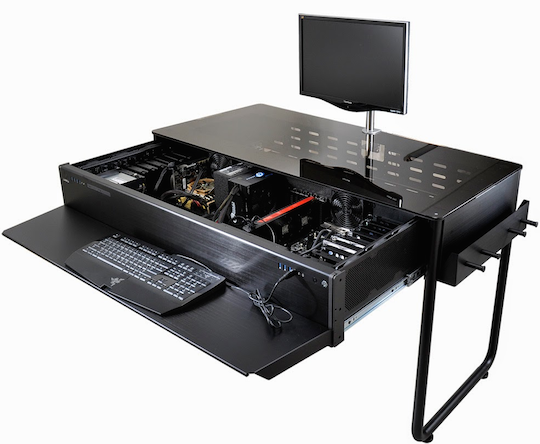 Beat this, IKEA!
Lian Li says the idea for the case/desk comes from the fact that some PC tinkerers want super-easy access to their machines. The company also suspects developers will appreciate the chance to work with two PCs that are very easily accessible if they want to test different configurations.
Gamers are another target, as the pegs you can see on the right of the desk/case are designed to let them hang their special explosion-sound-enhancing headphones.
Because Computex is a trade fair, nothing as crass as retail prices are revealed on the show floor. Lian Li is far from an obscure brand, so there's a decent chance this creation will be coming your way soon. ®
Bootnote
Trust us. This product really does have legs on the left-hand side of the desk. They're obscured by the body of the thing in the pic we've used.
Similar topics