This article is more than 1 year old
Doubletalk: Geeksphone Revolution dual-OS smartphone
Android or Firefox OS? The choice is yours
Review Open-source enthusiasts have hailed Mozilla's Firefox smartphone operating system as a liberation from the power and intrusiveness of Google, Apple and Microsoft, who each demand your soul in return for getting the most out of their mobile OSes.
The open-source crowd may have a point, though a larger number of commentators are of the opinion that Firefox OS is an answer to a question nobody's really asking.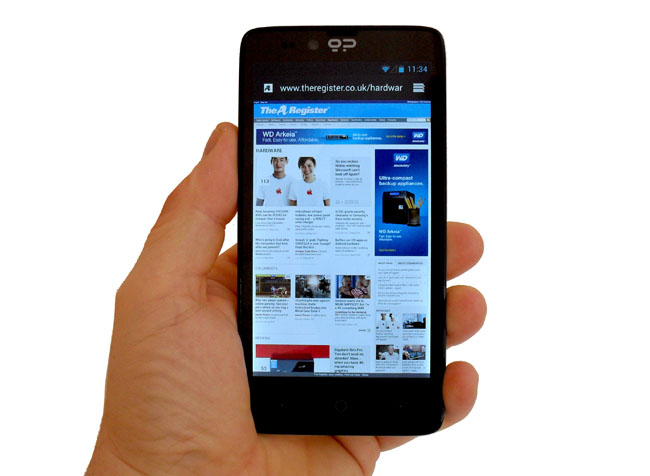 Dual core: Geeksphone's Revolution Android and Firefox OS Smartphone
To date, Mozilla's cause in developed markets, such as the UK, hasn't been helped by the fact that all the Firefox OS handsets released by the likes of Alcatel and ZTE has been pegged to the extreme budget end of the market.
That has been changed by the new Revolution mobe from Spanish handset maker Geeksphone – a mobe that can run Firefox OS or Android.
While this particular model doesn't pose a threat to the likes of Samsung's Galaxy S5 or the iPhone 5S, it at least promises to be a decent enough device to be of interest to anyone after a low-to-mid price smartphone.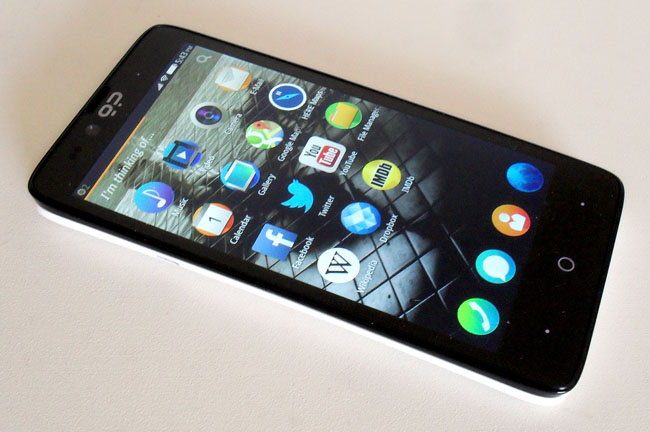 Firefox OS if you're the tinkering sort
Since its official announcement in February, Geeksphone has dropped the price of an unlocked Revolution twice and it now sits at a not unreasonable €199 including sales tax, or around £170 in old money. For your cash you get a 3G-only plastic handset with a rather fine 4.7-inch 960 x 540 IPS display, a dual-core Intel Atom Z2560 processor that can run at 1.6GHz when it puts its running shoes on, 1GB of RAM and 4GB of storage backed up by a microSD card slot.
That's a thoroughly middle-of-the-road specification. Compared to the current darling of the affordable mobile phone world, the £150 Motorola Moto G, the Geeksphone Revolution is lighter (136g vs 143g) and has a larger screen, albeit one with a lower – though by no means disastrously low – pixel density (235dpi vs 326). The Revolution's battery is slightly less capacious (2,000mAh vs 2070), however, it has a higher spec and far, far superior main camera (8Mp vs 5Mp) that can capture 1080p video.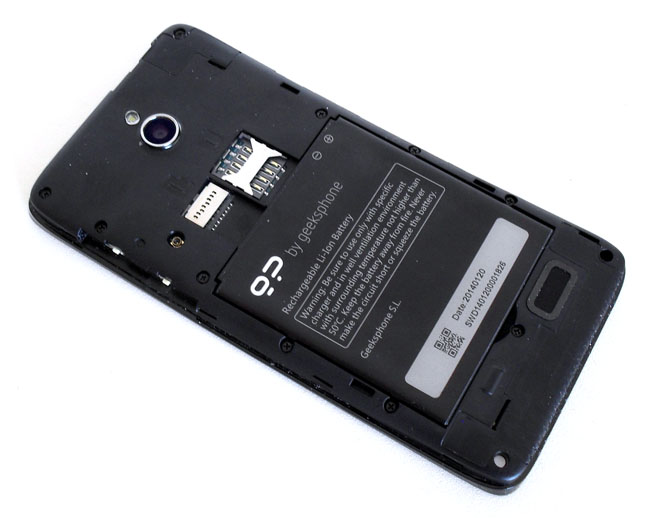 Micro SD storage expansion and a removable battery
The Moto G has just gained 4G connectivity and a memory card slot – both eat into the Revolution's technical appeal – but Geeksphone also gives you a removable battery, which, for some users, is an essential part of the smartphone recipe. On the cellular front you get up to 21Mbps of HSDPA and up to 5.76Mbps of HSUPA; the Wi-Fi component only supports 2.4GHz 802.11n. For Bluetooth you have to make do with v3.0. In this department, the Revolution is not what you could call state of the art.
Physically there's little that's remarkable or wrong with the Revolution. It's handsome, solid and comfortable to hold and use, thanks to a nicely rounded back. The power and volume controls are all in good places, likewise with the micro USB port, which is on the left and the 3.5mm audio jack positioned on the top. The single speaker on the back does a pretty good job too.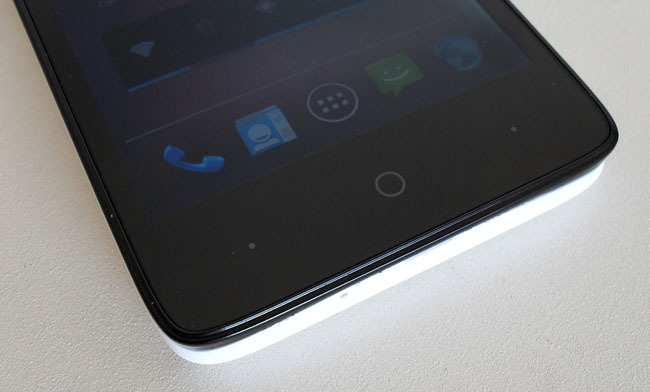 Capacitive buttons less than ideal in design and layout
The one niggle is the design of the capacitive buttons below the screen. The two white dots that flank the central circle have no use under Firefox OS but because they are painted onto the handset – rather than being purely backlit – they are permanently in evidence.